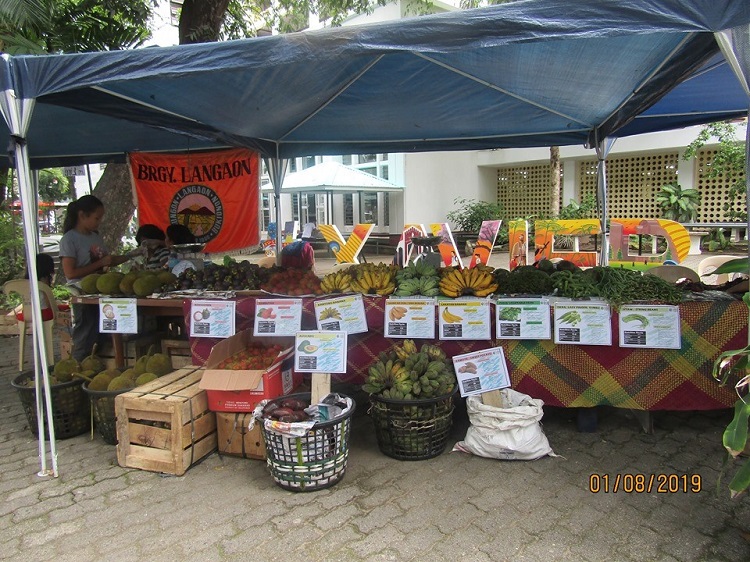 TABUAN 2019. Local farmers display their crops with corresponding nutritional values at the Tabuan in Xavier Ateneo. Supplied photo.
Report by Bianca Watanabe, Selin Salih, Katrina Chaves, and Moses Medillo
The Xavier University Sustainable Sanitation (XU-SuSan) Center – the research unit of the Jose P Rizal School of Medicine (JPRSM) under the Social Development Cluster – held Tabuan (farmers market) along the XU Main Lane from July 29 to August 2.
This event has become a yearly activity of XU-SuSan that exhibits different fruits and vegetables to encourage a healthy lifestyle, in celebration of the Nutrition Month by the Department of Health, in collaboration with the Department of Education.
It served as a timely reminder to teachers, students, and parents that proper nutrition is a central component to building the future of our society. Well-nourished children will be able to do more academically and become more effective citizens.
According to the Food and Nutrition Research Institute, 30% of a child's brain will not develop if there is no intervention to stop malnutrition before the age of five.
Studies have shown that Filipino children have poor diet, thus, their growth will get stunted. In fact, the Philippines is one of nine countries with the highest number of children with stunted growth.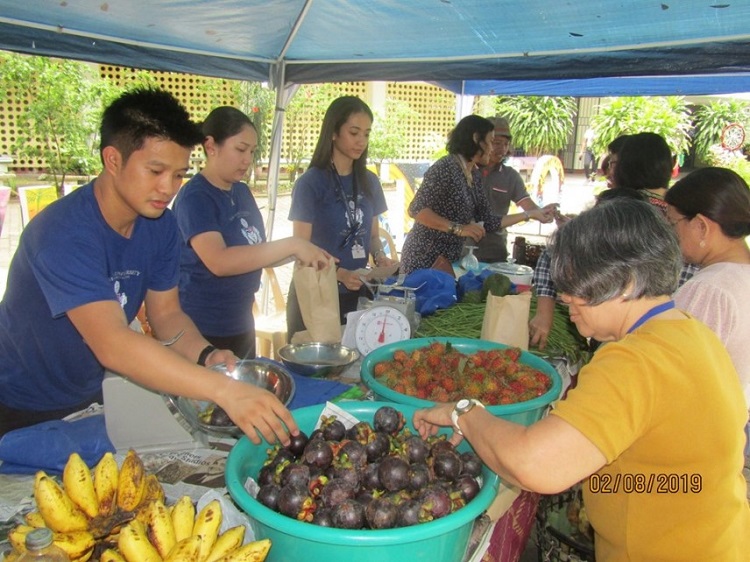 AT YOUR SERVICE. Medical students help the Sustainable Sanitation Center in selling fruits and vegetables. Supplied photo.
With such alarming numbers, the DepEd has called on all public and private schools to participate in the Nutrition Month celebration every July. To this end, Tabuan was held not only to promote local crops and support livelihood, but most importantly, to promote the consumption of nutritious food.
Partner-farmer beneficiaries from Langaon, Baungon, Bukidnon displayed diverse fruits such as mangosteen, rambutan, marang, mango, abana, varieties of banana such as tundan, lacatan, and cardava. Vegetables such as kamote (sweet potato), string beans, pako (fern), and okra (lady's fingers or gumbo) were sold at affordable prices.
Accessories made from indigenous materials were a hit among students during the activity.
Faculty, staff, students, and parents alike expressed their anticipation for the next Tabuan at Xavier Ateneo.∎