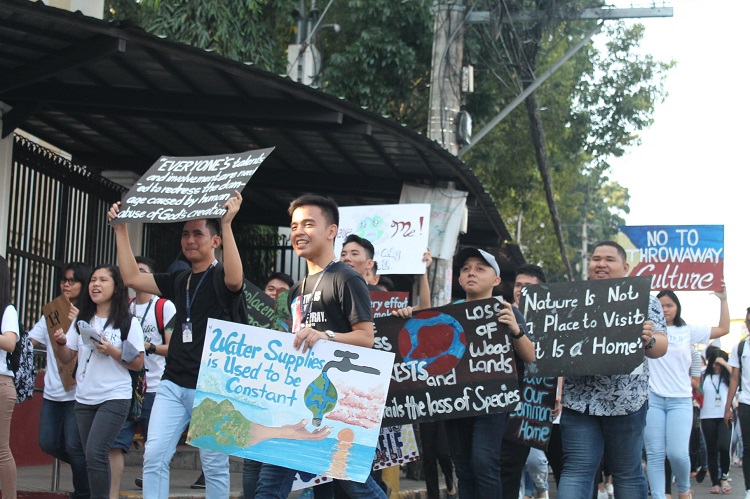 CLIMATE STRIKE. Xavier Ateneo students and faculty members march on Saturday, September 28, to amplify the call to address environmental problems. Supplied photo.
CAGAYAN DE ORO CITY, Philippines — On a bright Saturday morning, students and faculty members of Xavier University – Ateneo de Cagayan took to the streets the call to save and protect Mother Earth, saying there's no Planet B.
"The climate is changing, why can't we?" one placard stated as the university students and formators marched from the XU Main Campus to the sidewalk along Corrales Avenue. Other placards said "Raise your voice, not the sea level," "Nature needs you, what will you do?" and "You do note climate change."
The climate strikes all over the world urge public and private sectors to contribute to the attainment of climate justice and the creation of policies and programs to curb climate change.
The XU climate strike was spearheaded by the XU National Service Training Program, made up of three components, namely, Reserve Officers Training Corps (ROTC), Civic Welfare Training Service (CWTS), and Literacy Training Service (LTS).
This activity formed part of the three-fold goal of XU-NSTP to achieving sustainable development: (1) To society, where the value of leadership in community engagement is highlighted; (2) To the economy, where the value for work and resources is maximized; and (3) To the environment, where the value of respect and care for sustainability of creation is observed.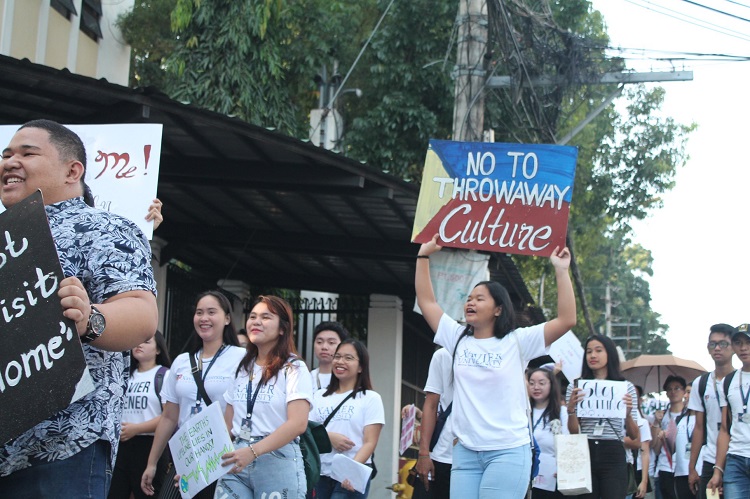 LIFESTYLE CHANGE. An XU student raises a placard condemning "throwaway culture" during this year's climate strike. Supplied photo.
The organizers hope that the climate strike has inspired everyone to join the fight against climate change in their own ways and live a more sustainable and environment-friendly lifestyle.
The September 28 climate strike came on the heels of the imposition of the "Absolute Prohibition of the Entry of Bottled Water to the XU Campus" and a series of clean-up drives and information campaigns in line with the International Coastal Clean-up Day led by the XU McKeough Marine Center.
As a Jesuit university, Xavier Ateneo participates in the mission of the Society of Jesus in "the reconciliation with God, with others, and with creation; it seeks to serve the faith, promote justice, dialogue with cultures and religions, and protect the environment."∎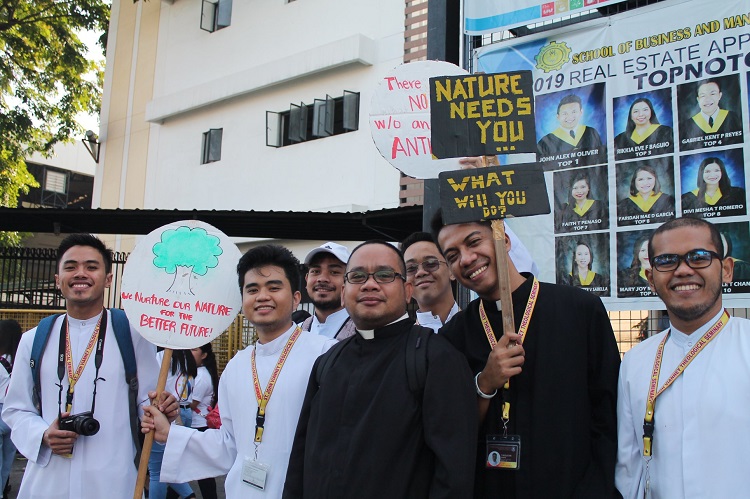 NATURE NEEDS US. A handful of seminarians join the climate strike organized by XU-NSTP on September 28. Supplied photo.