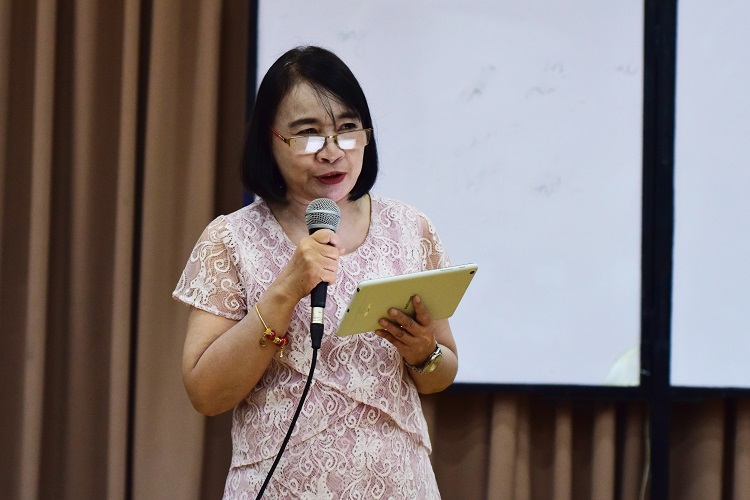 ETHICS IN RESEARCH. XU Institutional Research Ethics Board director Dr Jane Gallamaso shares the ethical standards for research.
Report by Angelo Lorenzo
Photos by Benjiemar Dagala
The Xavier Ateneo Graduate School underscores the impact of ethical and quality research by strengthening ties with the university's Institutional Research Ethics Board (IREB) and Kinaadman University Research Office (KURO).
The seminar on research ethics held at the XU Nursing Amphitheater on Saturday, September 28, gave students basic orientation about the ethical standards in conducting research, as well as a list of grants to support this endeavor.
Promoting the truth and human dignity
"There is a right way of doing research," XU-IREB director Dr Jane Gallamaso shared during her lecture about research ethical standards.
Gallamaso encouraged graduate students to conduct research with the keen observance of the general principles of ethics and national guidelines compiled in their manual. Students can access this manual, along with the application forms, by visiting the IREB office or through the downloadable forms available on the XU website.
Gallamaso shared historical cases wherein research antagonized humans as a means to an end. One grave case was the inoculation of cholera to prisoners in the Philippines in 1906. This happened when inmates were intentionally infected with the disease and were used as samples for the vaccine's effectiveness.
In the present day, Gallamaso emphasized that research needs to give importance to human dignity when methods require their involvement.
"With the expansion of research studies, we need to be aware that there can be a lot of human rights violations to participants," she shared. "In whatever research, you have to be careful."
Ethical standards that apply to studies involving human samples also remind researchers to acknowledge and respect these samples' decisions. The standards label them aptly as participants or partners rather than the common term, respondents.
"Our participants and partners have the right to refuse and withdraw from the research," she said. "If research tends to disrespect the human person, then it shouldn't continue."
The fault lies when information without the consent of the sources will be disclosed in the research, along with private data.
Gallamaso hopes that students in various graduate programs would consider getting familiar with these ethical standards before conducting their research. She added that XU-IREB will always provide assistance.
"For graduate students today, you have to go through the [XU-IREB] office with a rigid examination before you can proceed to your data collection," she stated.
While XU-IREB makes sure that ethical standards are met, XU-KURO guarantees that promising research studies will receive support from the university and from external partner agencies.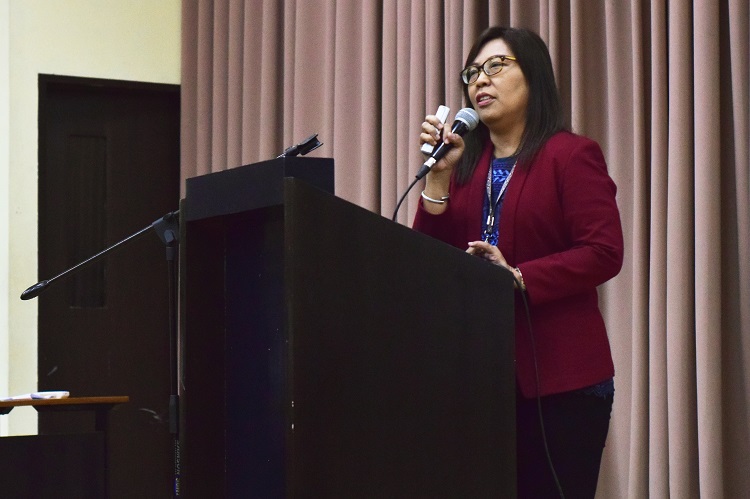 RESEARCH GRANTS. XU dean for research Dr Heide Rabanes shares the available grants that support student research.

Window of grant opportunities
XU dean for research Dr Heide Rabanes enumerated grant opportunities for research studies that have the potential to create a lasting impact, and at the same time, contribute to the wealth of knowledge within the university and Mindanao.
"This is for students doing highly competitive research," she said.
She emphasized that proposals need to be aligned with the university's research agenda. These will be measured based on their global competitiveness, academic excellence, holistic formation, and social engagement.
Some of the grants she shared include the Mindanao Research Award, Miguel Bernad Humanities Research Award, Mindanao 2020, and other opportunities provided by the university's external partners. The full list of these grants is available at XU-KURO.
However, most of these grants are exclusive to faculty. It is through XU-KURO and Kinaadman Student Support for Research (KSSR) that students can avail of the funding for their research. Presently, the call for proposals is on-going until October 15.
With these opportunities, the Xavier Ateneo Graduate School is making sure that students can come up with research studies that will not only serve as a major requirement for their programs but as a building block for the academe's solid foundation of knowledge.∎