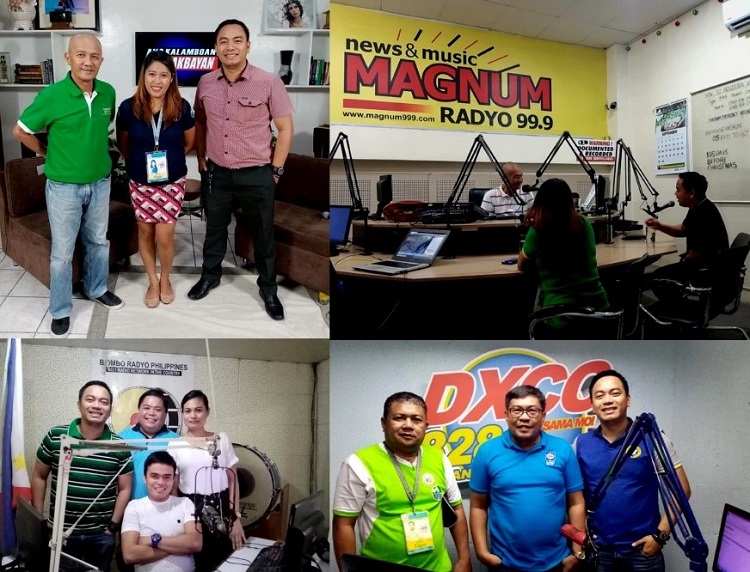 ORO KALIMPYO AWARDS. Nestor Banuag Jr, search committee chairman of the 3rd Oro Kalimpyo Awards, represents Xavier Ateneo and the committee in various media interviews. Supplied photos.
Report by Iana Edrianne M Awayan, XU Student Social Involvement and Advocacy Program Officer
September 9 marked the official launching of the 3rd Oro Kalimpyo Awards (OKA), led by the local government unit of Cagayan de Oro City through its City Local Environment and Natural Resources (CLENRO).
This also marked the start of the city-wide search for the most outstanding barangays, public elementary and secondary schools in their implementation of the Republic Act 9003 or Ecological Solid Waste Management Act of 2000.
The OKA search committee members, who are field evaluators, are also the representatives from the different sectors and institutions, namely, the City Health Office (CHO), City Social Welfare and Development (CSWD) Office, Department of Education (DepEd), City Tourism, Department of Interior and Local Government (DILG), Xavier University - Ateneo de Cagayan, University of Science and Technology in Southern Philippines, Archdiocese of Cagayan de Oro, and other civic groups.
Xavier Ateneo with its continued commitment towards environmental protection also sends its delegates as they take the helm within the committee.
Nestor M Banuag Jr, director of XU Student Social Involvement and Advocacy Program, leads the pack as the over-all chairman of the committee, while Dennise Edwina "Jinkee" S Gonzales, director of XU-NSTP, takes the post of co-chairperson in the barangay category.
This year, the search sets its sights towards highlighting the city's initiative to promote multisectoral collaborations in the implementation of RA 9003 in all levels of society.
After a careful evaluation in the field, the search will determine and acknowledge the top barangays and schools based on the sub-categories. The prizes are as follows:
Urban and Hinterland Categories
1ST PLACE: P200,000
2ND PLACE: P150,000
3RD PLACE: P100,000
Sub-Urban Category
1ST PLACE: P250,000
2ND PLACE: P200,000
3RD PLACE: P150,000
Public Elementary and High School Categories
1ST PLACE: P30,000
2ND PLACE: P20,000
3RD PLACE: P10,000
The awarding of winners will take place in January 2020 for the school and barangay categories, respectively with the latter coinciding with the City Charter Day.
The committee hopes that this local network engagement of Xavier Ateneo as an institution not only serves as its response to the call of environmental preservation but also an inspiration to the students on the huge impact of social involvement.∎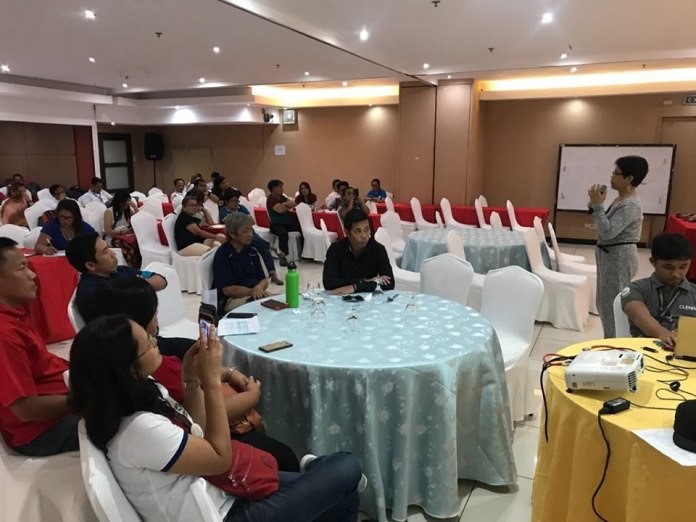 ENGAGING WITH THE BARANGAYS. Jinkee Gonzales, the co-chair for the barangay category of the 3rd Oro Kalimpyo Awards, explains the guidelines and mechanics of the search during its official launching on September 9 at Hotel Conchita. Photo by Tom Udasco.