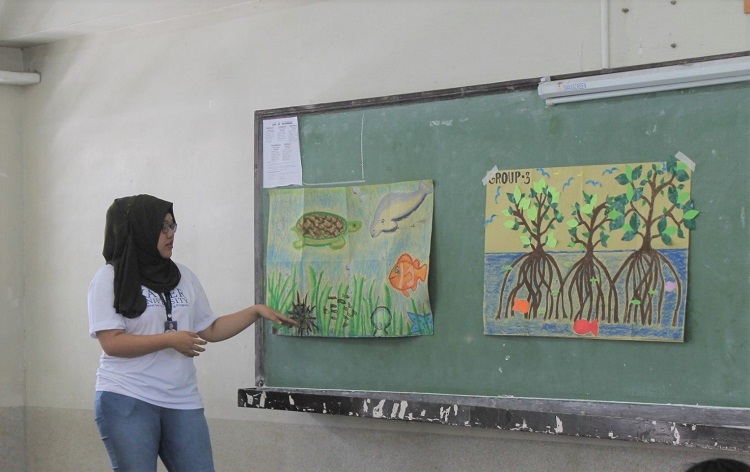 MARINE CONSERVATION ADVOCATE. An XU-NSTP ISDA student shares her thoughts on marine conservation. Supplied photo.
Report by Fae G Ucat
CAGAYAN DE ORO CITY, Philippines — First-year Biology and Marine Biology students of Xavier Ateneo have successfully completed the first phase of the Information, Education, and Communication Student Development Advocates (ISDA) curriculum under the National Service Training Program (NSTP) of the College of Arts and Sciences.
McKeough Marine Center (MMC), in charge of the ISDA Program, uses the ISDA module to teach students on basic marine ecology, marine life forms, processes and the sustainability of these resources.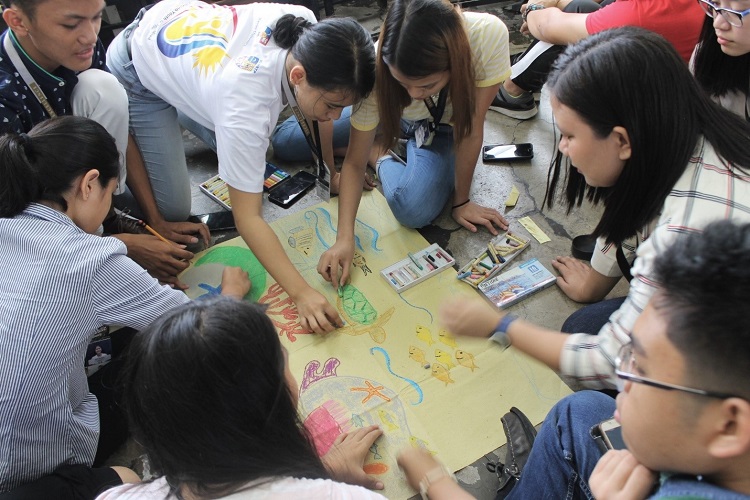 PAINT AN ECOSYSTEM. XU-NSTP ISDA students apply their learnings by making illustrations of a marine ecosystem during the "Paint me an Ecosystem" activity. Supplied photo.
The program is divided into two phases: learning and teaching.
In the learning phase (1st semester), the NSTP students are taught basic marine science concepts and ecology by Biology, Marine Biology and MMC resource speakers. In this phase, the students also learned to present their learning through project making, reporting, and participating in class discussions.
The teaching phase (2nd semester), on the other hand, allowed the students to go to their designated coastal communities or to the public schools to teach the pupils on what they've learned about marine ecology and resources.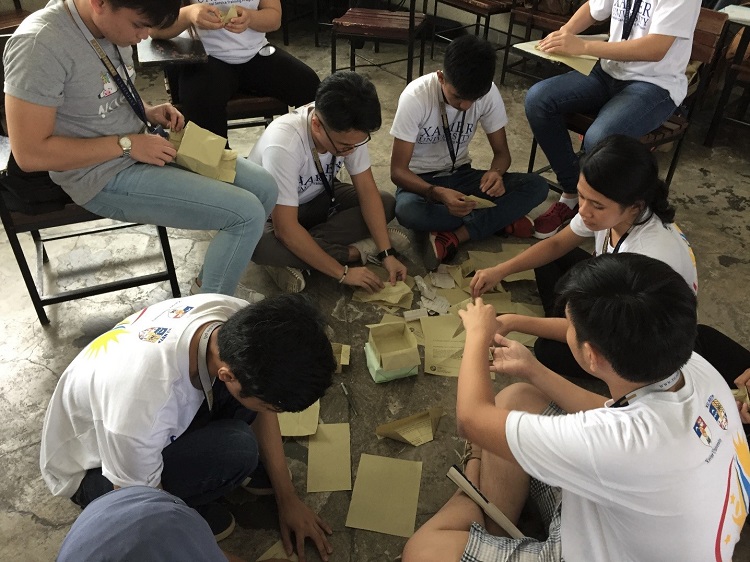 BUILD ME A FORTRESS. XU-NSTP ISDA students participate in an activity called "Build Me a Fortress." Supplied photo.
The Xavier Ateneo students have become "young teachers" helping other young people understand the importance of taking care and protecting marine life and other resources in the seas. When they teach they also become advocates for marine life and the environment.
MMC and NSTP expressed their gratitude and appreciation to the following resource speakers and facilitators for being part of the program: Clive Abellanosa, Cleo Cutas, Necca Caranzo, Norman Macababayao, Janell Sihay, Nadine Vivares, Sean Betonio, Hanna Gallardo, all Marine Biology and Biology alumni; and Rex Abao and Gertrude Garcia, faculty members of the XU Biology Department.∎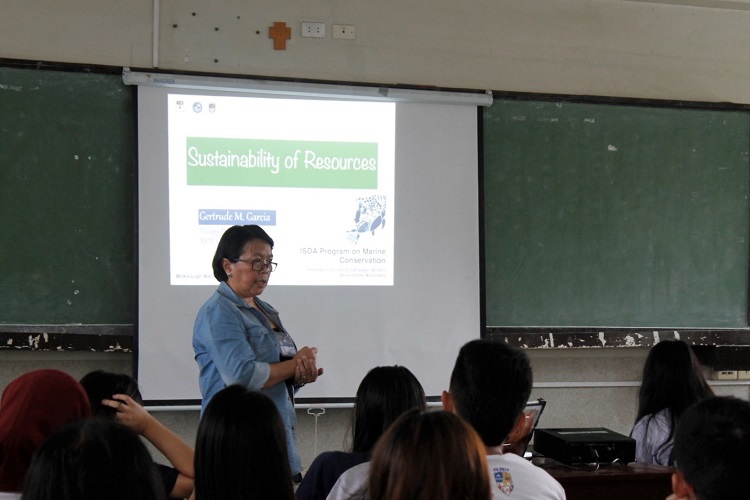 ENVIRONMENTAL SUSTAINABILITY. Gertrude Garcia, XU Biology faculty discusses the importance of environmental sustainability. Supplied photo.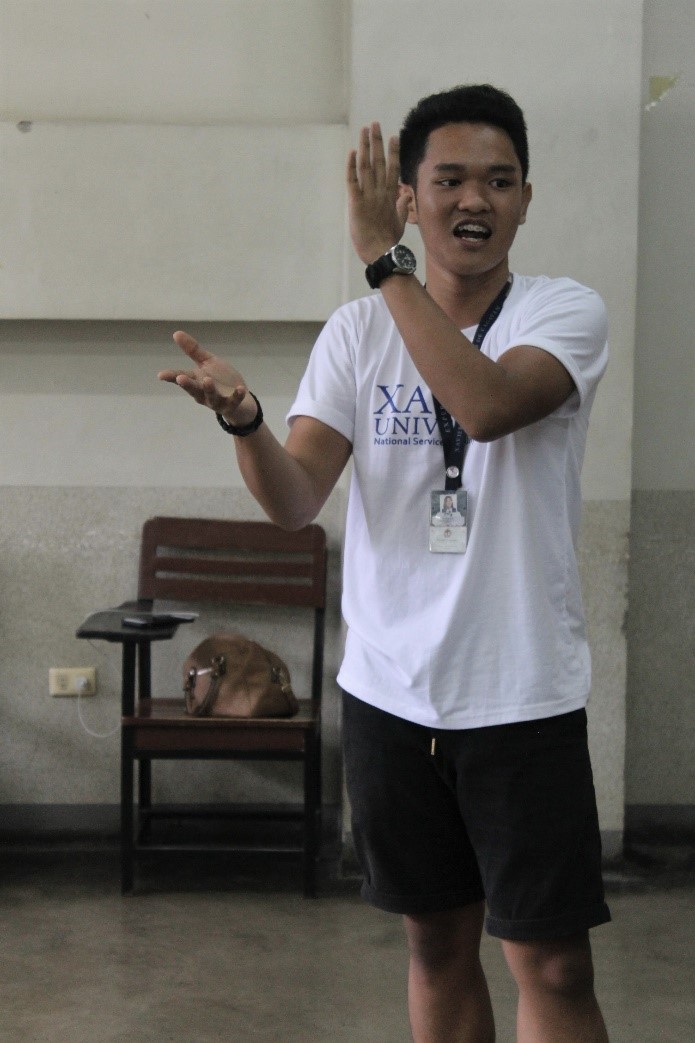 MARINE CONSERVATION ADVOCATE. An XU-NSTP ISDA student shares his thoughts on marine conservation initiatives. Supplied photo.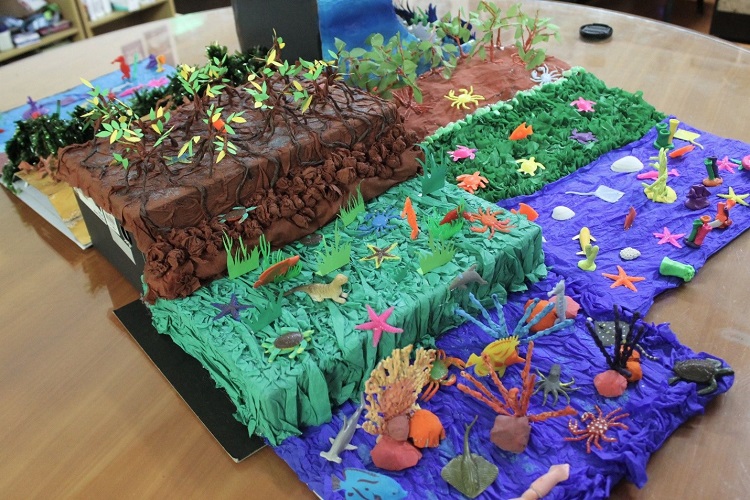 COASTAL ZONE. Pictured here is the diorama of the coastal zone made by the students of the ISDA Program. Supplied photo.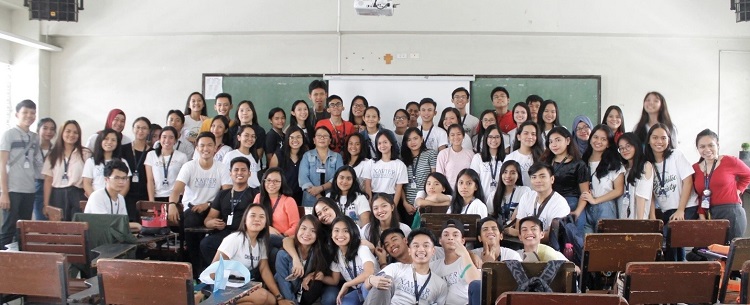 YOUNG ADVOCATES. Xavier Ateneo NSTP- ISDA Program students SY 2019-2020 take a fun group shot after the discussions. Supplied photo.