Report by Analisa G Trillo
The Economics Departments of Ateneo de Manila University (AdMU) and Xavier University - Ateneo de Cagayan (Xavier Ateneo) recently joined forces through a memorandum of understanding to implement a PhD in Economics offsite program in Mindanao.
Part of the MOU is to assist XU Economics in developing its MA in Economics program as its students are the potential PhD in Economics offsite enrollees. Representatives from the two universities have already met to iron out the details of the PhD in Economics program.
The proposal to set up an offsite graduate program in economics in Mindanao has been on the table for more than a year now. The inspiration and demand of the proposed program originated from the internal demand of faculty members of Ateneos in Mindanao to have an accessible and strong MA and PhD programs in economics in the island-region and this goes in line with the Jesuits' call to engage with the economic challenges to help build peace and sustainable development in Mindanao.
In terms of research, AdMU will build its technical and policy research capacity to study specific issues that affect growth and equity in Mindanao, including the private financing of investments (especially in agriculture, food, and fishing processing industries), the allocation of public resources (especially in infrastructure), environmental sustainability, peace and order, and the reduction of inequity in the marginalized sectors.
This will be supported through a partnership with the Joint Ateneo Institute for Mindanao Economics (JAIME) by the Philippine Jesuits, based in Ateneo de Davao University (AdDU), to help build technical and policy research on concerns in the island region.
It is expected that by the end of the initial two-year implementation period of the PhD in Economics program in Mindanao, a strengthened curriculum and instructional materials on graduate economics that are focused on Mindanao would have been developed. This program can also be offered to other educational institutions based in the island region and to integrate this in the work of the Ateneo Center for Economic Research and Development (ACERD), the university's arm for economic research.
The main objectives of the said program are: (1) Strengthening the undergraduate and MA Economics program of Xavier Ateneo through (i) the core full-time faculty serving the departments to acquire their PhD in Economics, and (ii) develop fields of expertise, both capacity in training and research, related to the economics of development of Mindanao; and (2) Developing and implementing graduate-level economics courses that are focused on the problems and issues on Mindanao, and in effect to promote, develop, and implement a technical and policy research agenda in support of the socio-economic development of Mindanao.
Meanwhile, the program specifically aims:
To provide high-quality graduate training for professional economists with special focus and expertise on Mindanao economy;
To provide solid training in both economic theory and quantitative methods for applied research, effective teaching, and public policy analysis;
To provide a venue for collaborative academic research and policy advocacy among Ateneos, specifically on topics affecting peace and economic development of Mindanao; and
To enhance public policy discussion for effective programs and projects related to building peace and socio-economic development in Mindanao.
Additional courses on the macroeconomy and economic institutions in Mindanao will also be developed in order to attract faculty and graduate students who can support the improvement of economics education in the island region. AdMU is expected to help strengthen the level of graduate education, through the training of faculty and graduate students, and technical advice in the improvement of curriculum and teaching methods
In 2013, the Philippine Province of the Society of Jesus has agreed to prioritize the strengthening of its education and social justice institutions in support of development efforts in Mindanao.
During the past three decades, only a few initiatives to improve the level of graduate teaching and policy research efforts have been made in Mindanao, while technical and policy researchers who could have helped improve development efforts in the island region are concentrated in Metro Manila.
PhD in Economics offsite students will officially be enrolled as Ateneo de Manila students, whose classes are to be facilitated by top Economics professors of AdMU and will be held at Xavier University and Ateneo de Davao University. The associate dean of AdMU Graduate Studies and AdMU Economics professors will fly into Mindanao to conduct modular classes for the program. The course will take approximately three years to finish.
The Department of Economics of Ateneo de Davao is also co-hosting the PhD in Economics offsite, the first major collaboration of the Ateneo Economics network. This initiative will equip more higher-education faculty members in teaching and research in Economics.
AdMU Department of Economics is one of the only three universities in the Philippines that offer a PhD in Economics program.
AdDU Department of Economics, which used to offer a Master of Arts in Economics degree, now only offers an undergraduate degree in Economics.
Now, Xavier Ateneo Department of Economics is the only institution that offers a Master of Arts in Economics degree in Mindanao and is awarded by the Commission on Higher Education as the only recognized Higher Institution in Economics in Mindanao. The MA in Economics program is lodged at the XU Graduate School, whose current dean was a long-time chairperson of the Economics Department.∎
GENERAL INFO: PHD IN ECONOMICS OFFSITE PROGRAM
Requirements/Qualifications for PhD students:
PhD offsite students must at least hold the following master's degree in 1) MA in Economics, 2) MS in Economics, 3) Master in Economics, 4) Master on a specialized degree in Economics, e.g., Agriculture Economics, Development Economics, Econometrics; and
Interested applicants with a non-Economics master's degree, but on an allied field, must enroll in the MA in Economics, non-thesis program, of Xavier University starting on the first semester of AY2020-2021.
Possible scholarship opportunities and external sources:
There are various scholarship opportunities and dissertation grant windows that the PhD in Economics offsite students may avail of:
Ateneo funded: Fifty-percent (50%) tuition scholarship for administrators, academics, and other personnel coming from CHED and DepEd acknowledged institutions.
Ateneo funded: Full tuition scholarship for Doctoral students. It includes fees for dissertation writing and oral defense. Approved scholars will also receive a PhP30,000 monthly allowance during the tenure of his/her scholarship.
Ateneo funded: Full tuition scholarship for public school teachers.
Ateneo funded: PhP15,000 dissertation grants for Doctoral students.
Ateneo funded: AdMU Economics faculty members who are currently doing a research project in Mindanao may hire research assistant/s from the PhD in Economics offsite students. The grantee may receive all the benefits stipulated in the existing policies for Research/Graduate Assistantship in Ateneo.
Other externally funded:Students may apply for the United Board Scholarship. Ateneo de Davao University will shoulder the costs for their faculty members, under their faculty development program.
NEDA employees: NEDA and other government employees may avail the scholarship grants from their respective agencies. An invitation will be sent to their central office.
Logistical and financial arrangements on the conduct of classes in Mindanao:
A subject in the PhDin Economics offsite program must at least reach the required number of students (at least 12) to qualify as a regular subject. But the Dean of the School of Social Sciences may waive the minimum number of students down to five.
Airfare and accommodation are not yet included in the projected costs of implementation.
Xavier Ateneo will host the first two semesters of the PhDoffsite (i.e., First and Second Semesters of the Academic Year 2021-2022 and Intersession of Academic Year 2022-2023), while Ateneo de Davao will host the next two semesters of course work (i.e., First and Second Semesters of the Academic Year 2022-2023).
A memorandum of agreement will be signed by the three Ateneo universities after the additional items in the cost projection will be finalized.
Other details and dates about the PhD offsite program:
PhD in Economics offsite will commence on the first semester of the AY2021-2020.
The enrollees in this program will officially be acknowledged as AdMU students. The Associate Dean for the Graduate Programs of Ateneo de Manila will conduct a Graduate School orientation in Mindanao.
The Joint Ateneo Institute for Mindanao Economy (JAIME) will assist on the identification of a dissertation topic for the PhD offsite students. Topics may be related to Mindanao issues. These topics will be identified early on.
Part-time students are accepted in the PhD in Economics offsite program.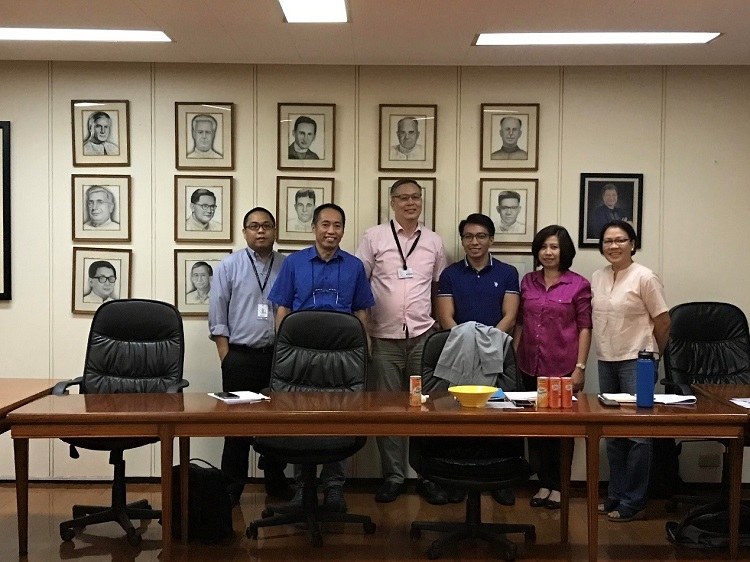 ATENEO ECONOMICS. Economics administrators from Ateneo de Manila University, Xavier University – Ateneo de Cagayan, and Ateneo de Davao University pose for solidarity after the PhD in Economics offsite meeting. Present are (L-R), Dr Ser Percival Penal-Reyes (Associate Chairperson of AdMU Economics), Joselito Sescon (Head of Mindanao Research, AdMU Economics), Dr Philip Arnold P Tuano (Chairperson of AdMU Economics), Jhon Louie Sabal (Coordinator for MA Economics, XU Graduate School), Dr Catherine Roween Almaden (Dean of XU Graduate School), and Mildred Estanda (Chairperson of AdDU Economics). Supplied photo.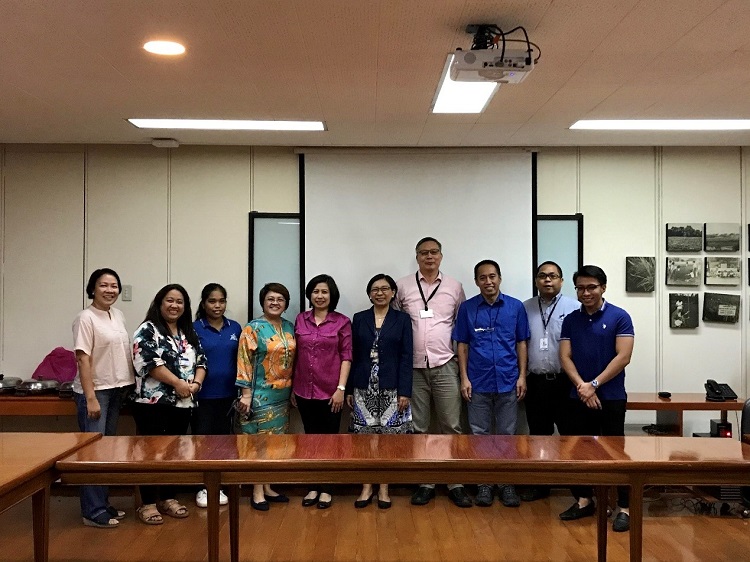 SOLIDARITY POSE WITH XU ADMINS. Dr Juliet Q Dalagan (XU Vice-President for Higher Education), Marichu M Obedencio (Former Chairperson of XU Economics and Current Assistant Dean of Arts and Sciences), Caroline Laarni Serenas (Chairperson of XU Economics), and Analisa Trillo (Faculty of XU Economics) join the Ateneo Network Economics administrators for a photo opportunity. Supplied photo.