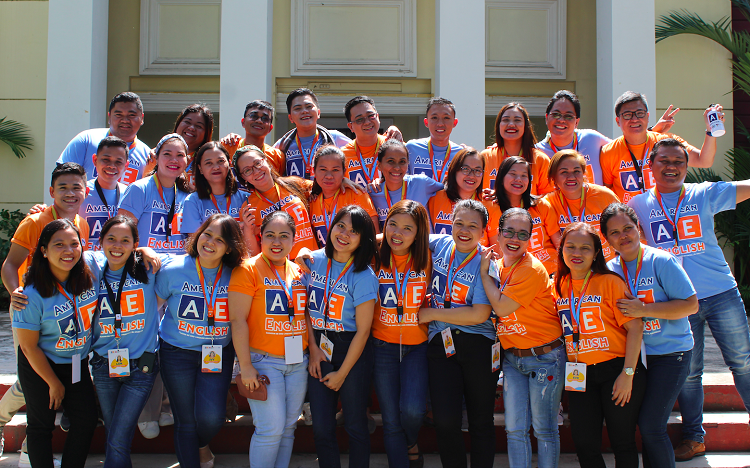 AMERICAN ENGLISH TRAINING. Thirty English teachers from public and private schools in Cagayan de Oro, Misamis Oriental and El Salvador City comprise the American English Training of Trainers (ToT) 2019 batch for this region in Mindanao. Supplied photo.
Xavier Ateneo's Arrupe Educational Center (AEC), in partnership with the US Embassy in the Philippines and the Regional English Language Office (RELO), conducted an American English Training of Trainers (AEToT) workshop from November 7 to 9 at the XU American Corner.
The participants of the training included teachers from public and private schools in the province of Misamis Oriental and cities of Cagayan de Oro and El Salvador.
Maria Victoria Trinidad, director of the Arrupe Educational Center, shared with the participants the rationale for the training where she emphasized the importance of providing professional development opportunities to teachers, such as this training-workshop in public and private schools.
"As the Social Development Center of the XU School of Education, Arrupe's commitment is to increase the access of training program that will transform the teaching-learning experiences in schools," Trinidad said.
"To be truly student-centered and excellent teachers, the American English training is one of the practices that we believe our professional-teacher communities can be safe spaces for rich sharing of new ways of teaching and mentoring," she added.
Matt Keener, cultural affairs officer of the US Embassy in the Philippines, virtually welcomed the thirty trainers to the growing network of teachers in Mindanao trained to utilize the resources made available in the American English at State website. Resources include various teaching and learning materials and resources for professional development as well.
"The US Embassy has been doing these workshops all around Mindanao since 2016," Keener said. "Over the past few years, we have managed to train more than 150 teachers who have gone on to subsequently conduct workshops and classes for more than 2,500 teachers all throughout Mindanao."
He added: "However, this is our first opportunity to do this in CDO and I am very excited about this because it is such a very important city for us in Mindanao and we have so many incredible partners there who made this possible."
The participants were introduced to a wealth of materials made available through the AE website such as Activate Board Games, American Teen Talk and Teaching the Four Skills for the first day. They were then gathered for a fellowship dinner at Amaya View where they heard messages of support from DepEd Region X assistant regional director Dr Victor de Gracia Jr, DepEd CDO Curriculum Implementation Division chief Lorebina Carrasco, and Cagayan de Oro Association of Private Elementary Schools (CAPES) president Maria Kristine Lasque.
The workshop continued on the second day where the participants explored resources such as Create to Communicate, Shaping the Way We Teach English Series, and the English Teaching Forum. They were also given basic project management skills for them to craft their mini-grant proposals.
Their last day was a hands-on activity focusing on how to navigate and explore the materials in the American English website and the groups underwent project proposal pitching.
"American English has rekindled my teacher spark!" said Julieta Sofia Beja, participant from Macabalan National High School.
"AE has also made me feel that I am not alone in my simple aspirations – that I can find the support I need in a community of inspired teachers," Beja added.
The participants are expected to conduct their proposed training programs to their communities and will be gathered again for a follow-on workshop in April next year. ∎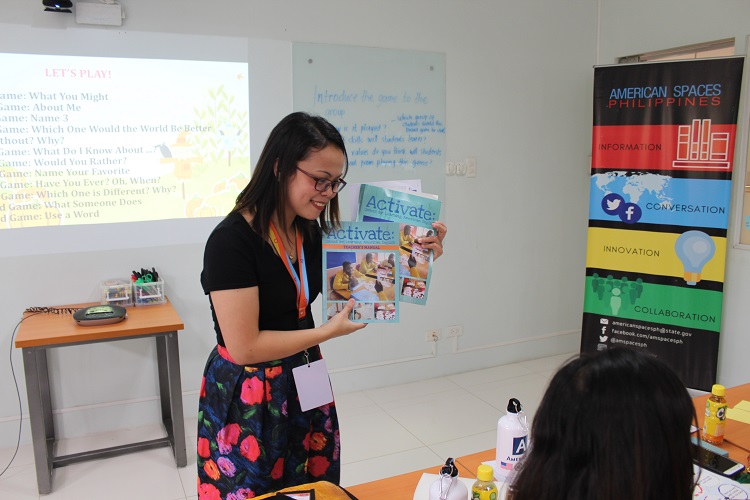 BOARD GAME. Dr Irish Mae Fernandez - Dalona, AE training facilitator from MSU-IIT, introduces the Activate: Board Game as resource for game-based pedagogy in the language classroom. Supplied photo.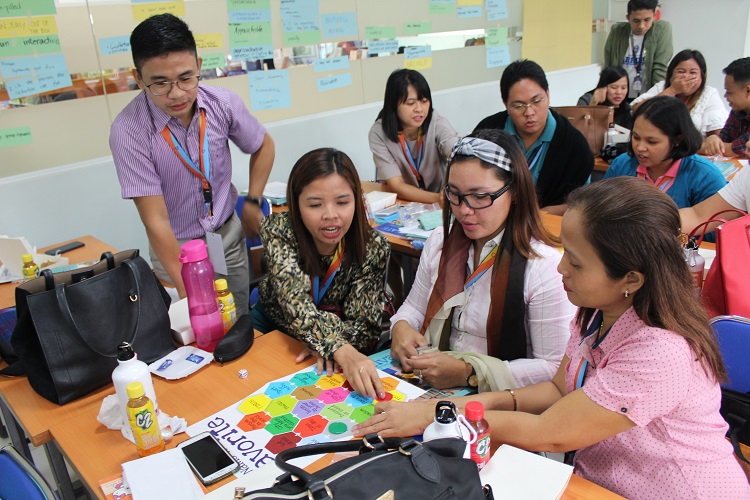 AE WEBSITE. Participants play and explore various board games which can be downloaded for free in the American English website. Supplied photo.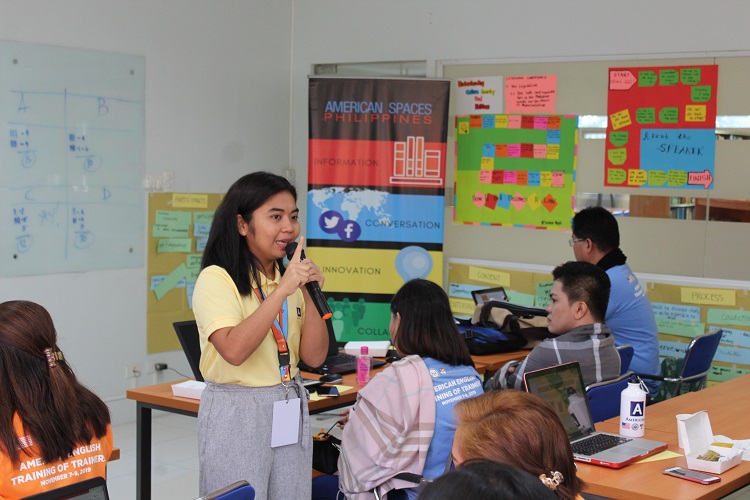 PROJECT MANAGEMENT. Lynrose Jane Genon, AE training facilitator from MSU-IIT, introduces the basics of project management for the crafting of the mini-grant proposals of the participants. Supplied photo.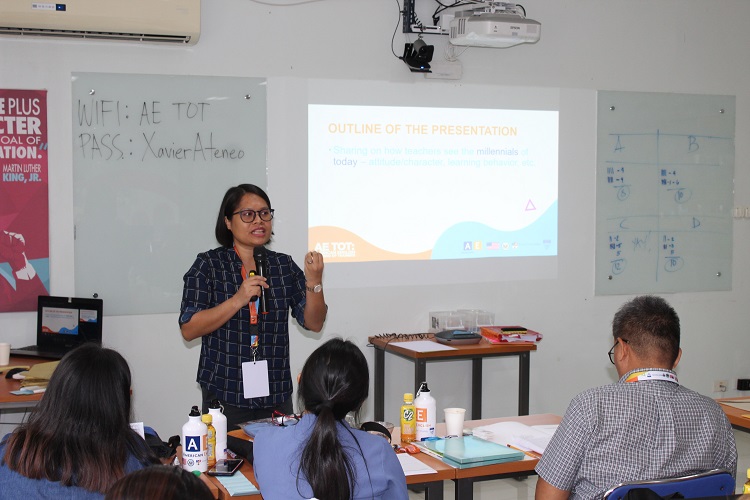 AE MATERIALS. Dr Maria Angeles Hinosolango, AE training facilitator from University of Science and Technology of Southern Philippines, presents American English materials in teaching the four macro-skills and how to incorporate them in classroom instruction. Supplied photo.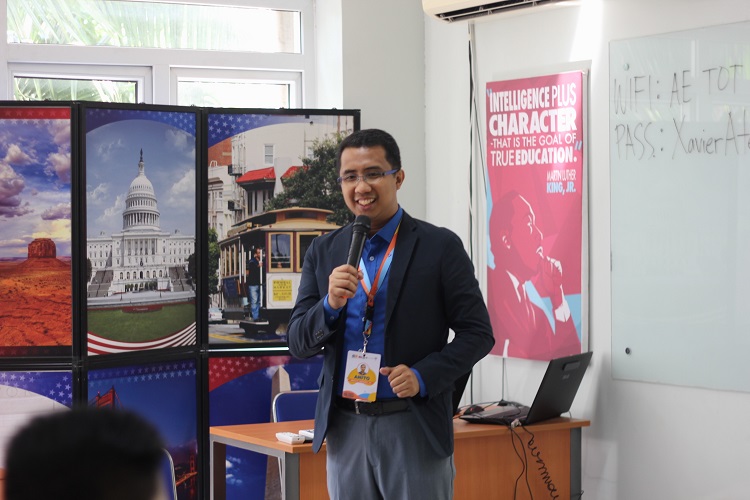 CREATE TO COMMUNICATE. Anito Librando Jr, AE training facilitator from Xavier Ateneo Junio High School, facilitates the workshop on Create to Communicate resource material to incorporate visual arts in teaching of English language skills. Supplied photo.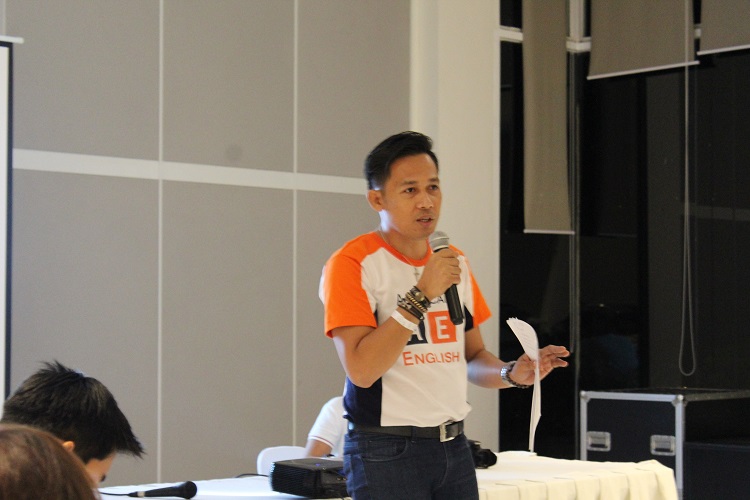 FELLOWSHIP. Edgar Manaran, AE training facilitator from DepEd Davao del Norte, shares with the participants the success stories of the AE community of practice during the fellowship dinner at Amaya View. Supplied photo.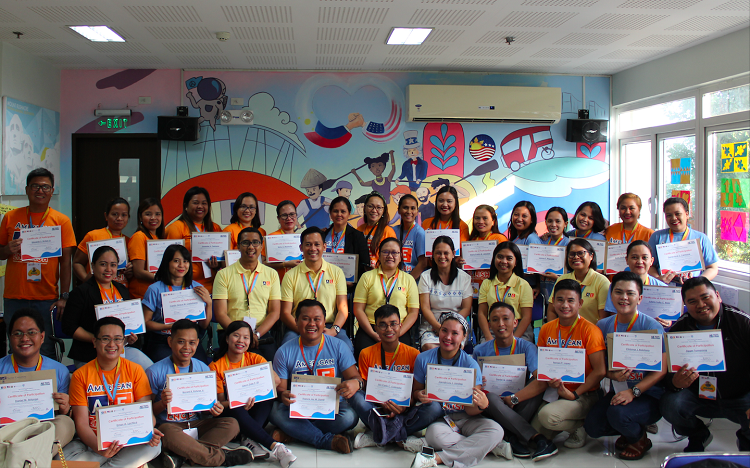 AE FAMILY. American English Training of Trainers participants proudly showcase their certificates for a batch photo with AE trainers, AEC director Maria Victoria Trinidad (middle row, center) and Xavier Ateneo School of Education dean Dr Jovelyn Delosa (middle row, right). Supplied photo.