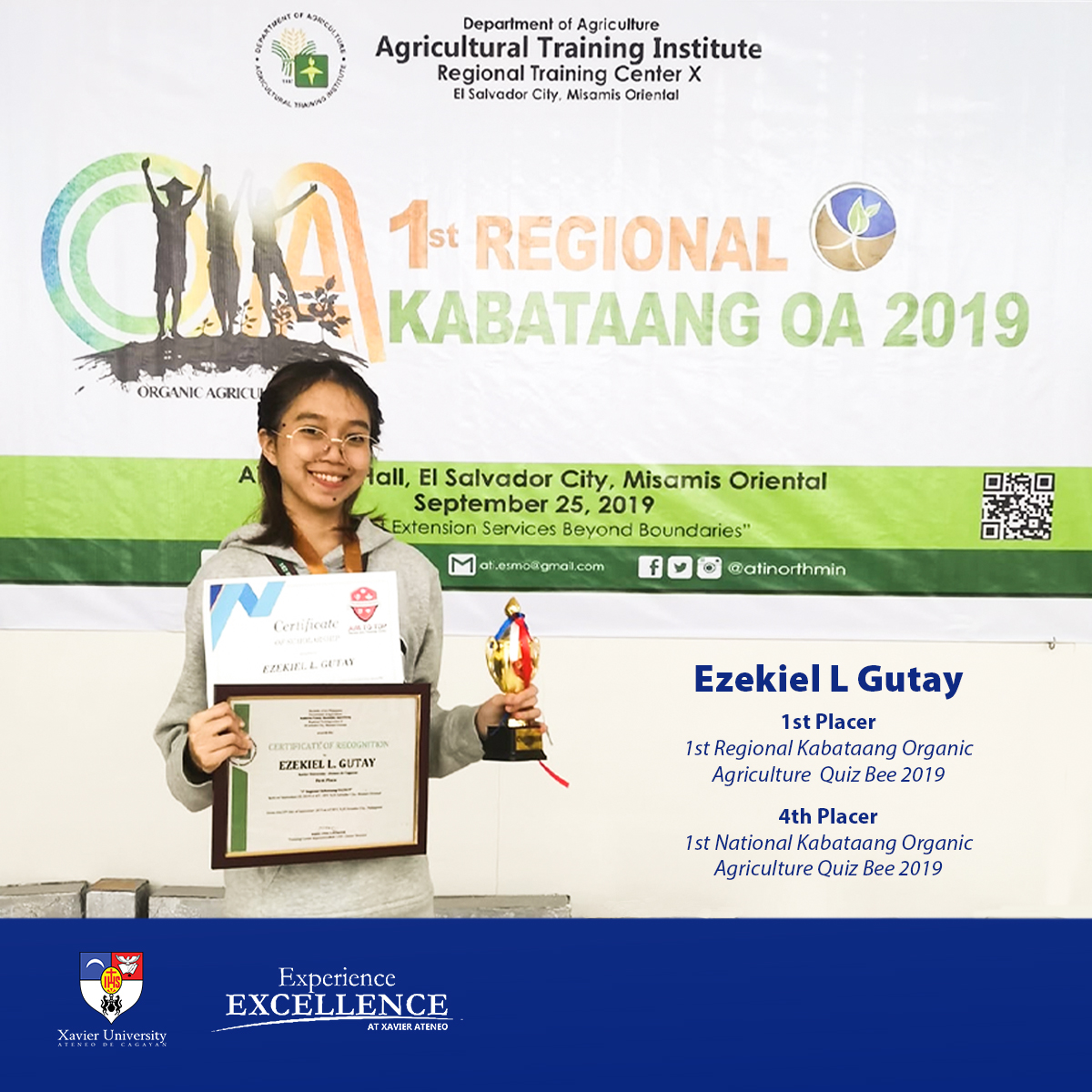 Xavier Ateneo student Ezekiel L Gutay secured the 4th place in the 1st National Kabataang Organic Agriculture Quiz Bee held on November 5 at the University of the Philippines Los Baños.
Gutay, a sophomore BS Agriculture student, competed against 14 others who represented the different regions in the country.
The said tilt was conducted in line the Organic Agriculture Month celebration (November), "intended to strengthen the awareness about organic agriculture as well as boost the enrollment in agriculture and promote agri-related courses."
It was the brainchild of the Agricultural Training Institute (ATI) of Region IV-A and was adopted and implemented in the national level in collaboration with the Department of Agriculture.
The national winners received trophies, cash prizes, and certificates of recognition during the National Organic Agriculture Congress held in Alfonso, Cavite on November 12.
Gutay represented Region 10 (Northern Mindanao) in the national competition. To qualify, she had to emerge as the champion in the regional round of the quiz bee, held at the ATI El Salvador City on September 25.
The qualifying round was participated in by five agricultural academic institutions with three representatives each. The regional contenders were from Central Mindanao University, Mindanao State University (Naawan Campus), Mountain View College, and the University of Science and Technology of Southern Philippines (Claveria Campus).
Gutay received cash, a trophy, certificate from the ATI - Regional Training Center X (ATI-RTC X), and a full review scholarship at the Aim to Top Review and Training Center.
The training arm of the Department of Agriculture hopes that the activities have encouraged more youth to pursue agriculture-related courses and have shown to the public that "farming is a profitable business and a rewarding career."
Aside from the quiz bee, the ATI also held other competitions such as essay writing and poster making as a prelude to the National Organic Agriculture Congress, an annual gathering of agriculture stakeholders, farmers, and practitioners.∎