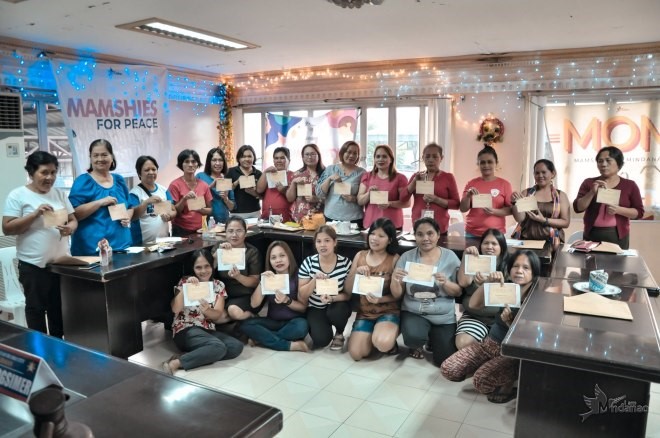 MAMSHIES OF MINDANAO. The "I Am Mindanao" campaign team holds interactive dialogues, informative sessions, and games for mothers toward building peace. Supplied photo.
Xavier University - Ateneo de Cagayan Development Communication's "I Am Mindanao" campaign stays true to its mission of advocating for peace in Mindanao. This time the campaign deviates from the youth as primary beneficiaries and identifies the peacebuilders back to their roots – the family.
The campaign commemorates motherhood through a series of peace-enrichment programs shared with more than 1,500 mothers from the Municipality of Baungon, Bukidnon, and in barangays Bayabas, Bonbon, and Lapasan of Cagayan de Oro City.
For half a day, the I Am Mindanao team hosted interactive dialogues, informative sessions, and games. It was supplemented by the "Mamshies for Peace" seminar and a community broadcasting program to provide insightful and relevant messages for the mothers in their journey towards successful peacebuilding in the family and in the community.
"We have always put God at the center of our family, the center of our lives, and it has made the journey more meaningful," said Adeline Gambe, one of the guest speakers for the Mamshies For Peace seminar on October 28 in Baungon, as she inculcated the importance of upholding Christian values in the household to nearly 1,000 mothers.
I Am Mindanao extended its efforts even further, advocating to over 500 more mothers in the barangays of Bayabas, Bonbon, and Lapasan. Recognizing the importance of empowering mothers to be peace heroes, a member of the Women's Association in Lapasan said, "As a mother, I always consider discipline as the most important virtue in raising my child. Discipline and love."
The campaign's partnership with the Women's Association of Barangay Lapasan on November 13 marked the end of the hosting of the said peace-enrichment programs for the campaign's fourth wave.
I Am Mindanao stands firmly with conviction in its belief that the family is the first peace-building arena; and, that empowered mothers play the most vital role in countering violent extremism and hate speech and in molding the youth to be righteous men and women in the community and for the community.∎