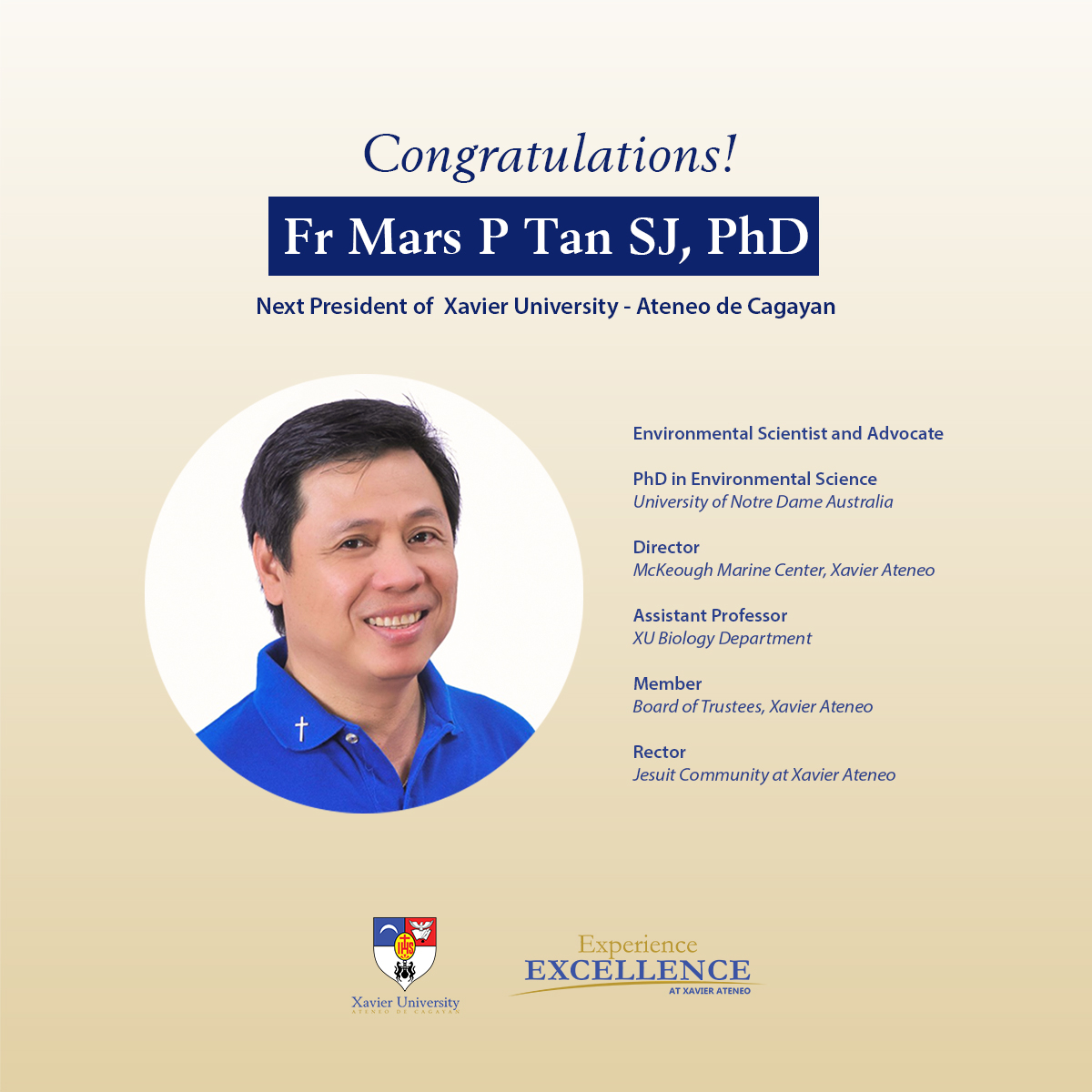 CAGAYAN DE ORO CITY, Philippines — After a thorough search and discernment process, environmental scientist and advocate Fr Mars P Tan SJ has been named as the next president of Xavier University - Ateneo de Cagayan, effective June 1, 2020.
Tan will be succeeding Fr Roberto "Bobby" C Yap SJ who has been elected as president of Ateneo de Manila University.
Tan's election was announced by Francisco F Guerra III, chairman of the Xavier Ateneo Board of Trustees, through a university memorandum on Monday, December 9.
Father Mars and his roots
Tan is fondly called as "Father Mars" by his friends and colleagues in the field.
He holds a PhD in Environmental Science from the University of Notre Dame Australia; an MS in Environmental Science from the University of the Philippines; an MA in Theology from the Loyola School of Theology, Ateneo de Manila; and a BS Biology from Ateneo de Davao.
Born and raised in Surigao del Norte, Father Mars has deep roots in Mindanao. He was a Jesuit Regent assigned to teach at XU High School from 1992 to 1994.
For the past ten years, he has been Rector of the Jesuit Community at Xavier Ateneo.
He is a current member of the XU Board of Trustees and incumbent director of the McKeough Marine Center of Xavier Ateneo.
Since 2009, he has been an assistant professor at the XU Biology Department. His other leadership roles include board memberships at Manila Observatory and Xavier Science Foundation.
Leader in environmental work
Father Mars' teaching, research, publication, and advocacy have focused on environmental concerns. His PhD dissertation was on "Sedimentation dynamics of the Cagayan de Oro River catchment and its implications for the coastal marine habitats of Macajalar Bay."
He has led XU projects including the Ridge-River-Reef (R3) Project, Mineral Recovery Project, Mangrove Mapping in Macajalar Bay, Coral Resource Assessment and Marine Debris Audit, and Building an Integrated Methodology for Water Resources Assessment and Management in Urban Coastal Areas.
As a passionate environmental scientist, he is a proponent of the Jesuit Universal Apostolic Preference, "to collaborate in the care of Our Common Home," as a response to the call made by Pope Francis in his landmark encyclical Laudato Si'.
In his memo, Guerra, on behalf of the trustees, thanked Father Mars for "his gracious acceptance of this important mission of leadership."
He added: "We also thank Fr Bobby for his enormous contributions to the university and Northern Mindanao over these past nine years. Let us keep Fr Mars, Fr Bobby, and our beloved Xavier Ateneo in our prayers."∎