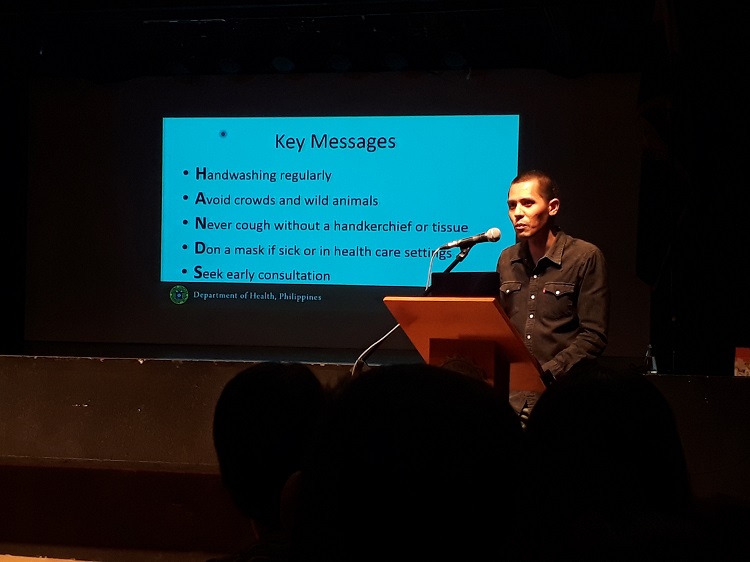 PRACTICAL ADVICE. Dr Ian Christian Gonzales discusses the 2019 Novel Coronavirus (nCoV) at Xavier Ateneo.
CAGAYAN DE ORO, Philippines --- The Xavier University Health Services Office, in collaboration with DOH Region X, organized a talk about the 2019 Novel Coronavirus (nCoV) given by Dr Ian Christian Gonzales at the XU Little Theater, Saturday, February 1.
Dr Gonzales, a lauded alumnus who finished top 2 of his batch in XU Dr Jose P. Rizal School of Medicine, currently heads the management of various public health programs such as TB, HIV, dengue, rabies, and other infectious diseases in Northern Mindanao.
He clarified ongoing misconceptions about nCoV, as well as provided practical advice to the concerned populace.
Mapping the Novel Coronavirus
Dr Gonzales opened his talk by explaining that the 2019-nCoV is one of seven human coronaviruses, some of which are only responsible for the common cold. These viruses are characterized by the crown-like spikes around its surface.
According to him, infamous among the coronaviruses are the Middle East Respiratory Syndrome (MERS-CoV) and the Severe Acute Respiratory Syndrome (SARS-CoV). SARS-CoV, first recognized in China in November 2002, caused a total of 8,098 probable cases and 774 deaths.
The Center for Disease Control and Prevention (CDC) reports that there have been no known new cases of SARS-CoV since 20041. On the other hand, MERS-CoV has had a total of 858 associated deaths from 2,494 confirmed infections as declared by the World Health Organization (WHO)3.
The 2019-nCoV was first recognized in the city of Wuhan located in the Hubei province of China. Dr Gonzales adds that the virus had its genome successfully sequenced in only two weeks, whereas SARS-CoV took around two months.
Its symptoms are the same with influenza-like illnesses and can prove fatal to people with existing ailments. As of January 31, there is a total of 9,856 confirmed cases and 213 confirmed deaths from nCoV.
Dr Gonzales added that if there is no control measure in place, an infected person wandering about can only infect at most around 2-3 persons as the virus is not airborne. Therefore, having proper hand hygiene is more important than the wearing of face masks.
With an "infectivity rate just like the flu and just as dangerous as measles with only a 2% fatality rate compared to SARS at 10% and MERS at 35%", Dr Gonzales assures the public that the Novel Coronavirus is not as deadly as its predecessors.
Philippines' medical capacity in emergent diseases
As of February 2, the Philippines had reported the first case of nCoV death outside of China. The deceased is the companion of the other confirmed case of n-CoV in the country, a 38-year-old female Chinese national who flew to Hong Kong from Wuhan City and thereafter went to Manila, Cebu, and Dumaguete.
Local airlines had already started contacting the passengers and crew aboard the flights taken by the couple for quarantine3.
Moreover, there are currently 31 persons under investigation in the country. They are in such status for either having a travel history in Hubei Province or having come in contact with a person positive with the 2019-nCoV.
For Northern Mindanao, the lone case in Camiguin Island was confirmed to be negative of the virus and the patient had already been discharged from Camiguin General Hospital.
Two more are being monitored in Cagayan de Oro City's Northern Mindanao Medical Center for experiencing flu after travelling to China.
Dr Gonzales assured that "NMMC and DOH are equipped to manage the case" and that the country is capable of medical surge.
He says that it may not be as grand as China which managed to build a makeshift hospital in less than two weeks but the Philippines already has protocols in place and materials in standby should the situation get dire.
The main focus as of now is on prevention. The first "line of defence" that Dr Gonzales mentioned is the thermal scanning in the airports.
Everyone with fever coming in the country will be directed immediately to quarantine personnel.
Disease surveillance also adds to the preventive measures as disease surveillance coordinators and epidemiology units around the country regularly report any developments suspicious of the virus.
Lastly, Dr Gonzales reiterates the importance of education by coordinating with the Department of Education for information dissemination regarding the 2019-nCoV.
Dr Gonzales ends his talk with his key message, never to forget HANDS, which stands for:
Handwashing regularly
Avoid crowds and wild animals
Never cough without a handkerchief or tissue
Don a mask if sick or in health care settings
Seek early consultation
* * * * *
1 Severe Acute Respiratory Syndrome (SARS) from https://www.cdc.gov/sars/index.html
2 Middle East respiratory syndrome coronavirus (MERS-CoV) from https://www.who.int/emergencies/mers-cov/en/
3 First novel coronavirus death outside China reported in Philippines from https://www.cnnphilippines.com/news/2020/2/2/novel-coronavirus-cases-death-Philippines.html