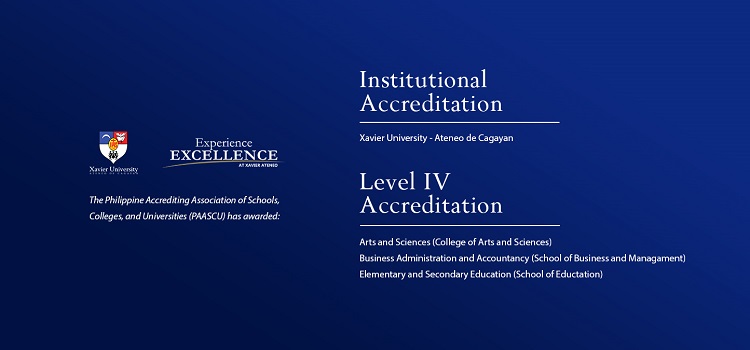 The Philippine Accrediting Association of Schools, Colleges, and Universities (PAASCU), for the first time, granted Xavier University - Ateneo de Cagayan with an Institutional Accreditation.
Xavier Ateneo president Fr Roberto "Bobby" C Yap SJ, in his memo, shared the message of the PAASCU board of directors to the XU community on Friday, February 28.
Yap said: "Institutional Accreditation is the highest certification that can be given to an educational institution. The distinction was granted based on Xavier Ateneo's accomplishments and compliance with the five major criteria set by the Federation of Accrediting Agencies of the Philippines."
The major criteria are the following:

1. The Arts and Sciences, Business, and Education programs should have been granted at least Level III re-accredited status;
2. 75% of the program offerings should be accredited;
3. Majority of the total student population should be enrolled in the accredited programs;
4. The performance of its graduates in the licensure examination should be at par with or above the national passing rate for at least two years; and
5. The Higher Education Institution should have well-developed internal quality assurance mechanisms that include strong research and linkages, instruction process, and community service programs.

Yap added in his memo that PAASCU renewed the Level IV Accreditation to Xavier Ateneo's core programs: Arts and Sciences (College of Arts and Sciences), Elementary and Secondary Education (School of Education), and Business Administration and Accountancy (School of Business and Management).
The validity of the accreditation for the core programs is until May 2024.
The university president said: "Institutional and Level IV Accreditation are affirmations that at Xavier Ateneo, we truly Experience Excellence! We rejoice at this accomplishment, AMDG."
PAASCU is authorized by the Commission on Higher Education to certify the levels of accredited programs in educational institutions. Accreditation translates to the granting of progressive deregulation and other benefits.∎