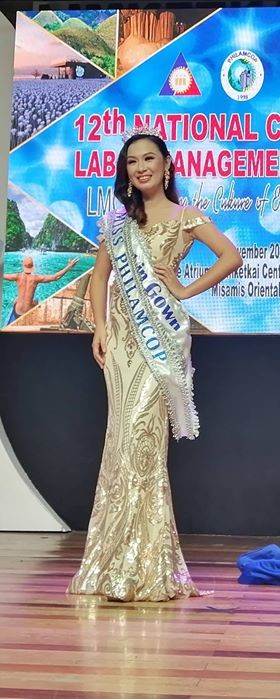 STUNNING IN GOLD. Xavier University School of Business Management instructor Tracy June Dy crowned as Ms PHILAMCOP 2019 in the 12th LMC National Convention. Supplied Photo.
CAGAYAN DE ORO, Philippines --- Xavier University's Tracy June Dy was named Ms. PHILAMCOP 2019 in the LMC National Convention held last November 20 at Atrium-LKK Center, besting the other regional contestants.
The National Conciliation Mediation Board (NCMB) in collaboration with the Philippine League of Labor Management Cooperation Practitioners, Inc. (PHILAMCOP), Labor Management Cooperation-Voluntary Arbitration Advocates, Inc. (LMC-VAAI), Labor Management Cooperation Practitioners Northern Mindanao, Inc. (LMCP-NMI), and Regional Conciliation and Mediation Board (RCMB-X) held the 12th National Convention on Labor Management Cooperation from November 20 to 21, 2019.
With the theme "LMC: Sustaining the Culture of Excellence towards Industrial Peace", the nationwide convention was led by atty Ligaya R Lumbay, director of the RCMB X. The event was attended by the entire membership of the LMCP-NMI, NCMB Region 10, and RCMB X.
Dy is an instructor at the School of Business Management (SBM) and a member of Xavier University Tertiary Level Faculty Association.
In the Q&A portion, Dy was asked what she thought about the significance of holding the LMC convention. Tracy cited Xavier Ateneo saying: "Xavier University has sustained economic and organizational growth over the years. I believe that hosting national conventions like these on labor management cooperation especially for labor and management practitioners is very important, because it gives us an awareness towards the best practices on labor and management over the years not only in the Philippines but also globally. Just like what we had this afternoon, we had discussed best practices that we can apply here in the Philippines just like what Japan and Europe had that made their organizations successful. With that, Industrial peace not only for labor harmony but also in economic and industrial growth will be possible in the Philippines as well."
Her response secured her win in the public voting of 1,300 LMC practioners who participated in the event. Tracy wore "casual" during the opening parade holding the banner with LMCP-NMI president Ramil M Abamonga.∎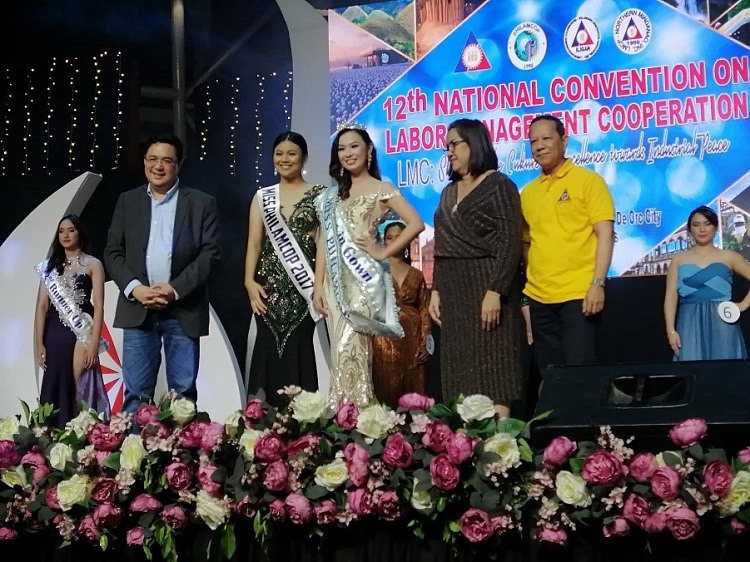 GOLDEN GLORY. XU SBM instructor Tracy June Dy crowned in the pageant of the12th LMC National Convention. Supplied Photo.