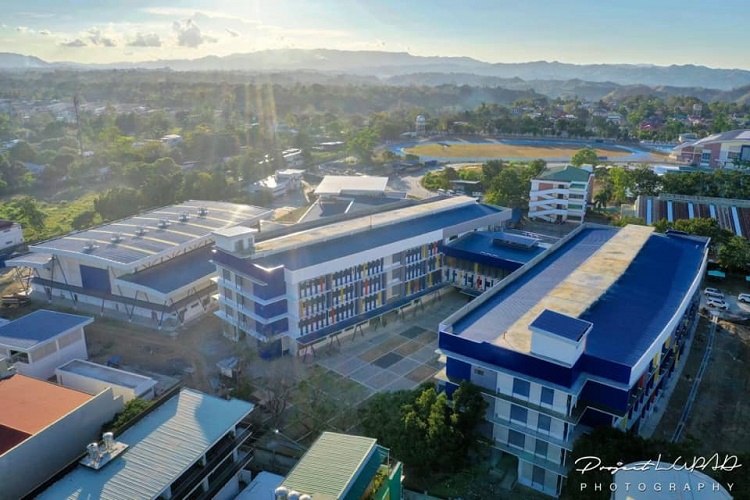 NEW HOME. A bird's-eye view of the new Xavier University Senior High School campus in Pueblo de Oro. Photo by Project Lupad.
Guided by the vision of becoming "A leading ASEAN university forming leaders of character by 2033", Xavier University - Ateneo de Cagayan offers Senior High School global standards in education.
Xavier University Senior High School
Senior High School comprises the two years of education (Grades 11 and 12) immediately following four years of Junior High School (Grades 7 - 10) in the K-12 program.
Xavier Ateneo offers two tracks that junior high school graduates can choose from: Academic and Technical-Vocational.
Under the Academic track, students can choose from any of the four strands: STEM (Science, Technology, Engineering and Mathematics); ABM (Accountancy, Business and Management); HUMSS (Humanities and Social Sciences); and, GA (General Academic) which prepare students for further studies in college.
Within the Technical-Vocational track, students can choose from TESDA-accredited programs (automotive, electronics, electrical, mechanical, among others), as well as non-TESDA vocational programs.
Located at the Manresa Complex in Upper Balulang, Cagayan de Oro City, the Andrew L Gotianun Center for Integrated Technologies (ALGCIT) offers specialized tech-voc education to mold globally-competitive tech-voc graduates.
A New 'Clean and Green' Campus
Due to the implementation of the K-12 program, Xavier Ateneo had no college freshmen and sophomores for SY 2016-2017 and 2017-2018. Instead, senior high classes and activities were hosted at the main campus along Corrales Avenue while a new senior high school campus was constructed.
Completing the Basic Education in Pueblo de Oro, the new senior high school campus is located northwest facing the junior high school campus (formerly Xavier University High School). Its construction started June 2018 and completed in May 2019.
The main building of the campus is divided into the North and South wings. These are to be used as buildings for classrooms and other offices. Connecting both wings is a structure that will house administrative offices. In true Jesuit fashion, the center of the senior high school campus is a chapel.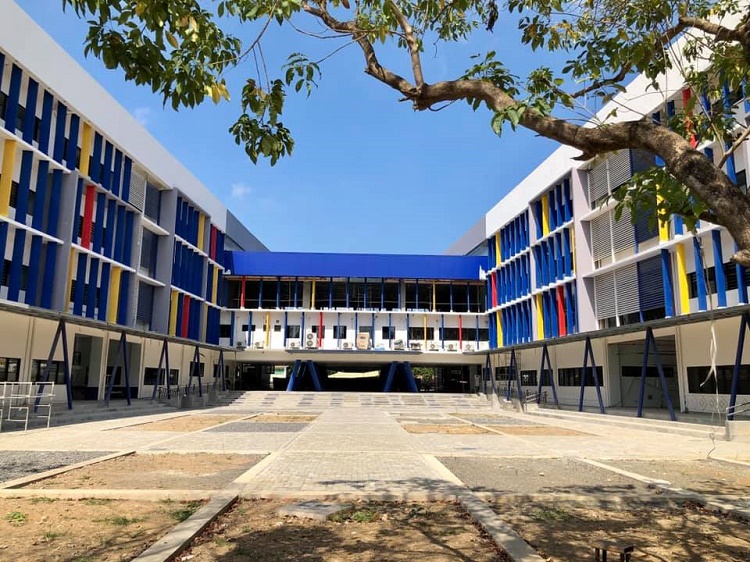 READY FOR CLASSES. The North and South wings are adjoined by the administrative offices building. Photo taken from the official page of Xavier University Senior High School.
The campus is complete with environment-friendly features such as a sewage treatment plant, rainwater collection system, natural ventilation, and a sky-garden for added ventilation and heat protection. The cafeteria can comfortably accommodate the SHS population.
The campus is set to be finished in May 2020 and be used for SY 2020-2021 this coming June. However, with the uncertainty and recent developments of the coronavirus disease (COVID-19), school administrators have yet to declare the admission process.
In a memo by Fr Roberto "Bobby" Yap SJ, Xavier Ateneo is strengthening its online learning method in response to the COVID-19 pandemic.
Experience Excellence
As the first university in Mindanao and first Jesuit university in the country, Xavier Ateneo has a long history of forming 'men and women for others'. With its highly-accredited academic and formation programs, Xavier Ateneo molds students with the hallmarks of Jesuit education - Christ-centeredness, competence, conscience, commitment and compassion.
Senior High School is a testament of Xavier Ateneo's commitment to providing quality education. It serves to give students the proper environment and training to hone their skills for higher education and employment.
Join us and be part of the Xavier Ateneo community!