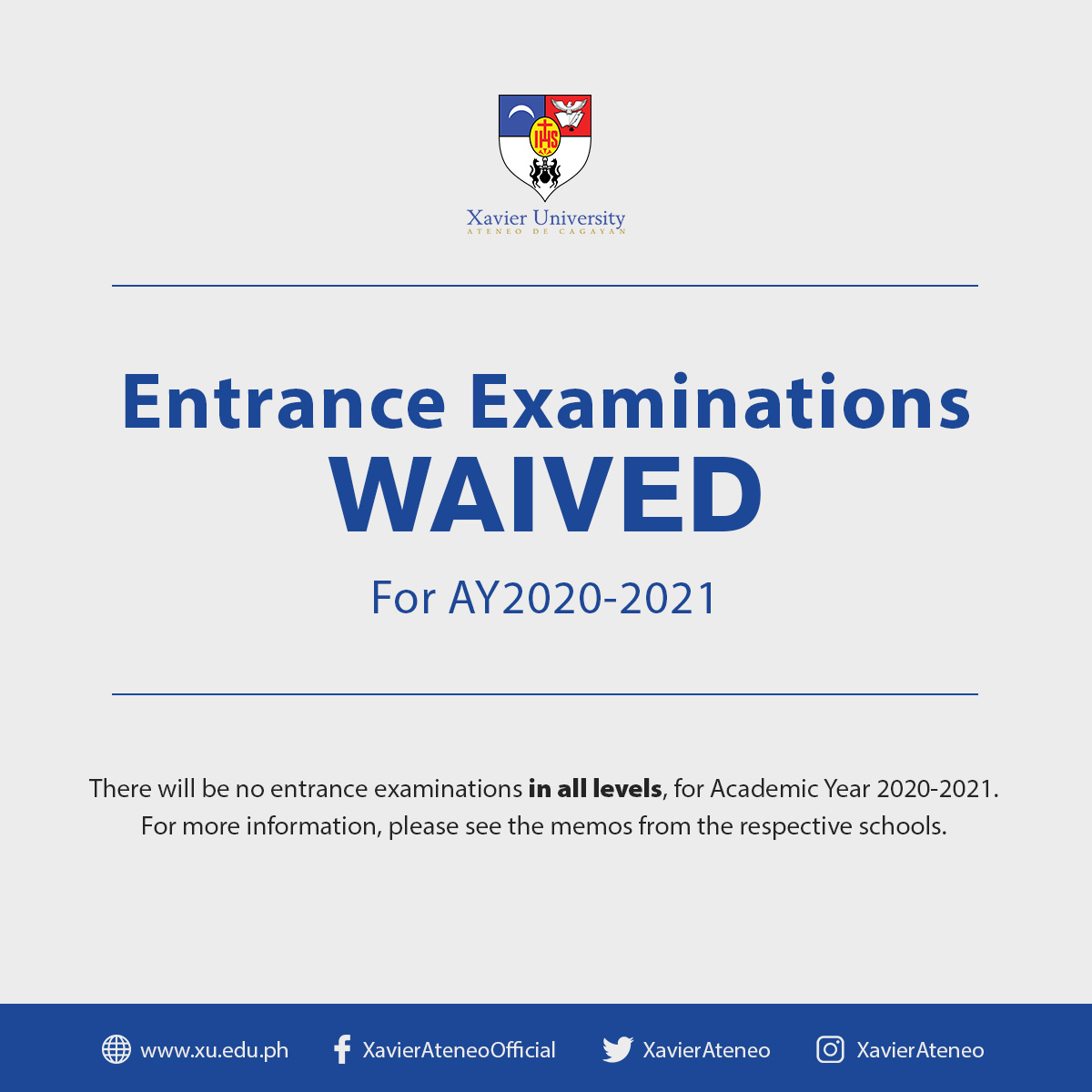 Xavier University - Ateneo de Cagayan has decided to waive the Preschool and Grade School Entrance Examinations, Junior High School Entrance Examinations (JHSEE), Senior High School Entrance Examinations (SHSEE), undergraduate Entrance Examinations for Higher Education (EEHE), and the College of Law Entrance Examinations following precautionary measures to avoid COVID-19 transmissions in on-site examinations and for the lack of reliable web-based testing system. Admitted students are reminded to strictly adhere to the retention policy of their respective school or department.
The university has structured an alternative Quality Assurance mechanism to process the admission of applicants for the undergraduate programs of select courses in Computer Studies, Teacher Education, Arts and Sciences, Agriculture, Engineering, and Business and Management (see the complete list here). Undergraduate programs with courses excluded from the waiving of EEHE are Accountancy, Nursing, and Engineering.
For incoming college freshmen, applicants who were unable to take the qualifying exams last November 2019, February and March 2020 have their EEHE waived. Instead, respective program heads and school/college deans will base their applications from their Senior High School report cards (Form 138). Each undergraduate program will require specific ratings for certain core subjects as necessitated by their program standards.
Those who took the qualifying exams but failed to meet the cut-off requirements may reapply to their chosen programs by submitting their SHS report cards for consideration. The EEHE is likewise waived for transferees and returnees with program admissions being ascertained from their respective Transcript of Records (TOR).
For incoming senior high school students in both Academic and Technical-Vocational-Livelihood (ALGCIT) tracks, the SHSEE is also waived for all April-June 2020 applicants. Those who took the test but did not reach the cut-off and those who were unable to take the exams will be evaluated by their grade 10 report cards (Form 138-A or SF-9).
As a general rule, all ABM, HUMSS, and GA strands and ALGCIT-TVL track applicants should have at least an 80% general average. For STEM, applicants must have at least an 85% general average with at least 85% final grades in Science, Mathematics, and English.
For incoming junior high school students, the admission procedure for transferees and those who have not yet taken the entrance exam entails undergoing a phone call interview and submission of pertinent requirements such as Report Card, Certificate of Good Moral Character, and PSA Copy of Birth Certificate.
Aside from the previously mentioned requirements, a signed ON CONDITION contract is needed from those who took the exam but were unable to meet the cut-off scores.
For incoming grade school and preschool students, prerequisite admission requirements include a copy of the birth certificate and report card.
A verbal assessment is also needed (one-on-one for preschool) to look into the competencies and developmental milestones of the applicants. The assessment will cover competencies in math, reading, and communication.
For the College of Law applicants, admission will be based on the applicant's grades, ability to express and communicate in English orally and in writing, and the assessment of the applicant's abilities and character through the personal essay, letters of recommendations, and online interview(s).
In a separate memo, XU president Fr Roberto "Bobby" Yap SJ details Flexible Learning which will be the learning-setup for S.Y. 2020-2021. Flexible Learning has two components: (1) Home-Based Learning and (2) Cautious Return to On-Campus Learning. The university will implement Home-Based Learning for the first half of the academic year and the latter will follow once the government allows for the return of physical classes.
Despite the uncertainty posed by the COVID-19 pandemic, Xavier Ateneo works to provide opportunity for those who wish to be part of the Filipino, Catholic, and Jesuit experience and brand of excellence in education.∎
For queries and clarifications, please email
This email address is being protected from spambots. You need JavaScript enabled to view it. (preschool and grade school)
This email address is being protected from spambots. You need JavaScript enabled to view it. (junior high school)
This email address is being protected from spambots. You need JavaScript enabled to view it. (senior high school)
This email address is being protected from spambots. You need JavaScript enabled to view it. (college)
This email address is being protected from spambots. You need JavaScript enabled to view it. (College of Law)