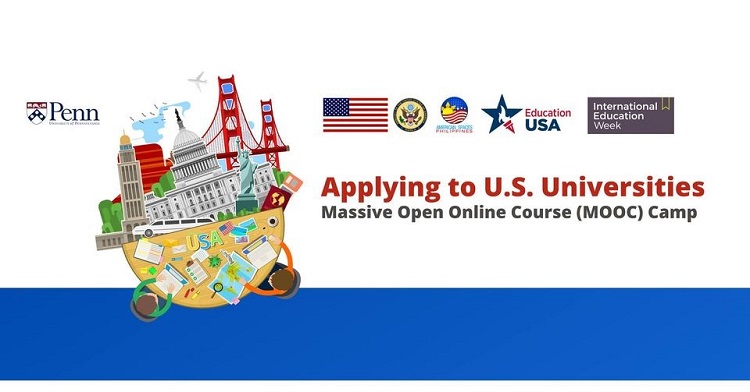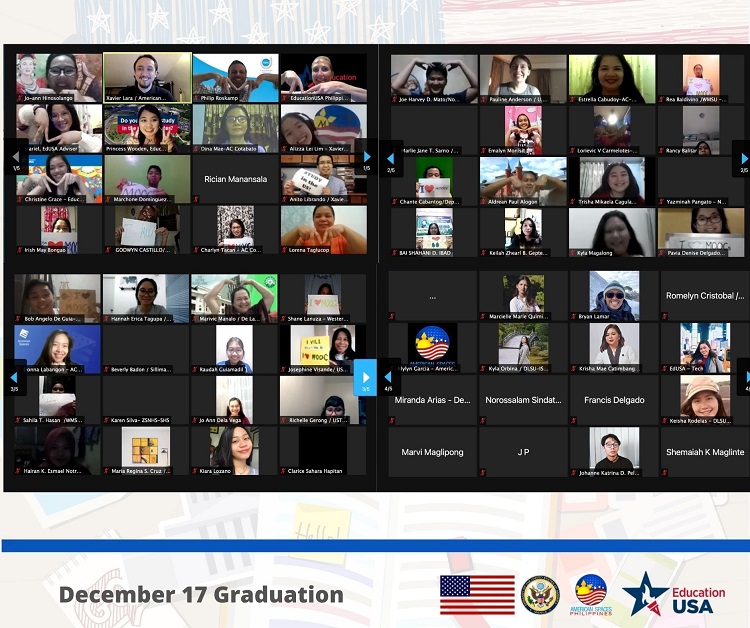 MOOC camp learners of the 'Applying to U.S. Universities' pose for a group photo during their graduation last December 17. (Photo from Facebook Group Page)
The American Corner Cagayan de Oro at Xavier Ateneo University Libraries hosted a celebration for completers of its recently concluded Massive Open Online Course (MOOC) Camp on 'Applying to U.S. Universities' last December 17, 2020 via Zoom. This MOOC by the University of Pennsylvania offered though Coursera was made possible through the American Spaces Philippines in collaboration with Education USA in celebration of the International Education Week (IEW).
The 4-week course, aimed at senior high school and college students, guidance counselors, and faculty is divided into parts namely, (1) The U.S. Admission Process, (2) Self-Assessment, (3) Research and Planning, (4) The Pieces of your Application, and (5) Admission Officials Interview Series.
Philip Roskamp, US Embassy in the Philippines' Counselor for Public Affairs, gave his message to the course completers during the event. Other MOOC participants from American Corners in Manila, Cebu, and Cotabato also were in attendance.
The American Corner Cagayan de Oro group comprised of 105 learners from Xavier University, University of Science and Technology of Southern Philippines, Department of Education Region 10, Alubijid National Comprehensive High School, Xavier Academy of Initao, Dr. Gerardo Sabal Memorial National High School, Tagoloan Community College, Gusa Regional Science High School, DepEd Gingoog City, Rosevale School, Colegio de Iligan, Bugcaon National High School, Talakag Central Elementary School, Pualas Elementary School, Holy Rosary Academy of Sapang Dalaga, Inc., Lapasan National High School, Macasandig National High School, Paradise Elementary School, Gingoog City Comprehensive National High School, TESDA Region 10, Anakan National High School, Balay Mindanao Foundation, In., and Department of Education – Division of Bukidnon.

MOOC camp learners Trisha Mikaela Cagulada (left) of XU and Richelle L. Elisan-Gerong (right) of USTP shared their learning testimonials to the rest of the group. (Supplied photos)
Aside from the self-paced learning materials provided, the MOOC Camp included interactive special talks with CL Ng, SEA Regional Manager from Ohio University, Amira Axelle Miel from Duke University, Junko Ishikawa from Santa Ana College, Christine Grace Catindig from Utica College and Aldrean Alogon from Wesleyan University.
The course was facilitated by Princess Wooden, Christine Fowler and Mariel Milo from Education USA with USG alumni Anito Librando Jr. and Dr Maria Angeles Dano – Hinosolango as moderators with Estrella C Cabudoy of American Corner Cagayan de Oro.