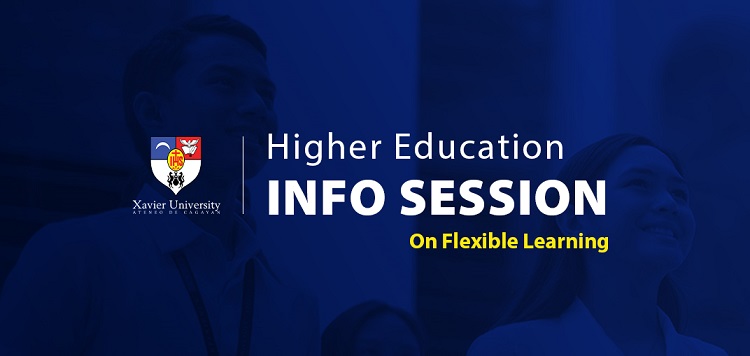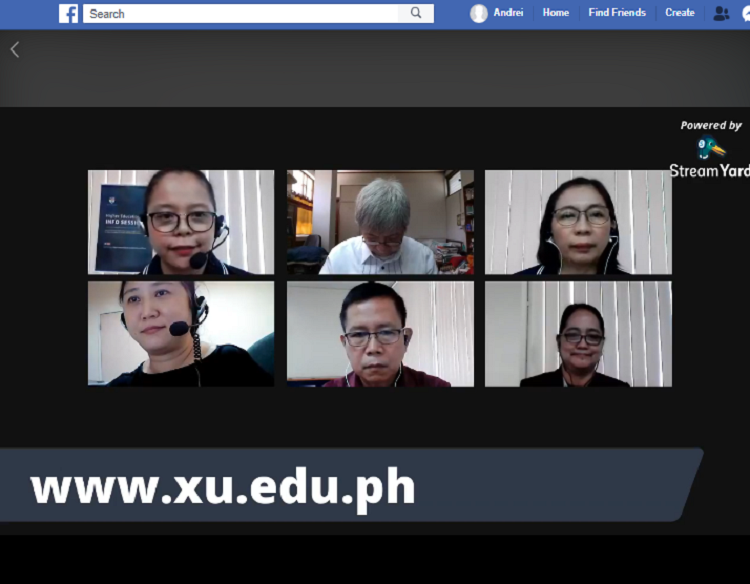 SUCCESSFUL SESSION. The Higher Education Info Session with XU president Fr Roberto "Bobby" C Yap SJ, Higher Education VP Dr Juliet Dalagan, Mission and Ministry VP Irene Guitarte, Administration VP Edison Sasoy, University Treasurer Lennie Ong, and Executive Secretary to the XU president Libby Abesamis. Photo Supplied.
On June 11, Thursday, Xavier University - Ateneo de Cagayan conducted an Information Session to answer questions and clear misconceptions about Flexible Learning.
Presenters for the live sessions were XU President Fr Roberto "Bobby" C Yap SJ, VP for Higher Education Dr Juliet Dalagan, VP for Mission and Ministry Irene Guitarte, University Treasurer Lennie Ong, and VP for Administration Edison Sasoy. It was moderated by Executive Secretary to the XU President Dr Libby Abesamis.
Director of Student Affairs Ivanell Subrabas and the college deans were also present to answer queries commented on the live post in the official Facebook account of Xavier Ateneo.
Xavier Ateneo is set to implement Flexible Learning for School Year 2020-2021 as a response to the educational challenges posed by the coronavirus pandemic. This was met with various concerns and inquiries as well as pleas for assurance from parents and guardians.
On Flexible Learning
During the Info Session, Fr Bobby discussed the difference between the components of Flexible Learning which are (1) Home-Based Learning and (2) Return to On-Campus Learning. He stressed that Xavier Ateneo will not rush in going back to On-Campus Learning.
Following Fr Bobby, Irene Guitarte discussed the different university-wide activities of the Office of Mission and Ministry such as the continuation of liturgical and feast day celebrations, sound advocacies, leadership webinars, online sports program, and online recollections.
Focusing on the specifics of Flexible Learning, Dr Dalagan discussed the changes in the academic policies, code of conducts, the available and modified student support services, as well as the online processes for student requirements. She ended her presentation with the introduction of E-Learn, the online learning platform used by Xavier Ateneo.
On matters of finance, Lennie Ong detailed the adjustments for this year's schedule of fees. Notably, she highlighted the non-increase of tuition fees, matriculation, and lab fees. Various fees were also reduced, if not entirely omitted, from the yearly billing.
Nearing the end of the Info Session, Edison Sasoy summarized the university protocols and measures in place while employees are already working and also once the Return to On-Campus Learning is possible. Xavier Ateneo will wait for the greenlight from authorities before implementing the On-Campus Learning.
Assuring Parents
Fr Bobby tells parents: "Xavier Ateneo is ready. We are ready for this extraordinary school year. Please know that the students will really continue to experience excellence in Xavier Ateneo."
Live sessions for the Basic Education cluster were also done separately by the Grade School and Senior High School administrations. To read more about Flexible Learning, click here.∎
For further inquiries, please email:
Finance: This email address is being protected from spambots. You need JavaScript enabled to view it.
Admissions and Aid: This email address is being protected from spambots. You need JavaScript enabled to view it.
College of Agriculture: This email address is being protected from spambots. You need JavaScript enabled to view it.
College of Arts and Sciences: This email address is being protected from spambots. You need JavaScript enabled to view it.
College of Engineering: This email address is being protected from spambots. You need JavaScript enabled to view it.
College of Nursing: This email address is being protected from spambots. You need JavaScript enabled to view it.
School of Education This email address is being protected from spambots. You need JavaScript enabled to view it.
School of Business and Management: This email address is being protected from spambots. You need JavaScript enabled to view it.