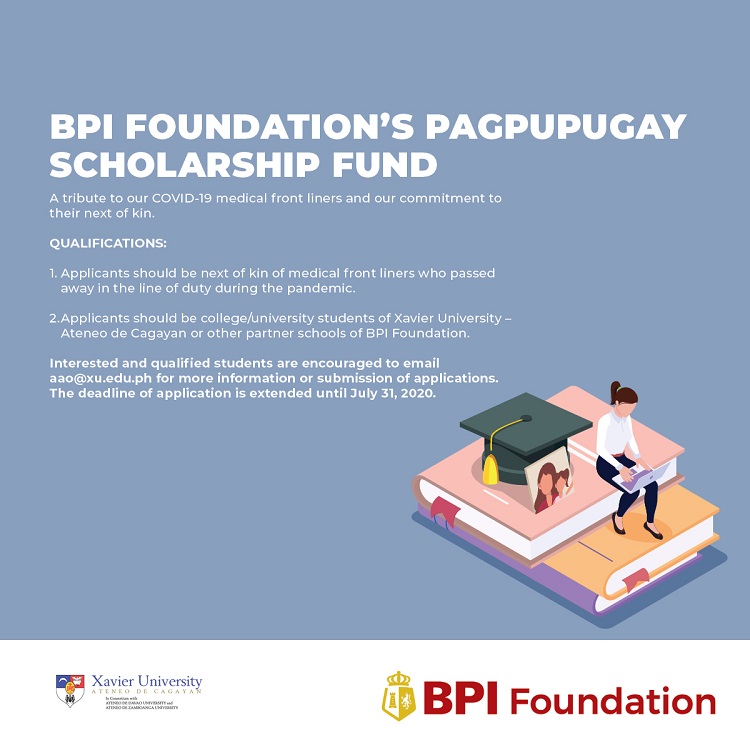 Through the Bank of the Philippine Islands Foundation (BPIF), BPI recognizes the great contribution of the medical front liners in the fight against COVID-19. To honor their heroic efforts, BPIF offers PAGPUGAY, a scholarship fund program to support the next of kin of the medical front liners who passed away in the line of duty against COVID-19.
Ten (10) scholars will be chosen by BPIF in 2020, to be evaluated for annual renewal. Should a slot be available due to graduation or non-renewal, BPIF reserves the right to open the program to new applicants to fill in the available slots.
Each scholar will be provided a maximum of P100,000 scholarship fund per academic year to provide financial assistance to cover tuition fees and other miscellaneous expenses paid directly to BPIF's partner school.
The financial assistance shall only cover school fees for regular school year / semester / trimester and shall not, in any event, cover school fees arising out of or relating to the summer term, unless the summer term is mandatory based on the course curriculum.
Eligibility
Qualified next of kin of the following medical front liners who passed away in the line of duty against COVID-19:
Doctors
Nurses
Medical technologists
Community health workers
Administrative, utility, and support services personnel in health care facilities
If the deceased is married, priority beneficiary is the children. If single, beneficiary can be next of kin up to 2nd degree of consanguinity.
Applicants should be college/university students (1st year-4th year/5th year) of the following colleges/universities:
Ateneo de Manila University
De La Salle University (Manila)
Mapua University (Manila and Makati)
Malayan Colleges of Laguna and Mindanao
Mindanao State University – Iligan Institute of Technology
National Teachers College
Saint Louis University – Baguio
Silliman University
University of Nueva Caceres
University of Santo Tomas (Manila)
University of San Carlos
Xavier University – Ateneo de Cagayan (Cagayan de Oro)
To qualify, eligible students must have and maintain a General Weighted Average (GWA) of 85% or its equivalent and/or prevailing University standards for the previous academic year (for incoming 1st year) or for the previous semester (for incoming 2nd year-5th year).
Applications
Interested applicants may secure application forms from Partner Schools, and submit accomplished forms together with other requirements to the Partner School.
Partner Schools shall screen the applications and shall submit a short-list of nominees to BPIF.
BPIF shall select successful applicants from the list of nominees through an evaluation of their academic excellence and financial need.
BPIF will notify the selected scholars of their acceptance to the program through their schools and electronic mail indicated in the application form.
Requirements
Fully accomplished form.
Endorsement letter, duly signed by the spouse or any relative of legal age and within the second degree of consanguinity from the medical frontliner.
Endorsement letter, duly signed by the authorized representative of the hospital or health care facility where the medical frontliner was assigned
Original or authenticated copies of the following:
Course curriculum
If a child of the frontliner, birth certificate of the applicant
If a sibling of the frontliner, birth certificate of the applicant and the frontliner showing their common parents
If a widow/widower of the frontliner, marriage certificate of the medical frontliner.
PRC ID or License ID of the medical frontliner
Death certificate of the medical frontliner, indicating COVID-19 or complications due to COVID-19 as cause of death
Latest ITR of parents / guardian of the applicant
Latest previous academic year Transcript of Records or Copy of Grades
Certificate of Good Moral Character
Only the applications with complete requirements will be processed.
Scanned copies of application form and other supporting documents may be submitted. Hard copies will be required once applicants are selected for the scholarship.
Interested and qualified applicants are encouraged to contact and email their colleges/universities for more information or submission of applications:
School

Announcement Details

Ateneo de Manila University

This email address is being protected from spambots. You need JavaScript enabled to view it.

De La Salle University (Manila)

Via Google Form

*Please visit the De La Salle University Facebook Page for the Google Form link

Mapua University (Manila and Makati)

This email address is being protected from spambots. You need JavaScript enabled to view it.

Malayan Colleges of Laguna

This email address is being protected from spambots. You need JavaScript enabled to view it.

Malayan Colleges of Mindanao

This email address is being protected from spambots. You need JavaScript enabled to view it.

Mindanao State University – Iligan Institute of Technology

This email address is being protected from spambots. You need JavaScript enabled to view it.

National Teachers College

This email address is being protected from spambots. You need JavaScript enabled to view it.

Saint Louis University – Baguio

This email address is being protected from spambots. You need JavaScript enabled to view it.
This email address is being protected from spambots. You need JavaScript enabled to view it..ph

Silliman University

This email address is being protected from spambots. You need JavaScript enabled to view it.

University of Nueva Caceres

This email address is being protected from spambots. You need JavaScript enabled to view it.

University of Santo Tomas (Manila)

This email address is being protected from spambots. You need JavaScript enabled to view it.

University of San Carlos

This email address is being protected from spambots. You need JavaScript enabled to view it.
This email address is being protected from spambots. You need JavaScript enabled to view it.

Xavier University – Ateneo de Cagayan

This email address is being protected from spambots. You need JavaScript enabled to view it.
You may upload the supporting documents of your 5 nominees on this folder.