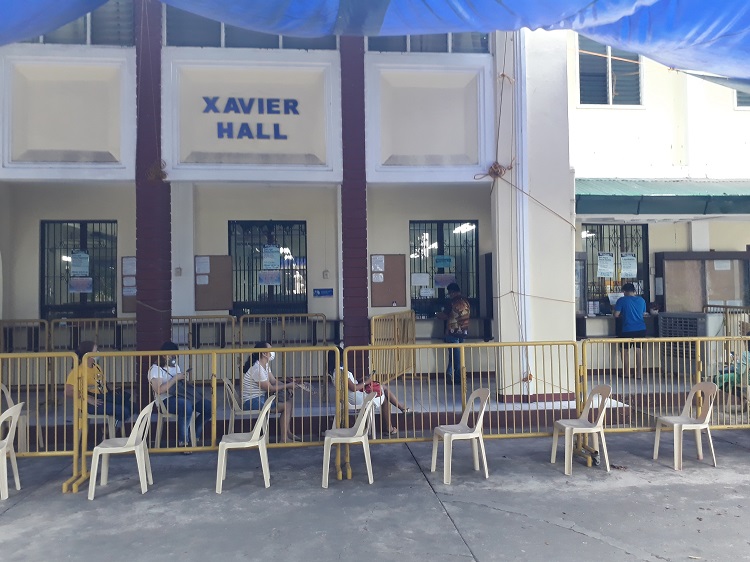 WAITING IN LINE. Parents and guardians sit on distanced chairs as they wait for their turn to pay. Supplied photo.
Xavier University - Ateneo de Cagayan Finance Office opens to parents and guardians for enrolment payments. While they are encouraged to utilize online modes of payment in order to lessen physical contact, the Finance Office opened for the convenience of those without access to such.
Students, pregnant women, people with compromised health, and people over sixty are still not allowed to enter the university premises in observance of the Modified General Community Quarantine guidelines.
Following the minimum standards in COVID-19 prevention, transactors are to enter XU through the Main Gate with their face masks on at all times. Upon entrance, they should pass by a foot bath, disinfect their hands, and have their temperatures read. Designated receiving areas are marked for people found to have a higher than normal temperature.
Visibly in place around Xavier Ateneo are direction and foot markers to guide the transactors on where to walk. Once around the Finance Office, they are to maintain a safe distance from each other as they sit on chairs spread one meter apart.
Security is heightened within the allowable spaces in order to police movement inside XU. As only the Finance Office is open for activity, transactors are not allowed to loiter around the campus.
The Finance Office opens from 8:00AM to 11:30AM and from 1:00PM to 4:30PM. An updated schedule of fees for this school year's Flexible Learning may be accessed here.∎