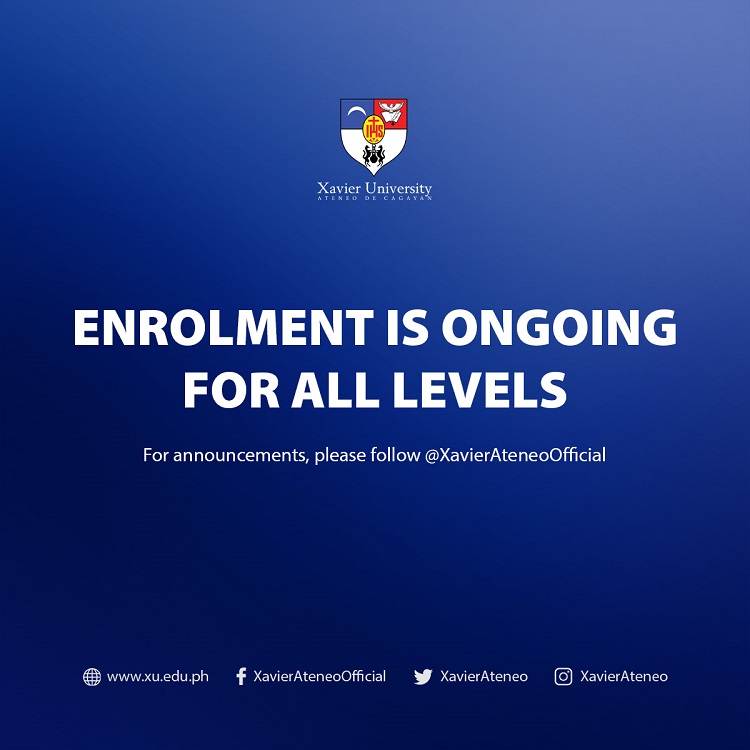 Enrolment extensions for SY 2020-2021
Since classes will start this coming July 6, Xavier Ateneo rallies to extend its enrolment duration to give the XU community enough time to adjust and prepare for Flexible Learning.
The XU Grade School is ready to fill available slots until June 30. A week-long intensive orientation will follow upon the start of classes in order to prepare parents and students for the new learning set-up. An alternative graduation for XUGS Class of 2020 will be livestreamed on June 27 via the official XUGS Facebook page, @xugsofficial.
For Junior High School, enrolment is ongoing until slots last and further notice from the JHS administration. A Meet and Greet Session is set in place to give a chance for teachers and students to interact and explore their digital classroom together.
For Senior High School, enrolment is extended until June 27. The SHS orientation seminar to welcome incoming Grade 11 students, OrSem: Live It Up, will be on July 1 to July 3.
As for the Higher Education Cluster, college undergraduate students have until July 11 and Graduate School students have until July 18 to process their enrolment. A two-day orientation seminar from July 2 to July 3, OrSem 2020: One Bear Hug, is prepared for incoming college freshmen and transferees.
The College of Law is yet to announce its enrolment schedule while the Dr Jose P Rizal School of Medicine will end its enrolment period in the first week of August.
Information Sessions concludes
In response to the pouring inquiry on Flexible Learning, the administration of Xavier Ateneo had decided to conduct Info Sessions for both the Basic Education and Higher Education clusters. Utilizing StreamYard, a browser live-streaming studio, the administrators successfully concluded four Info Sessions last June 11, Thursday.
With the majority of questions pertaining to the schedule of fees, university treasurer Lennie Ong underscores the non-increase of this school year's tuition fees, matriculation, and lab fees due to the present crisis affecting family income and the change in learning mode. Various fees were also reduced, if not entirely omitted, from the yearly billing.

Outgoing XU president Fr Roberto "Bobby" C Yap SJ stressed that the university is not rushing to implement the Return to On-Campus Learning set-up. Xavier Ateneo will implement Return to On-Campus Learning "if and only if the government allows". Fr Bobby emphasized.
Until then, Xavier Ateneo will resort to Home-Based Learning, the first component of Flexible Learning which underscores the importance of online learning in light of the public health risks posed by the present pandemic.
With Home-Based Learning, students may expect online learning packets, peer and self-directed learning, faculty consultations, modified practical activities, synchronous (live) and asynchronous (recorded) classes, and online submission of requirements.
To ease the XU community in adjusting to Home-Based Learning, Xavier Ateneo is in negotiation with various gadgets sellers (Interpace Computer Systems, Power Mac Center, Acer, Samsung) and internet providers (Globe, Smart, Parasat) for discounted rates in availing their products. XU students may also use the various productivity applications inside the Microsoft Office 365 offered to them for free.
With the coming "extraordinary" school year, Xavier Ateneo is prepared to embrace the new normal. Yap assures, "Xavier Ateneo is ready and we will do our best so that our students will truly experience excellence."
For more information on Flexible Learning, please click here.