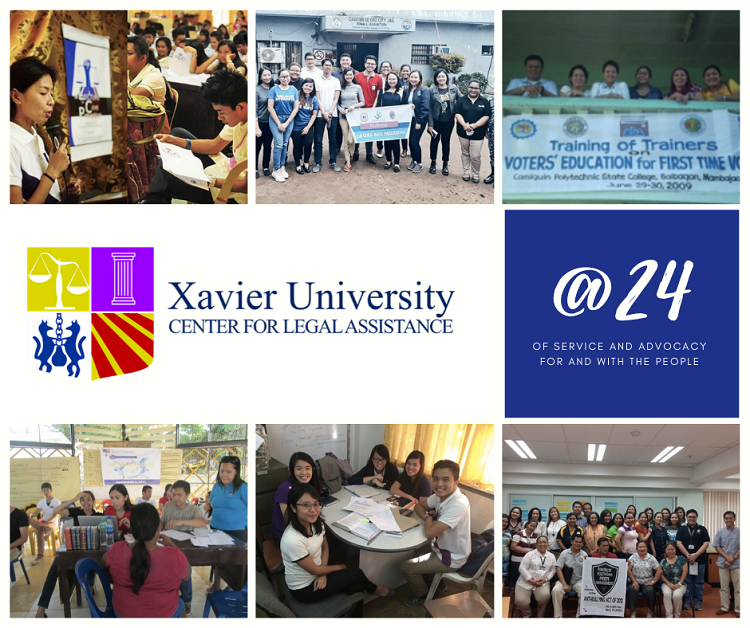 The Xavier University Center for Legal Assistance (XUCLA) was organized on 6 July 1996 as a replication of the Ateneo Human Rights Center (AHRC) of the Ateneo de Manila University. Initially supported by PRODEM Misamis Oriental, a project of a consortium of non-governmental organizations (NGOs) such as the Ayala Foundation and the Association of Foundation, XUCLA works for the "promotion of democracy and justice in Misamis Oriental".
Law students considered as the pioneer members were immersed in various Human Rights issues through regular community visits, human rights seminars, legal assistance and outreach activities to the three pilot municipalities of Tagoloan, Villanueva and Balingasag.
A year after its inception, sometime during the first semester of the school year 1997-1998, XUCLA was recognized as a Legal Aid institution by then Dean Romulo V. Borja of XU College of Law. Through the valuable support of now Honorable Justice Borja, XUCLA had its first physical office, a small room at the College of Law. Atty Ma. Corazon B. Gaite-Llanderal, now the Honorable Presiding Judge of Regional Trial Court, Branch 41, became its first Executive Director.
After years of operation, XUCLA gradually developed its own programs. Firstly, its Formation Program continues to instill the value of service to the poor and marginalized to its law students through its regular summer internships. Next, its Legal Aid Program has catered several indigent individuals and communities struggling to have free legal assistance and court representations. And lastly, with the Advocacy Program, XUCLA partners with women's rights groups in Misamis Oriental as well as the Alternative Law Group, Inc., a group of NGOs serving the disenfranchised sectors all over the Philippines.