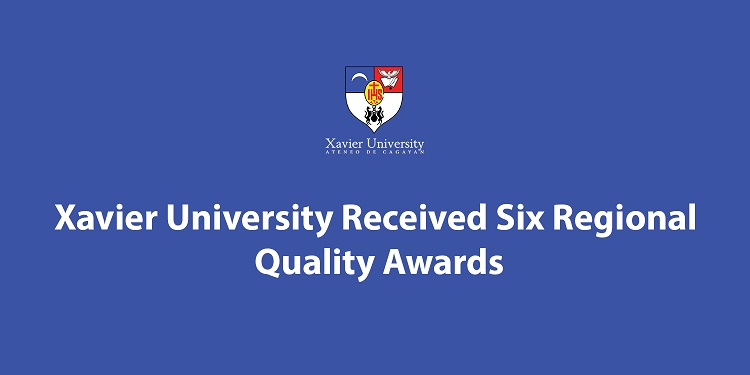 Xavier University had recently received six (6) regional quality awards from the Commission on Higher Education (CHED) Regional Office X in recognition to its notable achievements, significant contributions and unwavering support to CHED initiatives in an online ceremony held last July 17, 2020. The awards are as follows:
Two (2) Certificates of Merit
For laudable recognition and excellent performance in the area of instruction, research, and publication, extension and linkages, institutional qualifications leading to the designation of its Agriculture and Teacher Education programs as Center for Excellence(COE), for demonstrating the potential for excellent performance leading to the designation of its Chemical, Civil, Electrical, Electronics, Mechanical Engineering programs, Literature and Biology programs as Center of Development (COD) from 2016 to present, and for serving as a potent catalyst for world-class scholarship, best practices, innovative curricula, research and extension and professional development, thus contributing to local, regional, and national development and for the pride and honor these designations brings to Region X community
For unwavering support to the Commission in pursuit of its mandate, which manifested by its constant coordination of activities, and timely submission of reports, and its consistent adherence to the requirements and guidelines of the various Student Financial Assistance Program, for Academic Year 2019-2020
Three (3) Certificates of Recognition
In grateful acknowledgement of the steadfast and quality-oriented leadership of the University manifested by its consistent adherence and compliance to the highest standards of instruction and formation students, state of the art laboratory facilities and continuous upgrading of faculty essential to maintaining the best quality of Nursing education. The College of Nursing continues to be among the best performing schools in the country, consistently topping the national board exams and maintaining a 100 % board passing rate.
For demonstrating outstanding performance to the implementing guidelines on "Entry and Stay of Foreign Students in the Philippines and Establishment of the Inter-Agency Committee on Foreign Students (IACTS)" during SY 2019-2020 contributing to world-class competitiveness of the higher education sector.
For consistently adherent to the requirements of the revised guidelines for Local Off-Campus Activities which resulted to zero-incident on safety and well-being of its students, faculty and staff from SY 2019-2020.
One (1) Certificate of Commendation
For the exemplary Initiatives, promptly and willingly undertaken, for the benefit of local frontline service provider and vulnerable stakeholders who are greatly affected during COVI 19 pandemic.
Xavier University would like to thank CHEDRO X for the Merit, Recognition and Commendation as well as the XU Tertiary Community for the excellent quality work that led to the 2020 Regional Quality Awards.