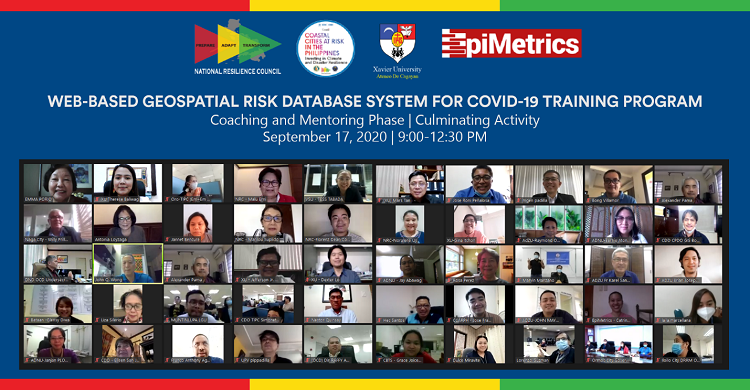 The National Resilience Council, in partnership with Coastal Cities at Risk in the Philippines Project-Ateneo de Manila University, Xavier University, and EpiMetrics, Inc., concluded the second phase of the WEB-BASED GEOSPATIAL RISK DATABASE SYSTEM FOR COVID-19 TRAINING PROGRAM on September 17, 2020. (See: https://www.pna.gov.ph/articles/110374, "Private school develops Covid-19 tracker to help LGUs)
The first phase of the project involved a technical training program which allowed participating LGUs to develop their preliminary dashboards and proposed work plan for the full development of their own Web-GRiD for COVID-19 Pandemic Response and Recovery. The second phase consists of coaching and mentoring between LGUs of six localities namely Muntinlupa, Naga, Ormoc, Iloilo, Zamboanga and Cagayan de Oro and their respective academic partners namely Pamantasan ng Lungsod ng Muntinlupa, Ateneo de Naga University, Visayas State University, University of the Philippines Visayas, Ateneo de Zamboanga University and Xavier University- Ateneo de Cagayan.
Xavier Ateneo's Dr Gina Itchon (Professor of Biomedical Research and Epidemiology in the Department of Preventive, Family, and Community Medicine at XU's Dr Jose P Rizal School of Medicine), Engr Dexter Lo (Professor of Disaster Risk and Resilience in XU's College of Engineering, and Director of Institutional Societal Engagement) and Enp/Engr Jefferson R Vallente, Jr (Professor of the College of Engineering) were invited to be part of the pool of experts for training, coaching and mentoring for the NRC Leadership for Resilient Local Government Units Program.
Sec Delfin Lorenzana (Secretary of National Defense and NRC's Co-chair for Government) shared the importance of resilience in this time of pandemic. He emphasized government's difficult role of striking the balance between managing the crisis and keeping the economy afloat as these are equally important aspects of governance. While, Engr Dexter Lo gave an overview of the training program and the significance of the Web-Based Geospatial Risk Database System to the decisions and directions of local governments. He emphasized the need to consider vulnerabilities and capacities of exposed elements for a risk-informed decision making especially in a pandemic.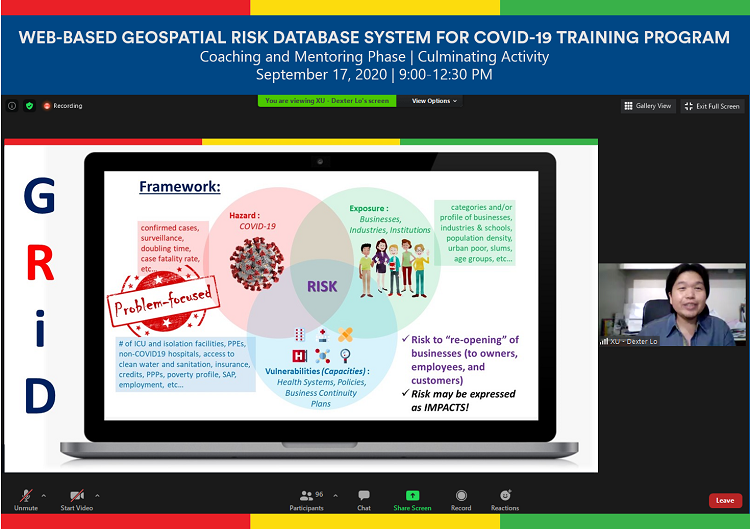 The program continued with the presentations of Local Government Unit's online dashboards for COVID-19 and the corresponding messages of support by local chief executives. Hon Oscar Moreno- Cagayan de Oro City Mayor, Hon Jerry Treñas- Iloilo City Mayor, Hon Jaime Fresnedi- Muntinlupa City Mayor, Hon Nelson Legacion, Naga City Mayor, Hon. Ma Isabelle Climaco- Zamboanga City Mayor, and Hon. Richard Gomez- Ormoc City Mayor were present in the activity and shared their experience of managing the pandemic in their localities.
Dr Manuel Dayrit (Adjunct Professor and Former Dean, Ateneo School of Medicine and Public Health, Former Department of Health Secretary 2001-2005) gave his reaction to the presentations of the LGUs. Dr Dayrit stressed the importance of understanding the situation through reliable data as basis for interpretation and decision-making, "the chain of decision-making begins with good data and good data begins with good tools" he said. He also encouraged other local government units to adopt the same geospatial tool in order to aid in disaster risk reduction, resiliency and policy formulation. In his reaction, VAdm Alexander Pama (Co-chair, ARISE Philippines) recognized the efforts and challenges faced by local government officials and partners in engaging themselves in the training program and finally being able to gain deeper appreciation of generating evidence-based decisions in order to improve the LGU's resiliency efforts in times of disasters. Ret. Gen. Restituto Padilla (Spokesperson, National Task Force against COVID-19) shared that it is the NTF's priority to sustain the "delicate balance of saving lives while sustaining the economy" and the current initiative is a welcome engagement to help the national government in achieving its goals while documenting best practices so that other LGUs may adopt the technology.
The sharing of reactions was followed by messages of support from Usec Ricardo Jalad (Executive Director, NDRRMC and Administrator, Office of Civil Defense), Usec Norberto Quinsay (Undersecretary for Public Safety, Department of Interior & Local Government and NRC Co-Chair for Government) and Presidents of Academic Partners. Fr Karel San Juan SJ (Ateneo de Zamboanga University President) expressed his support in harnessing digital technology and analytics saying, "we will continue to use science and data analytics and simplify the presentation of information using the language of people and the rigor of science, in the process, upgrading the literacy of people in health and other hazards, as well as in the use of digital technology".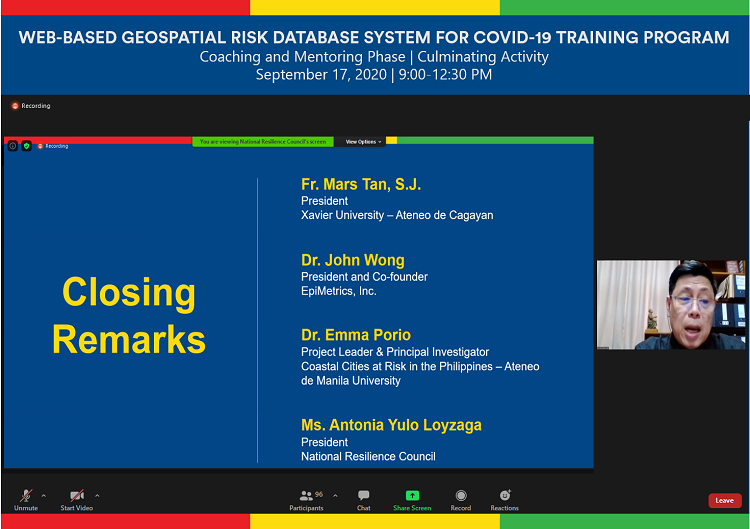 The activity ended with closing messages from Dr. John Wong (President and Co-founder, EpiMetrics Inc) Dr. Emma Porio (Project Lead, Coastal Cities at Risk in the Philippines, Ateneo de Manila University), Ms. Antonia Yulo Loyzaga (President, National Resilience Council) and Fr. Mars Tan, S.J., PhD (President, Xavier University-Ateneo de Cagayan), who in his message, lauded the contribution of government, academe and private corporations adding that he takes pride in Xavier Ateneo's engagements over the years that are "needs-based, multivariable-driven, evidence-informed, geospatial in approach, institutional partnership in strategy, and Ignatian Magis-motivated.