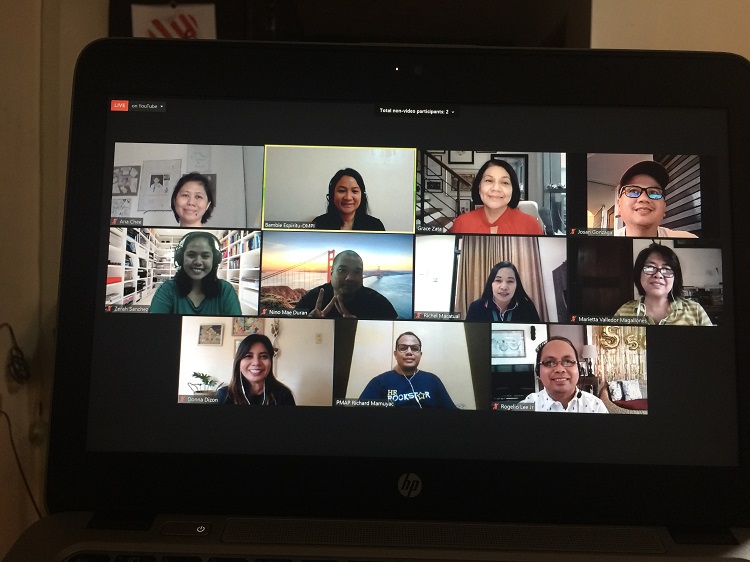 Seven students of the Diploma in Human Resource Management (DHRM) Program in Xavier - Ateneo had successfully completed the Certificate Course in HR Planning and Acquisition. The course culminated with a Special 2-hour Learning Session online with a guest speaker from Manila. First Row in front L-R: Donna Dizon, Richard Mamuyac (PMAP Training Manager), and Rogelio Lee, Jr. (DHRM Coordinator). Second Row L-R: Zerah Eliez Sanchez, Niño Mae Duran, Richel Macatual and Marietta Magallones. Third Row L-R: Ana Bella Christina Chee, Maria Alva "Bambie" Espiritu (Program Facilitator), Grace Abella-Zata (PMAP Past President as Guest Speaker), and Josan Gonzaga.

By: Donna C. Dizon, CHRP, CMC

The HR Planning and Acquisition Certificate Course came at a right time in my career and as part of the Management Team of my current employer, the CLIMBS Life and General Insurance Cooperative (CLIMBS). This pandemic has brought about so many challenges in HR planning, recruitment and retention. However, it also allowed us, strategic thinkers and HR practitioners to come up with novel ideas and solutions to new problems. Firstly, we put people first in all of our business strategies and planning at this time when it has pushed us to look not only long-term, but short-term goals as well to be able to match with the ever-changing and extraordinary demands during a public health crisis, this pandemic.
As in the "old normal" times, we still face the challenges in recruitment. In a growing company, we need more people who play critical roles in the achievement of our goals. Nearing its 50th year, CLIMBS has done many innovative solutions in addressing the needs of the people, especially the grassroots population in the Philippines as the leader in Microinsurance in the country. Company's growth must be matched by the people's growth, both internally and externally (our member-stakeholders, clients). People development propels organization's development. One of the innovative methods we have learned in this session and applied immediately at work is the conduct of virtual interviews. Optimizing digital tools and methods in selection such as use of the social media and the like have been proven useful in our selection process. Using the principle of "Strong Start for a Stronger Finish" in the Selection Funnel allowed us to target applicants that are competent, have a sense of passion and purpose and are culture-fit with the company.
Our instructor and facilitator, Ms. Maria Alva "Bambie" C. Espiritu, an esteemed HR practitioner, has been instrumental in allowing us to be more creative in our approaches particularly in harnessing our interview techniques for behavioral fitness. HR Planning and Acquisition is so much more than hiring for competence. It also involves the other Cs – Character (personal values) and Chemistry (culture -fitness to Company's core values). In my 15 years of Administration and HR work experience, there are still so many things to be learned in HR Planning and Acquisition especially in a VUCA (volatile, uncertain, complex and ambiguous) world. It is also noteworthy that I am being joined by my colleague, our HRAD Manager, Ms. Mayette Magallones. Contextualization of learnings are being applied immediately at work to the benefit of the people and organization. CLIMBS puts premium in talent development so we can effectively serve our internal and external customers well. On the other hand, we also had a good mix in our class, coming from different work sectors and I gained many wonderful insights from their best practices. It has also expanded my network of HR practitioners in the country.
In a digital age and what we call now as the "new normal", we were also able to utilize the digital learning platform, Zoom, all throughout the course. Our last day of virtual session was graced by former PMAP President, Grace Abella-Zata, CEO of IRC Institute as our guest instructor with a mock head-hunting session in Linked-In social media site. The session was very informative and enlightening. The Zoom breakout sessions also allowed us to interact more with our colleagues in a virtual workshop session.
Altogether, the HR Planning and Acquisition Certificate Course was a fun and memorable online learning experience. It humbles me to know that there are still so many things to unpack, old ways of thinking to get rid of , in the continuous process of reimagining the HR profession in the 4th Industrial Revolution, especially during a pandemic and in preparing the workplace not only of the new, but also of the "next normal" (post-pandemic).
I am grateful to the team running the DHRM Program in Xavier University, especially to the Coordinator, Rogelio Lee, Jr. for successfully delivering an online certificate course. Whether you are a newbie or a veteran in the HR profession, this e-learning opportunity is not to be missed!
"Time spent on hiring is time well spent." – Robert Half, pioneer in professional staffing services