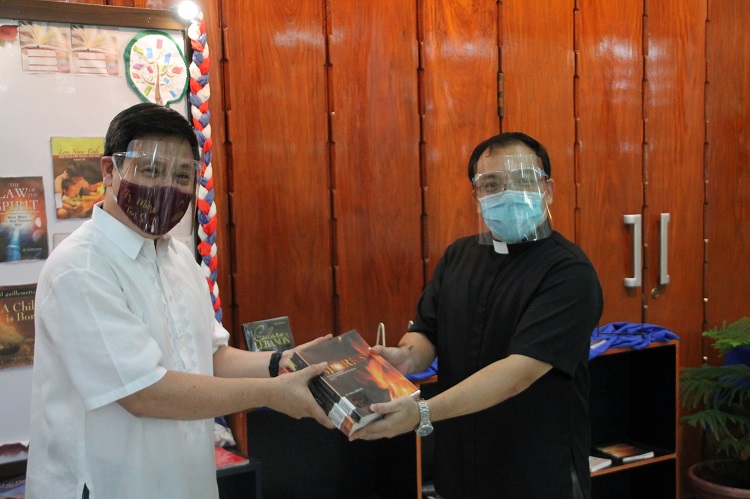 On October 2, 2020, Fr Mars Tan, SJ, XU President received from Fr Ismael Jose Chan-Gonzaga, Rector of the Jesuit Community of XU, the complete set of books authored by the late Fr Nil Guillemette, SJ, a former member of the Jesuit community. Fr Guillemette was for many years a faculty of the Theology Department of the University and a well-known author of books on Scriptures, Homiletics, and Spirituality. He died in 2017. A total of 49 book titles and 55 volumes are now kept at a special corner on the 5th floor of the University Library. Mr. Rule Redondo, director of the library, facilitated the processing and integration of the books in Fr Bernad Memorabilia Section.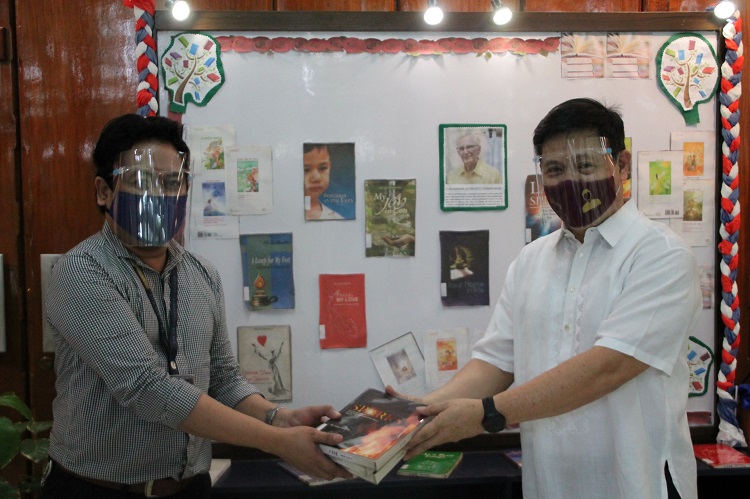 Fr Nil Guillemette SJ: Priest, Author and Scholar
(Fr Mars P. Tan SJ, reprinted from Lamdag, Archdiocesan newsletter)
Fr Nil was born on November 6, 1934 in Ontario, Canada. He grew up and did his studies in the same province graduating from the College of the Sacred Heart of Sudbury with an AB degree. He entered the Society of Jesus in Montreal on August 14, 1956 and was ordained to the priesthood on June 10, 1967. He took his final vows as a Jesuit at the Pius X Pontifical College, Dalat, Vietnam on the Feast of the Assumption in 1975. Aside from the regular Jesuit training and formation, Fr Nil took and completed his Licentiate in Sacred Theology at the Scholasticate of the Immaculate Conception in Montreal, Licentiate in Scripture in Pontificio Instituto Biblico in Rome, Vietnamese language in the College Pontificat in Vietnam and Indonesian Language in Montreal.
Fr Nil's first assignment in 1968 was as an English teacher at the College Pontifical in Dalat, Vietnam, and then as a Sacred Scripture professor until 1975. After a year of sabbatical leave, he was assigned for three years in West Africa to teach Sacred Scripture and Religion at the African Institute for the Economics and Social Development. In 1980, Fr Nil came to the Philippines and started his long years of teaching, writing, spiritual direction and other priestly ministries mainly with the Jesuit scholastics and the diocesan seminarians. He lived in three different Jesuit communities in Manila, at the East Asian Pastoral Institute, the Loyola House of Studies and the San Jose Seminary. In 1999, he moved to Mindanao, in Cagayan de Oro and taught college Sacred Scripture and Religious Studies at Xavier University. He also spent most of his time writing books and commentaries of the Sacred Scripture.
In 2016, Fr Nil celebrated his 60th year as a Jesuit religious. The local Jesuit community and the Xavier University community gave him tributes for his long years of dedicated service to the Church and the Society as a priest, a teacher and a writer. In 2017, he should have celebrated his 50th year as a Jesuit priest but his sickness caught up with him in the early part of the year.
Many things could be said of Fr Nil but perhaps four important things about him will be most remembered by his students, readers, friends, fellow priests and Jesuits. First is his teaching – a clear and exact presentation of the subject matter and his grading system – approximated and generous to the favor of his students. Many students liked him because he gave high marks and also because he organized his lessons very well. Second are his writings, both the popular and the scholarly ones. He wrote and published a total of 49 books, a number of these were reprinted in Chinese language. A few titles are still with two publishing firms. His popular books (God tales for everyone) clearly talk about a God whose love never stops to amaze, inspire, console, surprise and overwhelms us. His books of commentaries on the four Gospels were scholarly written – detailed and meticulous yet comprehensive for the practical applications of any reader. Not a few priests and bishops are using his commentaries for their homilies and retreats. No doubt Fr Nil was a fine scholar and his writings will remain his valuable legacy to present and next generations.
Third is his concern for the students. Generosity could be hard to notice in Fr Nil as he was protective of his time and space even with his own brother Jesuits. But it's a fact that he had helped many college students with their tuitions and allowances from the funds he received from his family and the Canadian government. A lot of things could be said for or against this practice of many foreign Jesuit missionaries but what was obvious in Fr Nil was a heart for poor and deserving students. Fourth is simplicity which may not be readily seen in Fr Nil given his fondness for beer, pizza, foreign films and classical music. But his spartan room and a few personal belongings could attest to his simple living and simple lifestyle. In fact, preparing for burial, it was difficult to find presentable shirts and pants inside his cabinet. His room in Loyola House was always neat and orderly; and it contained only the things expected of a Jesuit missionary who for 61 years had vowed to live a life of poverty, chastity and obedience.