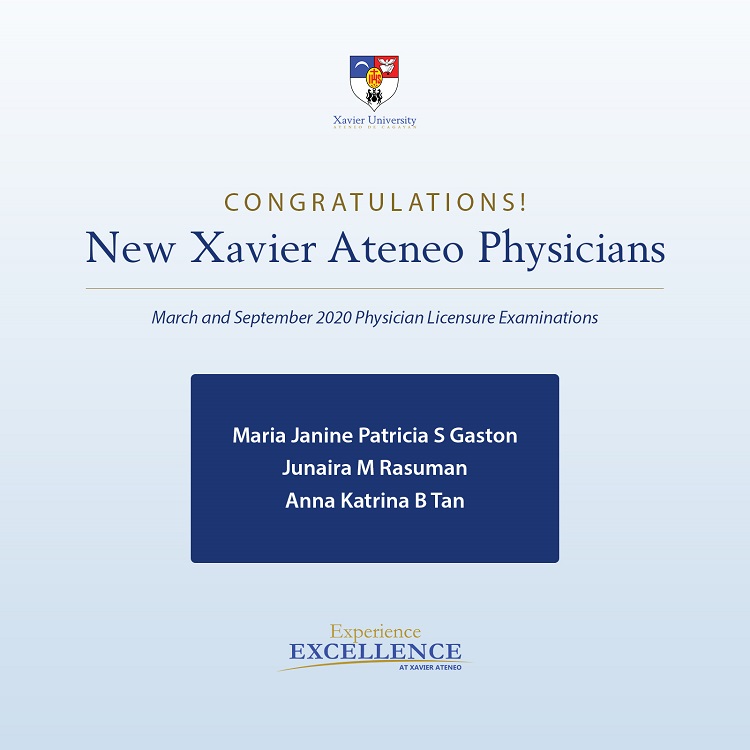 The Xavier University - Ateneo de Cagayan Dr Jose P Rizal School of Medicine proudly congratulates the 3 out of 4 XU examinees who passed the Physician Licensure examination, given last March and September 2020, earning the university a passing rate of 75.43%.
In an online post, the XU Dr Jose P Rizal School of Medicine Student Council congratulated the members of Batch Atlas on their achievement.
In his message to the academic community, Xavier Ateneo President, Fr Mars P Tan, SJ, congratulated the new Xavier Ateneo Physicians and also expressed gratitude to the people behind this success of the university. "We thank Dean Dr Ruth S Beltran, the faculty and staff of the Jose P Rizal School of Medicine for the guidance and support they have given to our students.," he said.
Dr Ruth S Beltran also has this special message for the new board passers "Congratulations to our new physicians! More than ever in this time of pandemic, your strength, courage and determination to serve at the forefront of this battle will now be put into the test. It is not easy to answer the call to be a front liner, more so because this is a war which does not need guns and fire power but healing hearts, hands and minds and yet our lives are very much at risk just like soldiers in armed conflicts, May you never forget therefore the ideals of your alma mater: "to be men and women for others". Let this be the biggest factor for your decision to serve at the frontlines because a life lived in the service for others is a life that is lived with meaning. Ad Majorem Dei Gloriam".
The Professional Regulation Commission (PRC) announced last Friday October 2, that 800 out of 1,424 passed the PLE given by the Board of Medicine in the cities of Manila, Baguio, Cagayan De Oro, Cebu, Davao, Iloilo, Legazpi, Tacloban, Tuguegarao and Zamboanga ( national passing rate of 56.18 %). The results of examination with respect to fourteen (14) examinees were withheld pending completion of the remaining subjects in the Physician Licensure Examination.
PRC has reminded the medicine board passers, that starting November 5, 2020, registration for the issuance of Professional Identification Card (ID) and Certificate of Registration will be done on-line. Successful examinees should personally register and sign in the Roster of Registered Professionals. ∎
Congratulations to our new Xavier Ateneo Physicians!
Maria Janine Patricia S Gaston
Junaira M Rasuman
Anna Katrina B Tan