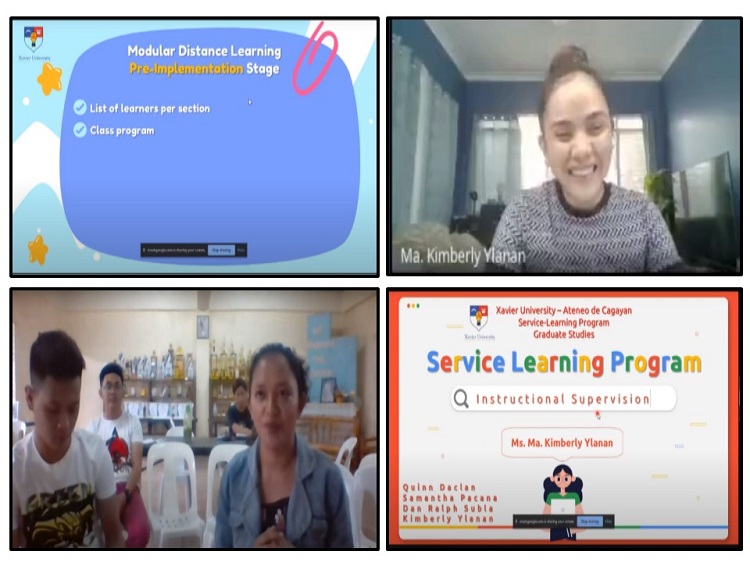 The sudden disruption of educational activities due to the COVID-19 health crisis modified the educational pedagogy of the university. These shifts propelled the the university to adopt "Flexible Learning" to ensure students' safety without having to sacrifice their academic and social formation.
Adjusting to these changes, the Social Development Office pilot tested the "Flexible E-service Learning" as a mode of facilitating service learning at this time of pandemic. This model limits face to face interaction that occurs in traditional onsite community engagement, yet it ensures that the needs of communities are addressed through the acquired disciplinal knowledge and skills of the students with the mentorship of their faculty.
The School of Education through its Professional Education and Graduate Studies programs were set as models that adopted Flexible E-service Learning. This was done through the exisiting partnership of Xavier Ateneo's Service Learning Program and the Bukidnon Mission Schools particularly Fr Leoni Memorial School (FLMS) Cabanglasan, Bukidnon. Following the service learning process, the community expressed the need to capacitate their faculty on curriculum development especially with remote learning and the changes on instruction and delivery. The assessment of community needs were done through virtual meetings and group consultations with the guidance of Faculty and SL formator.
After a series of assessment and interviews, the School of Education students facilitated a webinar entitled, "Curriculum Development: How Ready is Ready?" which was attended by FLMS faculty as part of their e-service learning engagement. The students also developed a module on Reading Comprehension for the Jesuit Mission School. "The webinar was helpful because it helped us prepare and contextualize the needs of our learners," Ms. Michelle Puyong Torres, a faculty of FLMS shared. In his reflection, Mr Gerry Madrid, a PhD student of SOE shared, "I consider my experience of serving FLMS administration, faculty, and staff as one of my memorable and peculiar experiences at this time of the pandemic… Sharing my acquired knowledge and skills to those who are in need has always been my mantra in the academe".
Xavier Ateneo embraces the challenges posed by the pandemic as an opportunity to make itself more available in response to the needs of communities as a tradition of Jesuit education. The effort of sustaining Service Learning as a teaching methodology by adopting the Flexible E-service Learning model is a manifestation of the Social Development Office's commitment of promoting education for social justice and of cultivating a more just and humane society in the new normal.