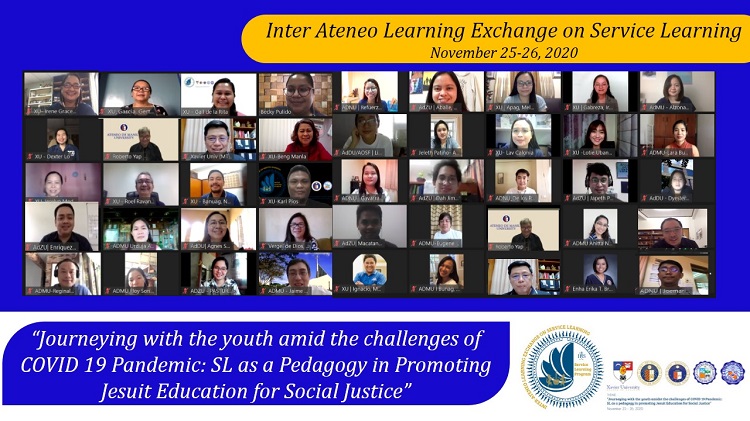 Xavier Ateneo's Service Learning Program has reached out to SL implementers of other Ateneo schools for the "Inter-Ateneo Learning Exchange on Service Learning". The learning exchange was conducted virtually last November 25-26, 2020 and was attended by 107 SL implementers, educators, students and partners of Xavier Ateneo, Ateneo de Davao University, Ateneo de Naga University, Ateneo de Zamboanga University, and Ateneo de Manila University. Themed as, "Journeying with the youth amid the challenges of COVID 19 Pandemic: SL as a Pedagogy in Promoting Jesuit Education for Social Justice", the learning exchange included a sharing of service learning modalities, engagements, challenges and innovations adopted at the time of pandemic as well as social formation experiences of the Ateneo schools while facilitating SL in their institutions.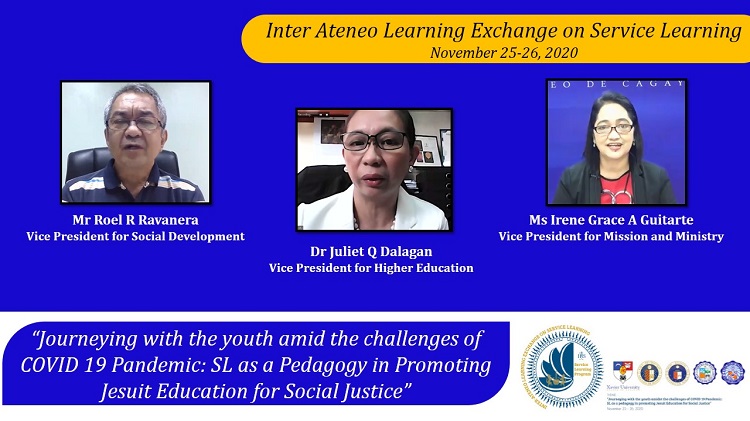 Cluster Vice Presidents, Mr Roel R Ravanera (Vice President for Social Development), Dr Juliet Q Dalagan (Vice President for Higher Education) and Ms Irene Grace A Guitarte (Vice President for Mission and Ministry), delivered their welcoming messages focused on the relevance of service learning in the over-all direction of the University on social development, academic competence and social formation that supports SL's integrative pedagogy. In his keynote talk, Fr Pat Falguera, SJ (Executive Director, Simbahang Lingkod ng Bayan) emphasized how service learning and social formation programs in Jesuit universities promote 'Education for Social Justice'. He shared that "in discerning the mission, we go back to our Jesuit charisms and values" emphasizing the need for rigorous social analysis and communal reflection in order to forge principled collaboration and allow for creative fidelity to emerge in the academe amid societal challenges.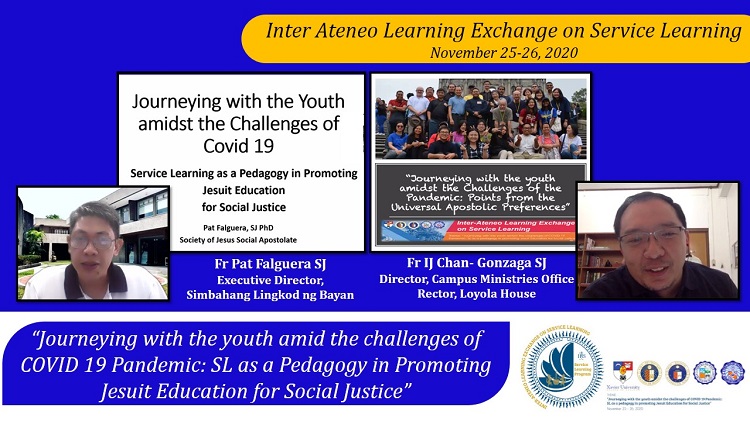 SL implementers from the different Ateneo schools shared their experiences in the implementation of SL in their institutions. Ms Agnes Sagaral (Program Coordinator of ADDU's SL Program) shared ADDU's experience of adapting the extreme electronic SL format in lieu of online learning. Ms Ophalle Pornela (Director of ADMU's Office for Social Concern and Involvement) shared how they integrated the SL framework in the implementation of the NSTP and how it supplemented the University's faculty social involvement. Mr John Mayo Enriquez (Assistant to the President for Social Development of ADZU) shared how they were able to adopt SL as a developmental social formation program for students in ADZU highlighting the ladderized social formation of students in the University. Ms Victoria Melissa Pulido (Formator of Xavier Ateneo's Service Learning Program) presented the 12-step process adopted by Xavier Ateneo in the implementation of SL, she added that because of the current flexible learning set up, the program condensed the process into 5 steps to make it facilitative for faculty. Meanwhile, Ateneo de Naga University is in the process of setting up their SL program and has planned for a calamity-responsive SL model after the onslaught of the recent typhoons.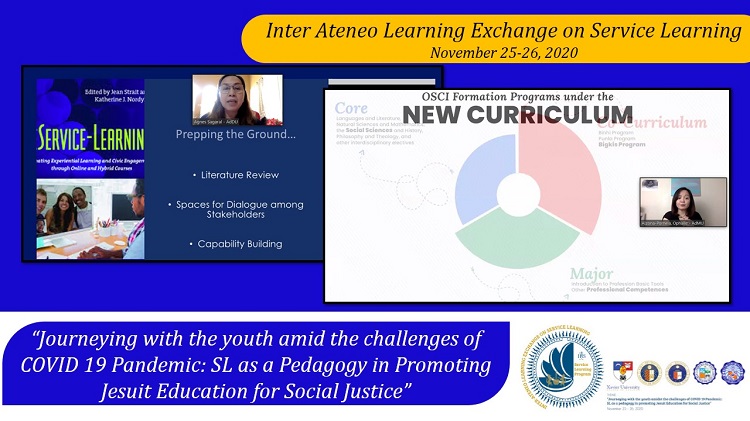 University Presidents also took part in the learning exchange and gave their solidarity messages on the importance of sustaining service learning programs despite the challenges of the pandemic. Fr Mars Tan, SJ (President, Xavier Ateneo) shared, "…our (SL) engagement will allow us to be more creative in its delivery while keeping the primary goal which is for our students to interact with the local communities, to know their needs and to make our instructional design responsive to the specific needs of the people". Fr Karel San Juan SJ (President, Ateneo de Zamboanga University) emphasized on how the learning exchange can facilitate the creation of a 'community of practice' among Ateneo schools. Fr Bobby Yap SJ (President, Ateneo de Manila University) highlighted the four C's of service learning namely contact, competence, conscience and compassion, and added that "SLP is the cornerstone of the formation of Ateneans". Meanwhile, Fr Robert Rivera SJ (President, Ateneo de Naga University) lauded the initiative of organizing the learning exchange which fostered a venue for conversation among Ateneo schools especially at this time of pandemic. After the Presidents' messages, a communal reflection and sharing among SL implementers, educators and partners followed where participants supported the call for sustained conversations on social involvement, formation and service learning to promote and sustain education for social justice.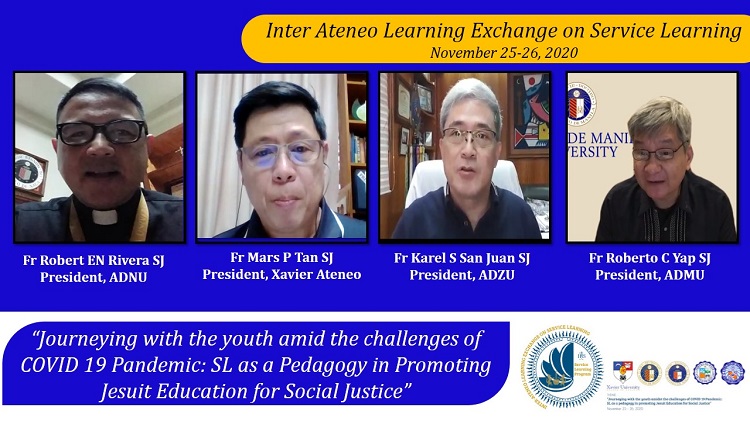 The learning exchange ended with a synthesis talk by Fr IJ Chan- Gonzaga SJ (Director, Campus Ministries Office and Rector, Loyola House in XU) who echoed the points discussed on challenges faced in the implementation of SL and the common desire to sustain social formation and development amid the current situation. In his talk he emphasized the need for re-imagination on the role of educators and formators, "…we are forming a conscience that will allow one's heart to feel the connectivity of creation and humanity using the knowledge imparted, and forging them into tools for concrete actionable engagements not just for themselves but for communities—that is the dream that is SLP."
The learning exchange opened opportunities for further learning, collaboration and conversations among Ateneo schools. SL implementers fully support the invitation to sustain the initiative and share the hosting with other Ateneo schools with the participation of students and faculty in the next learning sessions. Moreover, SL as a framework has gained global recognition through the various networks created where Ateneo schools can take part in to maximize spaces for partnership and collaboration.
The Inter Ateneo Learning Exchange on Service Learning was hosted by Xavier Ateneo through the Social Development Office's Service Learning Program.