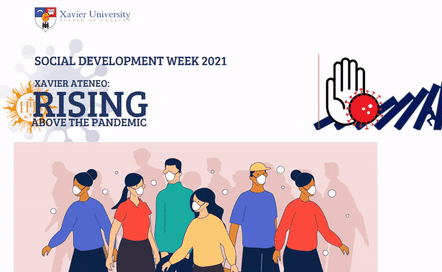 The Social Development Office is pleased to invite you to this year's Social Development Week Celebration on January 25-29, 2021 with the theme "Xavier Ateneo: Rising above the Pandemic".
The annual social development week seeks to highlight the University's institutional contribution to social development initiatives with and for the larger community as well as the continuing invitation for the whole university community to partake in advancing Xavier Ateneo as a University serving society, bringing science where there is no science, voice where there is little or no voice, and hope amid conditions that need promotion of quality of life.
This year's SD week celebration will be done virtually through the Social Development (SD) Webinar Series which will focus on topics relevant to the COVID 19 Pandemic. The Social Development Centers have identified webinar topics featuring its programs/projects, experiences and expertise which you may be interested in.
DATE

WEBINAR TITLE/ OVERVIEW

LEAD UNIT

PRE-REGISTRATION LINK

Jan 25, Monday

9:00-11:30AM

The Role of the Academe in Rising Above the Pandemic

SD Office

Jan 26, Tuesday

9:00-11:00AM

"Rise for Human Rights: Fighting the Scourge of Human Trafficking"

XU Center for Legal Assistance

Jan 27, Wednesday

9:00-11:00AM

Resilient Cities and COVID19: Re-shaping Mobility for Women and Children

XU Engineering Resource Center

Jan 28, Thursday

9:00-11:00AM

Flourishing in the Workplace: Planning for and Maintaining Our Psychosocial Wellness

Xavier Center for Mental Health and Research

Jan 28, Thursday

2:00-4:00PM

Field Sampling in the time of COVID 19 Pandemic

McKeough Marine Center
In order to take part in the webinar series kindly pre-register through the webinar's designated pre-registration links above. We will be sending the zoom link to your registered emails before the scheduled webinar. We will also be streaming the SD Webinar Series in the XU Social Development Facebook page. Please note that you are free to attend all the webinars as they are scheduled on different dates.
Finally, attendees will receive an electronic certificate of attendance/participation upon submission of the evaluation form at the end of the webinars.
Come celebrate with us and see you virtually!