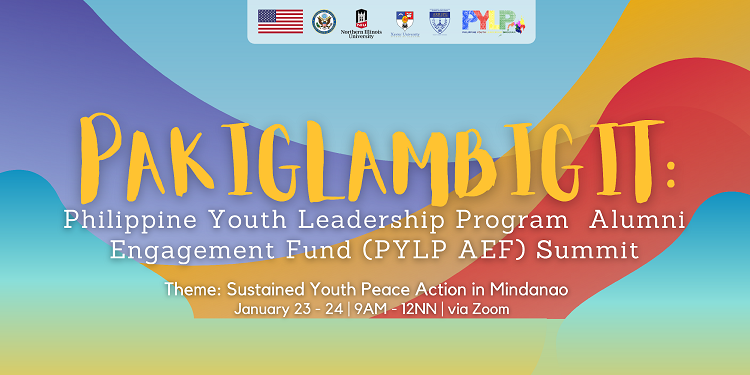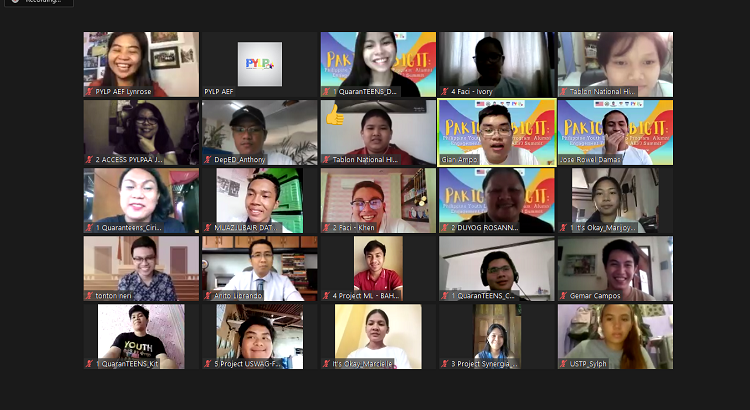 Philippine Youth Leadership Program (PYLP) Alumni Engagement Fund (AEF) Pakiglambigit facilitators, alumni and guest participants have a photo op as they convened during the two-day summit. The two-day event was hosted by PYLP alumni Gian Ampo and Jose Rowel Damas.
As the world continues to grapple with unprecedented challenges posed by the COVID-19 pandemic, young people are demonstrating their continued leadership in their communities. Youth, such as the Philippine Youth Leadership Program (PYLP) alumni community, have been at the frontlines of resilience-building, and are active agents in shaping a better and more resilient normal.
With the theme, "Sustained Youth Peace Action in Mindanao'', Pakiglambigit, a Sebuano word for engagement, brought together youth leaders for an online interactive summit last January 23 – 24, 2021 from 9:00 AM – 12:00 NN via Zoom. This is initiated by Xavier Ateneo's Arrupe Educational Center (AEC) through the PYLP Alumni Engagement Fund (PYLP-AEF) in partnership with the US Department of State's Bureau of Educational and Cultural Affairs, Northern Illinois University (NIU) and US Embassy Manila.
With ten (10) PYLP alumni-led peace projects in Mindanao conducted months prior to the summit, Pakiglambigit as a culminating activity aimed to (1) provide space to share success stories of youth peace action in times of pandemic, (2) provide an avenue for devising ways forward as it gathers youth participants and community partners, and (3) create a network through which participants can sustain peacebuilding initiatives to continue to advocate for peace. Aside from the PYLP alumni, students from Xavier Ateneo, MSU-IIT, and USTP were also invited as guest participants.
The first day commenced with messages from Nina Lewis, assistant cultural officer, US Embassy Manila and from Rhodalyn Gallo-Crail, program director of the PYLP at NIU. Kenneth Isaiah Ibasco Abante and Katreena Chang of Move as One Coalition provided the keynote speech with the theme on youth engagement for nation building and global action.
Participants were divided into break-out groups where the ten alumni projects showcased their accomplishments, and shared practices that work and lessons learnt from the implemented projects through a video and poster presentation. Lynrose Jane Genon, PYLP AEF coordinator, facilitated the session together with Crisline Barredo, Alexis Acas, Azel Bikol Chabolla, Khen Caballes, Earl Guen Padayao, Kynn Lebrillo, Ivory Doble, Francis Anne Belano, Dhea Denlaza & Muaz Jubair Datumanong as break-out facilitators.
The ten (10) peace projects focused on promoting peace through youth leadership and capacity building, literacy, intergenerational dialogues, cultural awareness, building resiliency, mental health, environmental protection, and public health. Majority of the project implementations were shifted on various digital platforms due to the COVID-19 pandemic. Projects were implemented from August 2020 to January 2021, and the areas of implementation include Iligan City, Lanao del Norte, Lanao del Sur, Marawi City, Zamboanga City and Sibugay, Zamboanga del Norte and Zamboanga del Sur, Basilan, Bukidnon, Davao City, Maguindanao, and North Cotabato.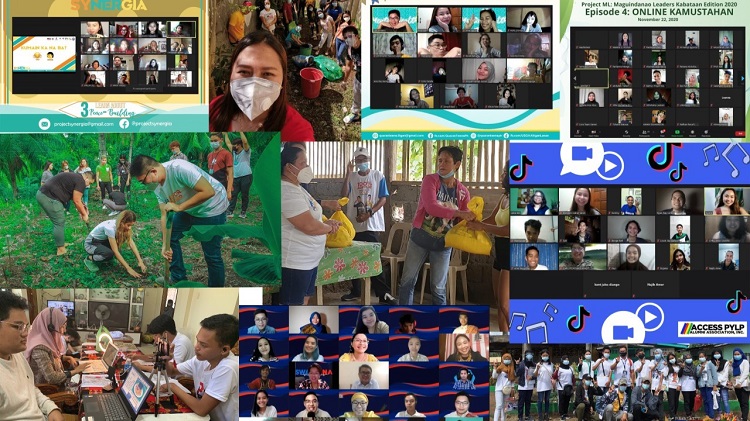 All ten (10) youth-led peace projects on promoting peace through youth leadership and capacity building, literacy, intergenerational dialogues, cultural awareness, building resiliency, mental health, environmental protection, and public health under the Philippine Youth Leadership Program (PYLP) Alumni Engagement Fund (AEF).
Val Amiel Vestil, executive director of the Association of Young Environmental Journalists (AYEJ), opened the second day as keynote speaker discussing sustaining advocacies in digital spaces. To provide the necessary and meaningful health breaks, Maria Angeles Dano – Hinosolango, PYLP adult program officer, introduced innovative, interactive and symbolic mobility exercises for the online participants during the two-day summit.
To provide an avenue for visioning and devising ways forward for the PYLP Alumni Community, Malcolm Flores of US Embassy Manila led the PYLP alumni group with a visioning activity with student output harvesters, Keanu Laput and Lacielle Cay Simbajon from the Federation of Accredited Extra-curricular Student Organizations (FAESO) of USTP creating a visual image from the responses from the workshop.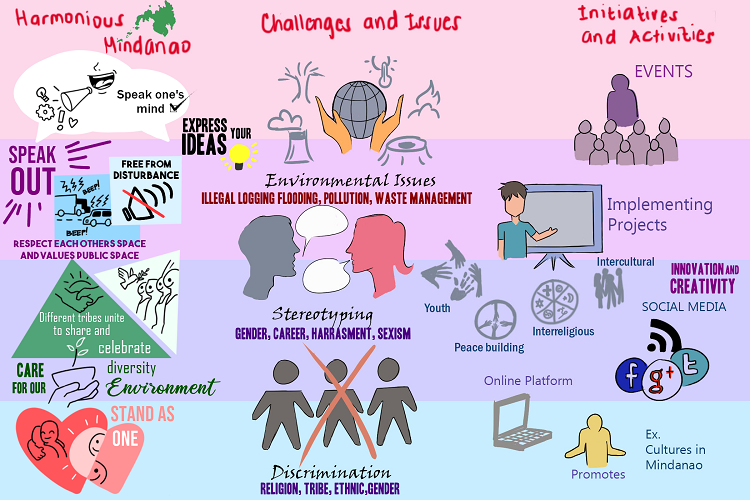 A creative visual image made by student artists provides a collective representation of the visioning activity of the PYLP alumni during the Summit.
PYLP special programs officer Ernesto Neri III led the discussion on meaningful participation of youth in co-creating change with a special panel composed of Judge Jerli Requerme, Next Generation Leader - Philippines at McCain Institute for International Leadership, on transformative leadership; Ariel Hernandez, Balay Mindanaw Senior Director for Program Development, on youth agency in co-creating change, Jana Dacobor, ACCESS PYLP president, on youth mobilization in peacebuilding; and Adam Anay, Project Coordinator for Equal Access International – Philippines, on resource mobilization in youth action. This conversation was participated by the student-leaders and youth partners who joined the summit.
The breakout sessions were concluded with a sharing of outputs and syntheses from the two groups facilitated by Anito Librando, Jr., PYLP youth program officer.
"I hope all our participants are moved by the inspiring stories and sharing of ideas in this summit and not to let the limitations of today prevent you all from doing your part because we do not want to go back in time in history and wonder what we did", said Maria Victoria Trinidad, AEC Director, as she formally closed the summit.