by: John Esteward Carcosia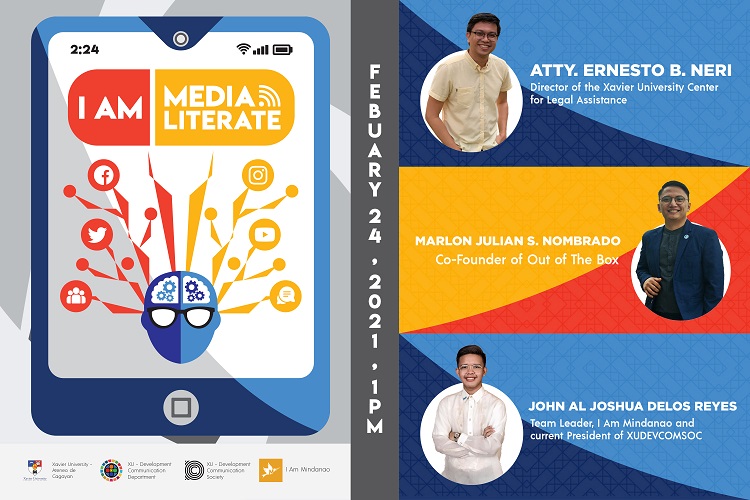 CAGAYAN DE ORO CITY - To stress the role of Media and Information Literacy (MIL) in promoting peace online, Xavier Ateneo's Development Communication Society has partnered with I Am Mindanao, a youth-led peace campaign, in spearheading a conference for students and faculty across Northern Mindanao on February 24.
The I AM MEDIA LITERATE (IMIL) 2021 is a 2-hour virtual conference on MIL which covers discussion over Social Media Landscape and Freedom of Expression, Cyberlibel, and Social Media for Social Change.
The premium objective of the conference is to enable its target audience to sift through messages due to the increase in media consumption caused by the pandemic. Moreover, the aims of the conference are not only to emphasize the sense of identity, sense of belongingness, and purpose of a consumer but also to increase their capacity to combat extremism online
"I believe as a youth org during this pandemic, we should still be as empowered to organize the youth in events as such to encourage them to be media literate and advocates for peace in the online platforms," said John Al Joshua Delos Reyes, President of XU DEVCOMSOC and Team Leader of I am Mindanao.
As an organization immersed in developmental works, they believe that advocating media and information literacy will help the organization's mission to mobilize opportunities and eventually empower students and faculty to advocate media and information literacy. By utilizing the online platform, he also believed in the power of social media in helping advocacies to encourage consumers to counter hate speech and online violent extremism.
To date, XU DEVCOMSOC has been actively promoting MIL through one of its flagship campaigns, the SML Project or also known as Social Media Literacy Project. I Am Mindanao on another note, is currently implementing its campaign targeting youngsters in Mindanao.
"This is a one-of-a-kind conference as it will not only focus on the concepts of Media and Information Literacy but more importantly, how being media literate, especially online, counter messages of violence and extremism." Ms. Rechelle Barraquias, Moderator of XU DEVCOMSOC and current Department Chair of XU-DEVCOM said.
The conference is open to all faculty and enrolled SHS and College students from Northern Mindanao who wants to equip and enhance their media and information literacy skills and engage fellow advocate online.
Interested participants may visit the official Facebook page of Xavier University - Development Communication Society, or email This email address is being protected from spambots. You need JavaScript enabled to view it. for inquiries and concerns. The cut-off date for the registration will be on February 23, 2021, at 6 PM.