(Reported by: Ms Victoria Melissa C Pulido, Formator- Social Development Office)
The National Resilience Council sustains partnership with Xavier Ateneo and the Manila Observatory through a training program with Peace & Equity Foundation and Kasagana-Ka Cooperative. Peace and Equity Foundation (PEF) is a non-stock, non-profit organization that invests on social enterprises for Filipino households with the primary goal of nurturing self-sustainable households and communities. While, Kasagana-Ka Cooperative (K-Coop) aims to improve the quality of life of its members from urban and peri-urban communities through social empowerment using microfinance strategy. The training program featured the application of Web-GRiD this time as a decision support tool for non-government organizations as they map programs and initiatives in communities they serve. Organization representatives presented their respective outputs on March 12 in a virtual forum entitled, Web-GRiD Dashboard: Visualizing Risk and Resilience.
The forum commenced with opening messages from Ms Antonia Yulo Loyazaga (President, National Resilience Council) and Mr Roberto Calingo (Executive Director, Peace and Equity Foundation) who both expressed commitment to sustained partnership and dialogue in order to assist vulnerable communities. Ms Loyzaga shared NRC's resilience framework and emphasized the important role of organizations and LGUs in protecting the welfare of individuals and addressing the needs of vulnerable sectors. In his message, Mr Calingo expressed appreciation on the relevance of the tool to organizations as it is able to assist in identifying the location of vulnerable sectors and the hazards they are exposed to which will aid in developing customized solutions for its priority areas.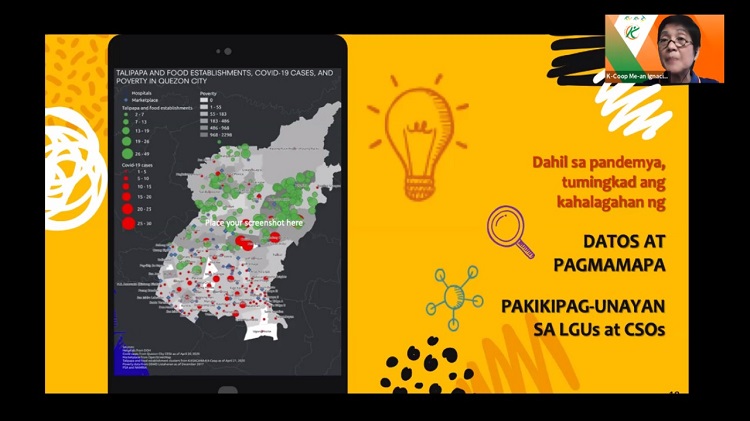 Ms Maria Anna de Rosas Ignacio (General Manager, K-Coop) introduced KCoop's context as well as its programs and services. She shared that the pandemic has greatly affected the organization and its member-beneficiaries. However, she recognized that the pandemic also opened opportunities for them particularly in learning new technologies and in forging partnerships among local governments and civil society organizations. She lauded the creation of maps in highlighting the importance of understanding data and using them for a more scientific and systematic analyses of programs and services. While, Engr Dexter S Lo (Director, Institutional Societal Engagement) re-introduced Web-GRiD emphasizing that it is a data-driven, risk informed and geospatial (online) decision support tool which was initially used to map out COVID 19 cases to aid in policy implementation but is very much applicable for NGOs and other organizations as well especially on social enterprise development, disaster preparedness and livelihood.
The forum's highlight is the presentation of dashboards or story maps created by the organizations and feedback from the respective reactors: KCoop Central Sector (Bagong Silang, Caloocan) with Dr Ramir Anthony Blanco (Zuellig Family Foundation) and Mr Alan Sicat (Microfinance Council of the Philippines, Inc), KCoop East Sector (Rodriguez, Rizal) with Ms Ana Mancio (KCoop), Peace and Equity Foundation with Dr Emma Porio (Coastal Cities at Risk in the Philippines Project), KCoop South Sector (San Pedro, Laguna) with Fr Jose Victor E Lobrigo (SEDP-Simbag sa Pagasenso, Inc.) and KCoop North Sector (Meycauayan, Bulacan) with VAdm Alexander Pama (ARISE Philippines).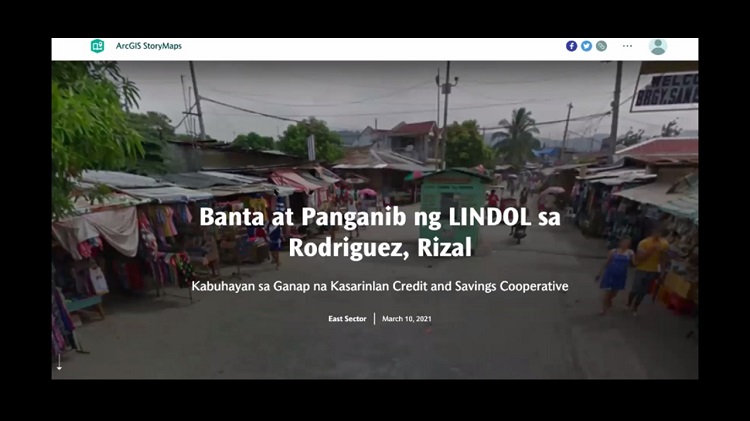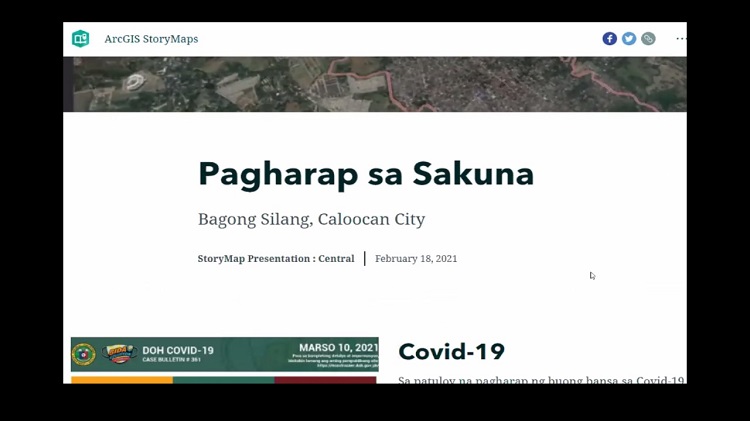 The Web-GRiD resource team also gave their feedback on the presentations starting with Dr Gina Itchon (Director, Xavier University's Center for Global Health) who expressed her appreciation on the effort of the groups in coming up with the dashboards and in applying the skills learned in the training through the maps they have created. Dr May Celine Thelma Vicente (Program Manager, Manila Observatory's Geomatics for Environment and Development) shared that the presentations were insightful as there is deeper analysis and understanding of problems faced by communities, resolute as there are identified action points in order to improve the dashboards and use them to further develop programs for communities and impactful as there is visualization, through the use of story maps, on the varying context of communities. Mr Vitaliano Nañagas II (Trustee, Manila Observatory) affirmed the relevance of the training in ushering a deepened understanding of risks and vulnerabilities as it also has economic implications. He also supported the call to engage the LGUs in these resiliency efforts to widen the scope of engagement and strengthen good governance initiatives. Finally, Engr Lo encouraged the groups to consistently update the dashboards so that it can help them in setting directions of their programs and initiatives.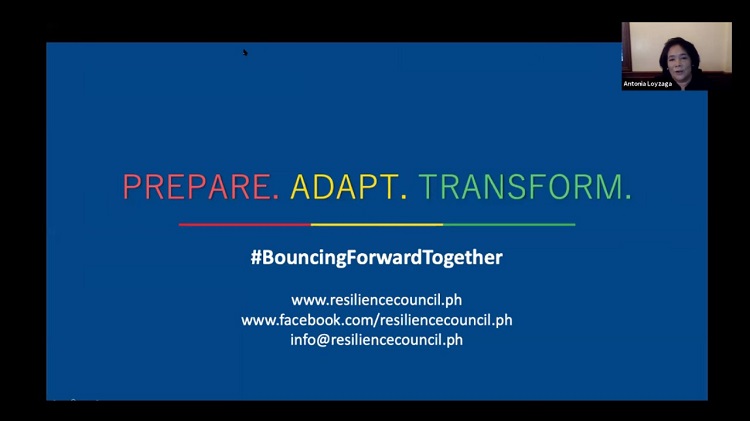 To close the Web-GriD Training and Presentation of Outputs, Ms Ignacio shared how the program has made a huge contribution to KCoop and in their desire to learn new technologies that will help strengthen their partnerships with LGUs and in their intention to share the technology to other microfinance institutions. She added, "hindi ito dagdag trabahon, ito ay dagdag armas at kaalaman upang mapa-igi ang pagserbisyo para sa mga mas nangangailangan" Meanwhile, Ms Loyzaga highlighted that CSO collaboration is an opportunity for NRC to reach out beyond its comfort zone. She emphasized the need for deepened vulnerability analysis which can be done through classification of livelihoods as well as the need to identify entry points to engage LGUs and form champions who can sustain collaborations. Ms Loyzaga extended her gratitude to the resource team and highlighted the significance of academe's active and dynamic involvement in capacity building and research that can help advance development. It is hoped that through the Web-GRiD training, organizations will have greater appreciation on the significance of science and data-driven decision making in the establishment of programs and services that are more responsive to the needs and realities of communities.
Xavier Ateneo's Web-GRiD Resource Team is composed of Engr Dexter S Lo (Team Leader, Risk Specialist), Dr Gina S Itchon (Epidemiology Specialist), Engr Bonn Kleiford D Seranilla (Supply Chain Specialist), Engr Jefferson R Vallente Jr (GIS Specialist), Engr Augustini Ave O Paduganan (GIS Specialist), and Ms Therese Rhea Rose T Baliwag (Training Admin)