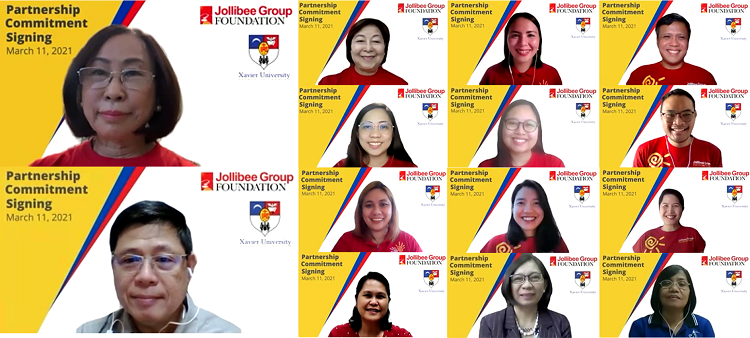 Ms. Grace Tan Caktiong, Jollibee Group Foundation Inc. President (upper-right photo), Fr. Mars P Tan S.J, Xavier University-Ateneo de Cagayan President (lower-right photo) and other XU and JGF personnel who were present during the virtual partnership commitment signing.
Xavier University-Ateneo de Cagayan (XU) and Jollibee Group Foundation (JGF), Inc. recently signed a partnership commitment for the Agro-Enterprise Online Course Project. This project aims to form a cadre of agro-enterprise facilitators who will help smallholder farmers engage in collective marketing and become agro-entrepreneurs.
Fr. Mars P Tan, S.J., President of Xavier University and Ms. Grace Tan Caktiong, President of Jollibee Group Foundation headed the XU and JGF delegations, respectively, during the virtual Partnership Commitment Signing Ceremony last March 11.
Fr. Mars Tan said that, "the partnership with the Jollibee Group Foundation Inc. is a great opportunity to concretize Xavier Ateneo's mission among smallholder farmers to enhance their agribusiness capabilities and consequently increase their income." He added that, "even with the present limitations and restrictions brought about by the pandemic, Xavier Ateneo, through its College of Agriculture and other support offices, is committed to do its part, albeit in modest ways, in the whole enterprise to alleviate poverty in the country."
Ms Grace Caktiong expressed that she is grateful "that the Jollibee Group Foundation is embarking on the expansion of the FEP Agro-Enterprise Training Program with Xavier University." She added that "the University's expertise in teaching, formation, research and outreach is very valuable in making the agro-enterprise online course more accessible to facilitators in this field."
This one-year project will transform the current JGF agro-enterprise training program into an online course that will be offered nationwide. Leveraging on the strengths of their respective organizations, both XU and JGF teams will work closely in the development and delivery of this online course.
Dr. Juliet Dalagan, Vice President for Higher Education, Engr. Gail dela Rita, OIC of the Social Development Cluster and Dr. Maria Rosario P Mosqueda, College of Agriculture Dean, also represented Xavier-Ateneo during the event. Ms Belen O Rillo, Vice President of JGF, Ms Joanna La'O and Ms LA Cruzat, Senior Program Managers, and other JGF officers also witnessed the partnership commitment signing.