The Chairman of the Commission of Higher Education (CHED), Prof Prospero "Popoy" E De Vera III visited Xavier Ateneo for the first time on May 28, 2021. Chairman De Vera conducted rounds of visit to the different regions in the country to promote, implement and monitor the various CHED programs, projects and initiatives. His visit to Xavier Ateneo was for the gradual opening of campus for face-to-face classes of the School of Medicine (SOM). Chair de Vera's team included CHED Region X Director Raul Alvarez and the Executive Director of UNIFAST, Atty Ryan Estevez.
Fr Mars P Tan, SJ warmly welcomed Chairman De Vera and his team in the opening conference held at the 2nd floor of the School of Med building. Fr Tan expressed his gratitude to Chair De Vera for granting the SOM the authority to conduct limited face-to-face (LFF) classes. He also shared the intent of XU to be a vaccination center. Dr Ruth Beltran, SOM Dean, gave a short message relating SOM's experience in the conduct of the LFF.
Chair De Vera inspired everyone present with his message on the concept of Flexible Learning. De Vera said that his guiding principle was his inherent belief that the "HEIs are expert Universities that in times of crisis, you just get their innovations come out". He further emphasized that "the root of Flexible Learning is allowing HEIs to determine what is the most appropriate way that they will let learning continue on the ground because they are geographically different in location, capacity is different, their students, faculty, and situations are different". De Vera also said that the CHED advisories gave Universities maximum discretion for learning to continue. He also thanked the HEIs for rising to the challenge of Flexible Learning.
The members of the President's council, Crisis Management Committee of XU and the administrators, faculty and staff of SOM were also present to welcome Chair De Vera and his entire entourage.
The visit ended with the team of Chair De Vera inspecting the retrofitted facilities of the SOM used for the LFF.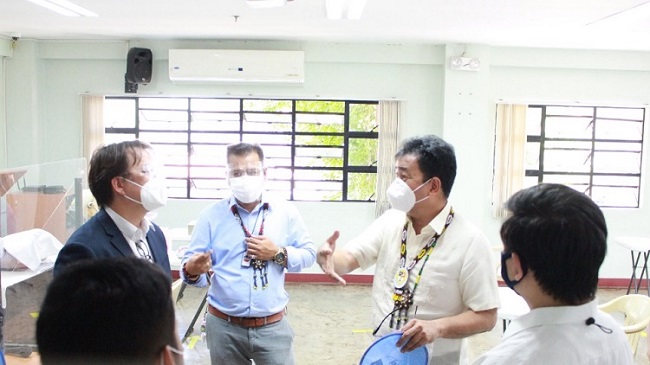 Chair De Vera with Atty Estevez, Dr Mitch Gonzalez and Fr Mars Tan, SJ during the inspection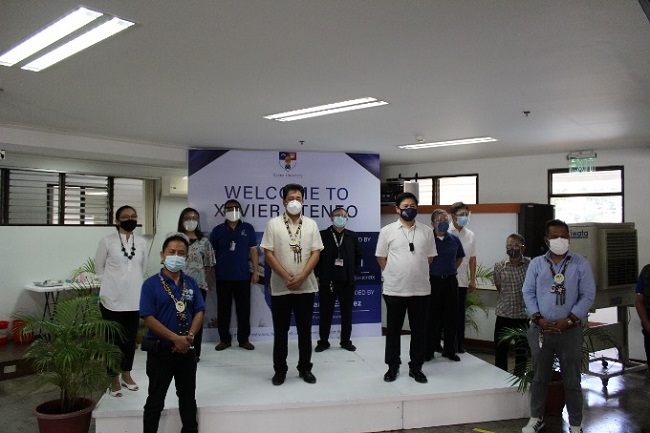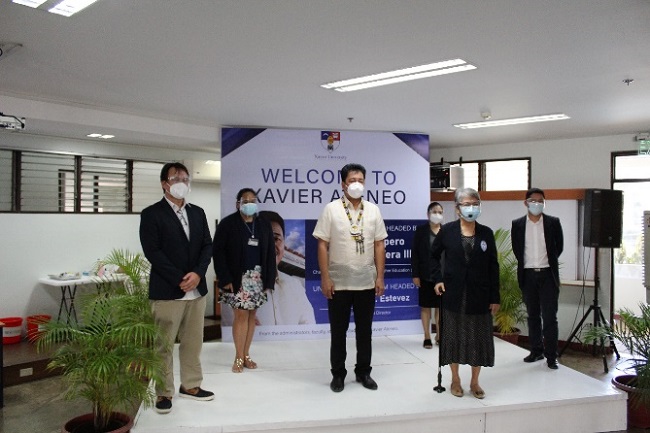 Chair De Vera with XU administrators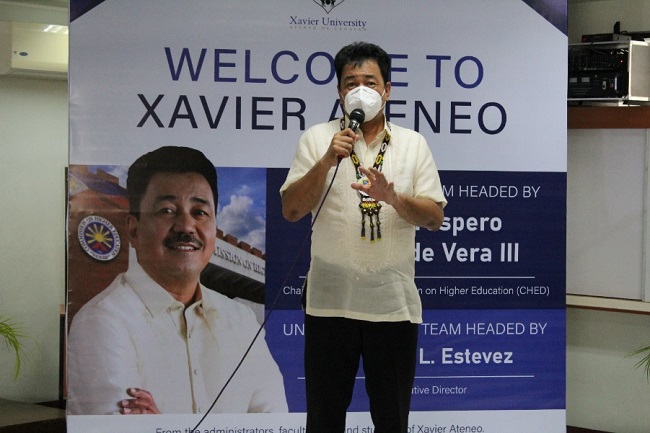 Chair Popoy giving an inspiring message