By Jett L Torres, SL Formator
PCHS: Pangantucan Community High School's administrative staff receives the database systems along with an operating manual.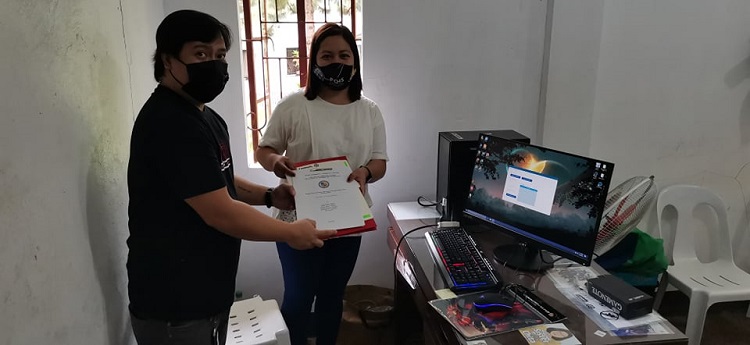 The COVID-19 pandemic prompted a modification of the university's educational methods which includes the delivery of service learning hence, the Flexible e-Service Learning approach was adopted to ensure students' safety while fulfilling the university's mission of academic and social formation as they explore their creativity and utilize their acquired knowledge and skills in addressing the communities' needs.
For this pandemic school year, the Computer Studies students developed automated database systems for three Jesuit mission schools of the Bukidnon Mission District namely, Pangantucan Community High School, Fr. Leoni Memorial School, and St. Therese School of Miarayon under the supervision of Cristina Amor Cajilla, Computer Studies Faculty and Meldie Apag PhD, Dean of the College of Computer Studies.
The students developed unique and creative approaches to managing the following management systems of the schools namely, (1) Enrollment System, (2) Registrar Database System, and (3) Library Management System, which will improve the consistency of query results, data collection, and data management of the schools.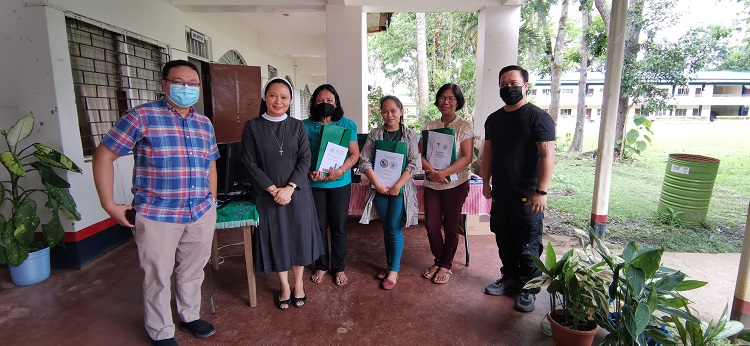 FLMS: The database systems developed by Computer Studies students are handed over to Fr. Jereme Asunto, SJ, School Director, Sr. Evangeline Hingpit, MCM, School Principal, and administrative staff.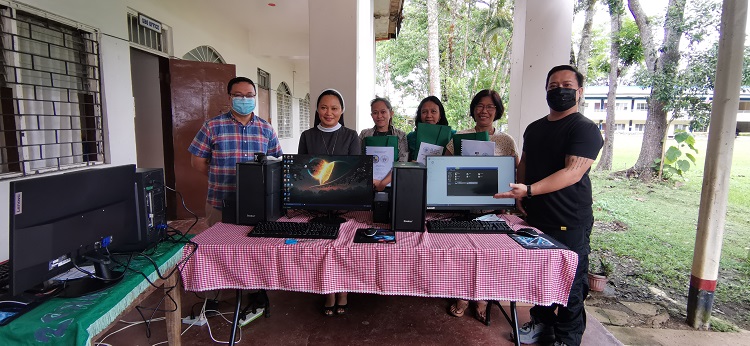 Despite the pandemic, the College of Computer Studies responded to the challenge of developing a course subject that can be maximized as a curriculum-based social involvement and formation course which was identified as Information and Communication for Development (ITCC42). Four classes with 96 students had the opportunity to put theories into practice through their respective disciplines.
The faculty mentors share in the same appreciation of service learning as an avenue to promote students' creative thinking and knowledge application in their class subjects. Michael Martin T Pagaran, a 3rd year Computer Stuudies students expressed that their FeSL engagement has improved both technical and soft skills, "Creating a database system to address our partner's needs has improved my communication skills, planning, time management, project management, and self-learning abilities", he shared during the program's processing session.
Aside from complementing academic formation, valuing the role of community-based learning supports a high degree of appreciation on the importance of "service" as it emphasizes the importance of gaining and applying knowledge and experience as crucial to personal and social advancement.
Moreover, reflection and processing of students' experiences allowed them to value their self-worth, understanding their potential, and the value of generosity. As DJ Renzo Emmanuel I. Bince shared, "I learned to provide my best effort while also taking into account a lot of aspects such as double-checking, thinking twice, speaking with partners/groupmates, and learning how to be passionate about my assignment throughout the process."
The pre-assessment conducted by the SLP revealed that students, on average, have a basic understanding of service learning. The evidence supports the idea that students have found that they are providing something of great value to the community through their work. While providing their unique abilities to help community needs. Hence, this demonstrates that the students believe they have total confidence in their skills can lead to finding alternate solutions.
Meanwhille, post-assessment survey results showed that at the end of the semester, students acquired a basic understanding of service learning and are consciously applying new skills or knowledge in the community. Students expressed that working in groups enabled them to be more efficient and innovative when developing database systems. The program assisted them in developing skills that were unique to individuals but is also a result of their collective effort as a group.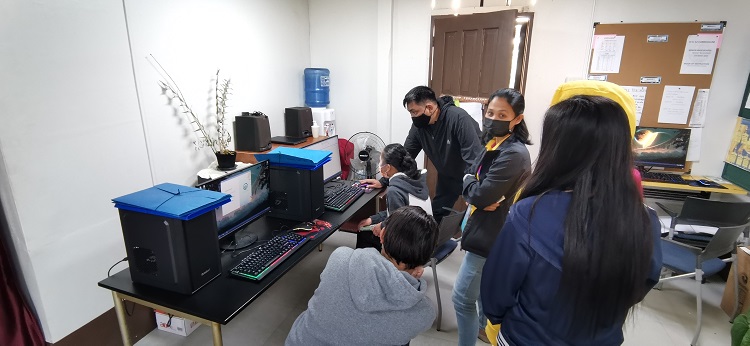 STSM: The database systems are being tested by Fr Arman Samonte, SJ, School Director, as well as faculty and staff.
The database systems paved way for the school to advance administrative processes by investing on new desktop computers where database systems were installed by the students before turning them over to the schools. Mr. Jett L Torres, SL Formator, facilitated the turn-over of the final output.
Finally, FeSL emphasizes two factors: the depth of the service provided and the extent to which the student applies their learning. This supports Xavier Ateneo Service Learninng model as an integrative pedagogy which combines academic instruction, practical service, and critical reflective insights to promote student learning and civic responsibility in the subject's learning competencies, which are anchored by formal instruction and local community involvement.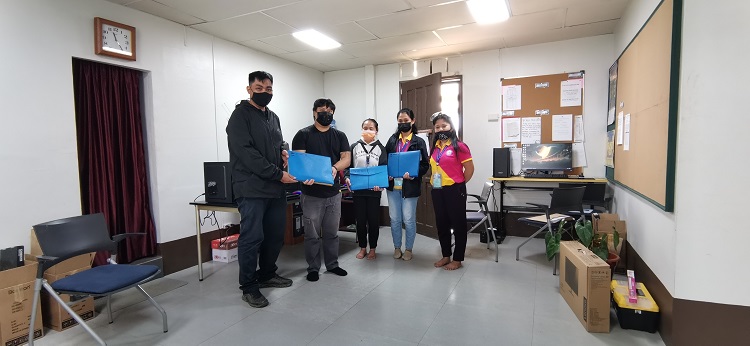 Manual of operation: The database system manuals are handed over to Fr Arman Samonte, SJ, Ligaya Samontao, School Principal, and the administrative staff.