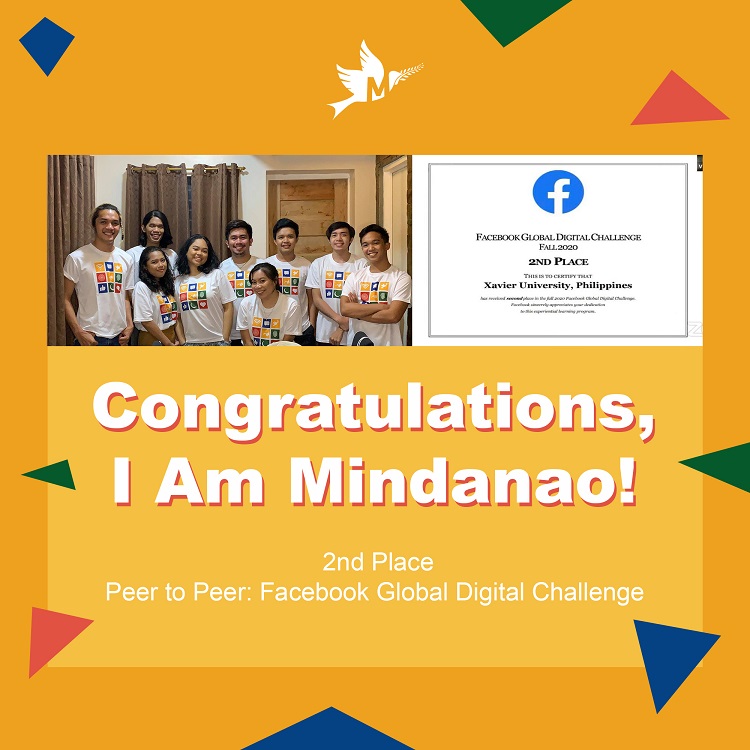 The "I Am Mindanao" campaign led by Development Communication (DevCom) students landed second place in the recently-concluded "Fall 2020 Facebook Global Digital Challenge (FGDC)" after a livestreamed online presentation on July 6.
The team composed of Joshua Delos Reyes, John Esteward Carcosia, Zellyn Virtudazo, Nathalie Paler, Marygan Denisse Alcala, Michael Unsay, John Bradshaw, Terenz Gambe, Cecilmay Cutamora, and Kent Tagarda under the guidance of DevCom instructors Marvin Pamisa and Rechelle Tolinero-Barraquias showcased their online campaign strategies to address violent extremism, discrimination, and hate speech in Mindanao.
"This campaign leg's brand, "Mindanao is YOUth," centers on how the youth, despite becoming the vulnerable targets for violent extremist activities and recruitments, can emerge as victors of peace," said Joshua delos Reyes, the team's leader.
Marvin Pamisa, one of the team's faculty moderators said, "To make it in the top 3 this year is already a big honor as we competed with strong campaigns from various universities all over the world."
A joint initiative led by EdVenture Partners, the Peer to Peer (P2P): Facebook Global Digital Challenge is a biannual competition that runs during the fall and spring college semesters that seeks to "engage university students around the world in competitions where students create social media campaigns and offline strategies to challenge hateful and extremist narratives."
For this leg, Ankara University from Turkey placed first, while Baba Ghulam Shah Badshah University from India finished third.
***
Xavier Ateneo's DevCom program offers Communication Programs and Campaigns and Social and Behavior Change Communication courses that provided these students with skill set to develop and implement strong communication campaigns for development.