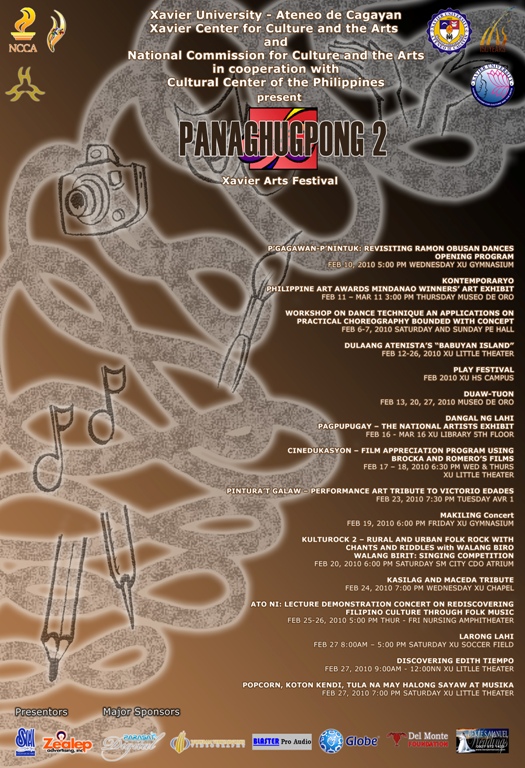 We are very happy to inform you that for two years now, Xavier University through XCCA has received grants from the National Commission for Culture and the Arts (NCCA) to hold activities, productions and programs for the Philippine International Arts Festival (PIAF). Our celebration is called PANAGHUGPONG 2- Xavier Arts Festival, and this years focus is on the promotion of the works of the National Artists like Edith Tiempo (Literature), Ramon Obusan (Dance), Lino Brocka (Cinema/Film), Eddie Romero (Cinema/Film), Lucresia Kasilag (Music), Jose Maceda (Music), and Victorio Edades (Visual Arts). Panaghugpong 2 will open with P'gagawan-P'nintuk: Revisiting Ramon Obusan Dances on February 10, 2010, 5pm at the XU Gym. Also, the Cultural Center of the Philippines supports our celebration through their DANGAL NG LAHI- Pagpupugay the National Artists Exhibit. Panaghugpong is also part of the Sesquicentennial Celebration of the return of the Jesuit Mission to the Philippines.
In line with this, we would like to invite you, your faculty, staff, and students to watch the following productions that are deemed useful as enrichment and learning activities: 
P'gagawan-Pinintuk: Revisiting Ramon Obusan Dances featuring XU Cultural Dance Troupe and The Integrated Performing Arts Guild (IPAG)

 

 

 

 

KONTEMPORARYO- Philippine Art Awards Mindanao Winners' Art Exhibit

 

3rd Floor, Museo de Oro

 

Dulaang Atenista's Babuyan Island

Starring Giovanni Tampos, Cherryl Virtudazo, Jan Micheal Cesar

Premieres February 12, 2010

Regular Runs: Feb 13- 26, 2010

 

Premiere Night with Cocktails- P 100.00

 

Pagpupugay- The National Artists Exhibit

 

5th Floor, XU Library

 

CINEDUKASYON- Film Appreciation Program using Brocka and Romero's Films: Tinimbang Ka Ngunit Kulang and

Ganito Kami Noon, Paano na Kayo Ngayon  

 

 

 

Pintura't Galaw- Performance Tribute to Victorio Edades

Featuring Felimon Blanco, Nick Aca, Ross Zerrudo, Sai Collado, Ken Velasques, Leilani Fernadez and Bart Savior

 

 

 

 

 

 

 

 

For Students- 5 plastic Bottles

KASILAG and MACEDA Tribute

Featuring the world renown music of both National Artists

 

Immaculate Conception Chapel

POPCORN, KOTON KENDI, TULA na May Halong SAYAW at MUSIKA
With your support, we will be able to ensure effective culture and art awareness and promotion as we indirectly form and enrich the academic experience of each Xavier constituent and clientele. For ticket reservations, please call Mr Jhun Rey Labita at local 2059 or text him through 09156612362.