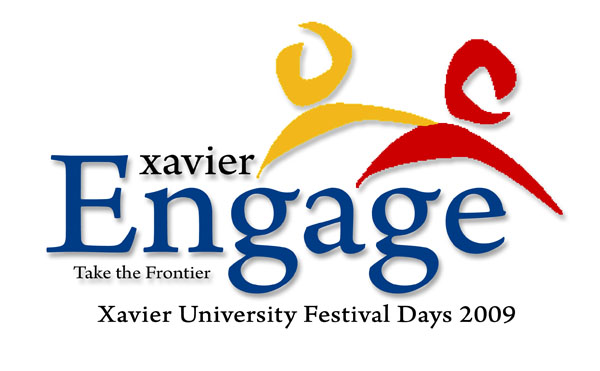 Xavier University -Ateneo de Cagayan will be celebrating its 76th year of service on December 2-5, 2009 with the theme "Xavier Engage: Take the Frontier." This annual celebration promises an exciting line-up of activities.
Mr. Ivanell Subrabas, the Executive Chair of Xavier University Festival Days (XUFD) 2009 said that XU Engage is "a way of affirming the engagements of the university with the community".
These engagements are classified into four major feats: Engaging the mind (academic and student activities), Engaging the heart and soul (spiritual maturity and formation); Engaging hope with others (community involvement and service); and Engaging our roots (Culture and Arts). XUFD is also one of the highlights of the university's sesquicentennial celebration of the 150th year since the return of the Jesuit's Mission to the Philippines.
For this year's celebration, the present engagements of the university will be underscored to highlight what XU has become after 76 years. "We are trying to make this year's celebration really different from the previous XU Festival Days," explained Mr. Subrabas. Traditional activities have been reinvented and were given new twists such as the integration of contemporary and multi-faceted concepts to spice up conventional live band shows, concerts and contests.
XUFD will be officially opened with the traditional holly mass on Dec 2, to be followed by the lighting of the trees along the campus lanes. The crowd-favorite variety show and fireworks display will kick off the different activities and exhibits. This year, several activities have been added such as a quiz game show for the grade school, high school and college levels, and Engage Dance Party, the much anticipated festival-ender. More activities from other units (i.e. XU Chapel, Athletics Office, Central Student Government, and co-curricular and extra-curricular organizations) will also be showcased.