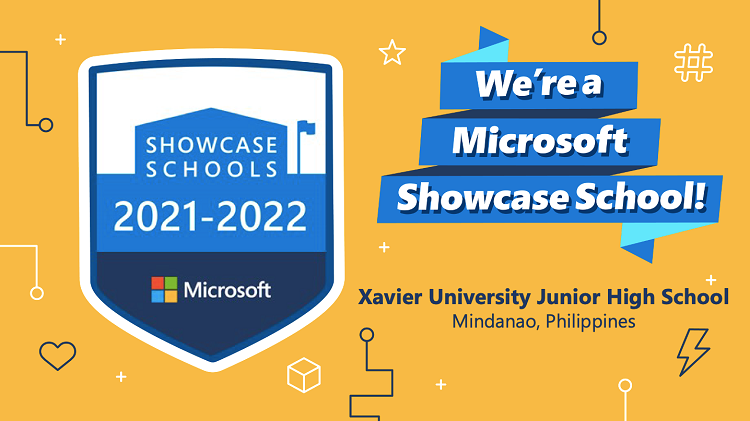 Microsoft Showcase School Badge | Microsoft Worldwide Education recognizes XUJHS as one of the Microsoft Showcase Schools in the world today, September 2, 2021. This is already the 5th time XUJHS is given the recognition.
Xavier University Junior High School is once again recognized as Microsoft Showcase School this year today, September 2.
This is already the 5th time XUJHS is granted with the global recognition.
XUJHS' fifth streak affirms sustained global leadership in educational technology innovation and empowerment.
"You are part of an exclusive global community, recognized and celebrated for educational transformation that includes vision and innovation in teaching, learning, and preparing students for the future," said VP for Microsoft Worldwide Education, Anthony Salcito and the Senior Education Industry Manager of School Leader Engagement Programs, Dina Ghobashy.
Currently, the school has produced 9 Microsoft Certified Educators, 12 Microsoft Education Ambassadors, 6 Microsoft Office Specialists, 10 Microsoft Innovative Educator Experts, while having 90% of faculty members obtaining MIE badges.
The list of new Microsoft Innovative Educator Experts (MIEE) 2021-2022 was also released and two of school EdTech champs, Anito R. Librando Jr & Mario Alejandro M. Neri, were part the recognized educators worldwide.
According to the Assistant Principal for Academics and MSS leader-proponent, Lea Lilibeth Emata, "These yearly iterative steps allow us to continually assess through the metrics of Microsoft Showcase School transformation, and continue to improve our practices as part of our commitment of doing MAGIS for total formation."
"More importantly, being a showcase school gives us a deeper resolve to educate the Ateneo way & empower students to achieve excellence," she added.
Microsoft Education became the cradle of creativity, productivity and innovations in XUJHS, especially in this time of crisis, in fact, having Microsoft Teams as its primary Learning Management System.
"Microsoft engagements have significantly raised the bar in continuing excellence among the members of the XUJHS Community through its continuous innovations and creativity in education amidst the pandemic," said the school principal, Pamela Q. Pajente.
XUJHS became a Microsoft Showcase School in school year 2017-2018.
XUJHS shares the recognition to all the members of the community - teachers, parents, and students - who continuously animate Magis in times of crisis.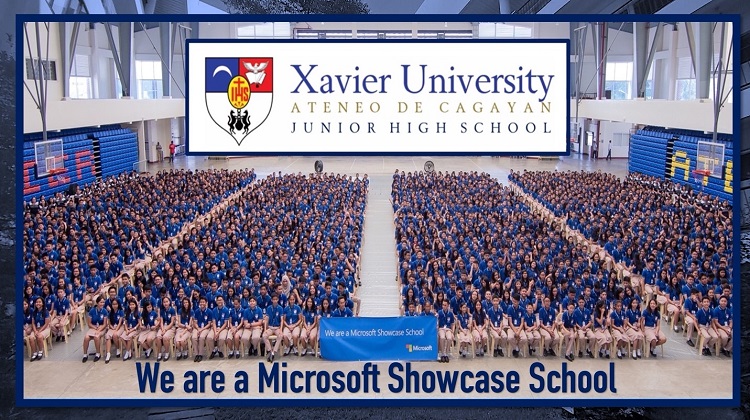 Celebrating as one | XUJHS, with over 1 thousand and 9 hundred community members, shows the Microsoft Showcase Shool banner with pride. This was taken at then newly constructed Xavier Ateneo Sports Centre.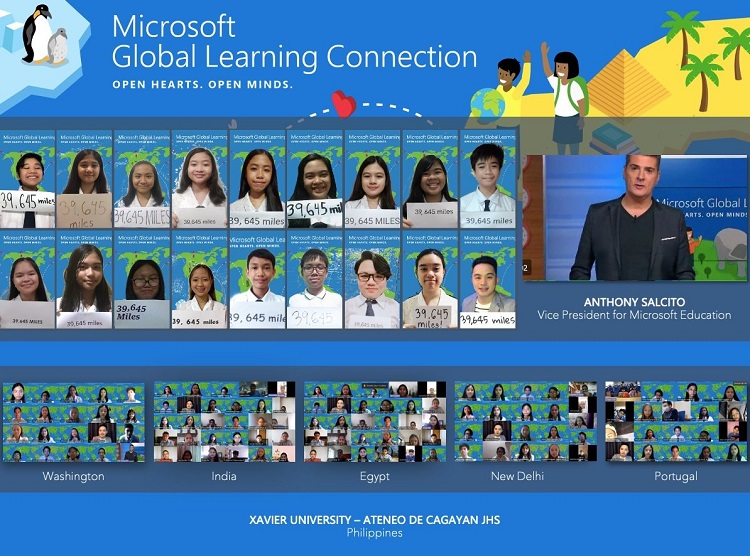 39, 645 miles Virtual Travel | Students of G8 Arrowsmith traveled and learned about languages, culture, and arts in at least 5 countries in the world through Microsoft Global Learning Connection. They have exclusively met in a dialogue Anthony Salcito, Vice President for Microsoft Education.