The Xavier Ateneo Night School Program is an extension program of the Arrupe Educational Center (AEC) under the School of Education. In partnership with the Local Government Unit of Cagayan de Oro City and the Department of Education – Alternative Learning System (ALS) Region X, the XU-NSP is commissioned to provide an avenue of opportunity to our out-of-school children, youth and adults in continuing their academic path.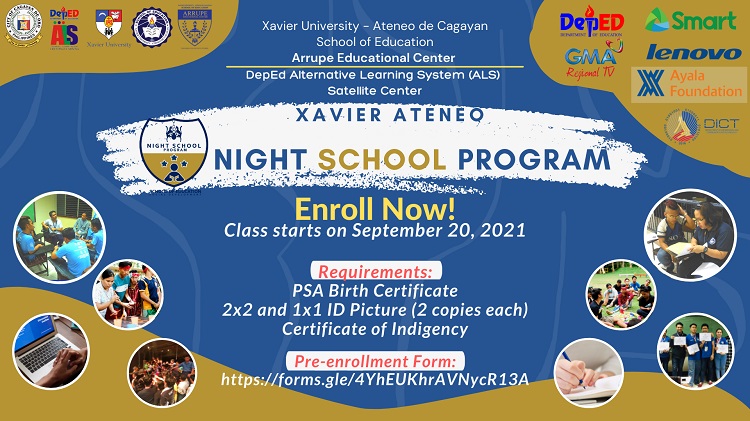 Xavier University Night School Program has a mission to provide an alternative and holistic educational training for out-of-school children, youth and adults, school drop-outs and those who are not attending school and have not finished their elementary or junior secondary level. The program aims to prepare these learners for the National Acceleration and Equivalency Test (A&E) provided by the National ALS Bureau.
When a learner chooses to enroll in the program he/she is expected to participate in a twelve-month long intensive learning program (DepEd-ALS modules) with the help of a licensed mobile teacher from DepEd ALS and the volunteer teachers in XU NSP. These volunteers are composed of both Licensed Professional Teachers and college students from the School of Education in Xavier University-Ateneo de Cagayan.
When the pandemic started, XU NSP never stopped in providing free education to the learners enrolled in the program. Despite the many challenges, the program has persisted in implementing different modalities in delivering the teaching and learning process including hybrid learning. Hybrid learning is an educational technique that mixes online instructional materials with traditional in-person classroom methods. It's neither entirely virtual nor entirely digital. Both the teacher and the learner must be physically present and the learner must have some control over time and speed.
To date, the program has served and assisted five batches of learners who are on their way in continuing their education through Senior High School while others are pursuing technical-vocational courses as well. The program is now even more dedicated to promote individual academic success, formation and leadership development, culture and the arts and health and wellness. We will continue to give an inclusive and equitable quality education that will generate a positive future for the young generation through these remote learning activities.
Now, Xavier University Night School Program is opening new applications for students and volunteer teachers for AY: 2021-2022. Enrollment and acceptance of applications for volunteer teachers are still on going.
Who are qualified to enroll?
Out-of-school children, youth and adults
Elementary and/or Junior High School level
Those who stopped enrolling in the formal school for at least 2 years.
Committed in pursuing education
Requirements to enroll:
Birth Certificate (PSA Authenticated)
Endorsement letter from CSWD
ID Picture 1x1 (3pcs) and 2x2 (2pcs)
Certificate of Indigency
Barangay Clearance
Completed Enrollment Form via Google Form (https://forms.gle/4YhEUKhrAVNycR13A)
All requirements shall be submitted online
For questions and clarifications about the enrollment, please do not hesitate to message and contact us on our Facebook page at Xavier Ateneo Night School Program- Alternative Learning System
For more details, please visit our post about the learners FAQs: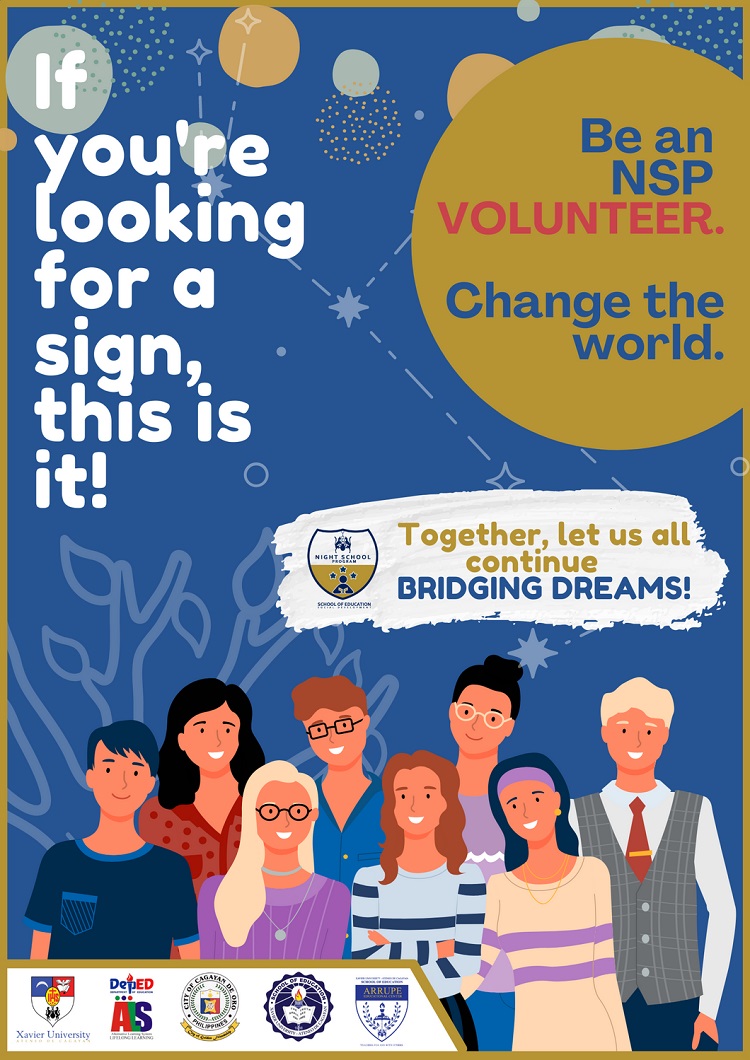 Qualifications for aspiring volunteer teachers:
Any committed and dedicated knowledgeable individual both professional and college student.
Requirements:
Fill up the application form
NSP Volunteer Registration Form:
https://forms.gle/AZSaa7spwQjAFHK58
Letter for intent addressed to Ma'am Maria Victoria B. Trinidad- Director, Arrupe Educational Center
Recommendation from teachers, org moderator, or someone who can vouch for you
For professional teachers: 1 photocopy of the PRC license and/or company ID
For college students: 1 photocopy of School ID
Follow the application process
For more information about the application process, please refer to Xavier Ateneo Night School Program- Alternative Learning System Facebook page https://bit.ly/3hcvJwa
For more details, please visit our post about the volunteer FAQs:
https://tinyurl.com/XUNSPVolunteer
We, in XU NSP, are hoping to venture into the new school year with you in the midst of the new normal, accompanying young people in the development of a hopeful future. Choose XU NSP now and together let us continue in Bridging Dreams!