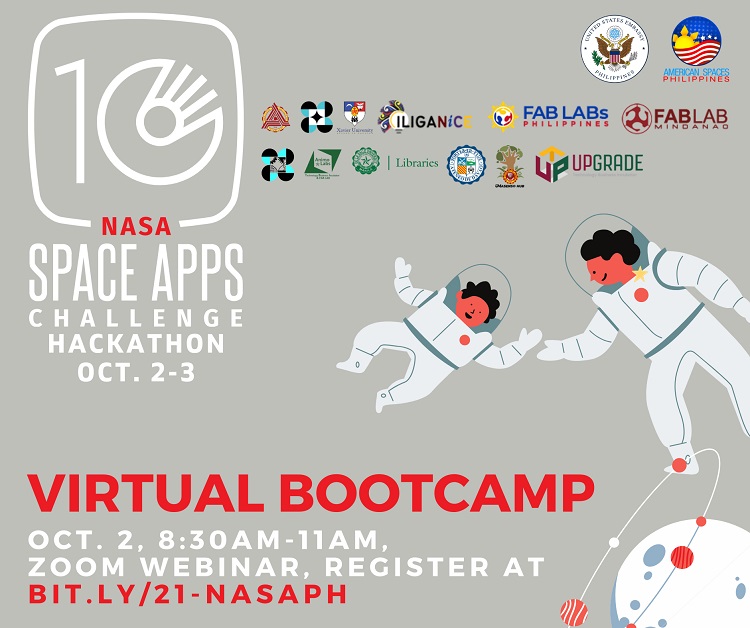 Hackathon teams from the cities of Cagayan de Oro and Iligan are all set for this year's National Aeronautics and Space Administration (NASA) International Space Apps Challenge on October 2 and 3.
NASA Space Apps Challenge is an international hackathon for coders, scientists, designers, storytellers, makers, builders, technologists, and other creatives around the world, where they engage with NASA's free and open data to address real-world problems.
Two-day bootcamp
For CDO-Iligan chapter of the competition, five teams will be competing to get the chance to be part of the global competition, namely: Seniors' Demo Homesteading Ranch, Galansiyang, Serialize, Orbits, and NS Elite.
Participants will come together virtually over a 48-hour bootcamp to solve challenges submitted by NASA personnel. The first day (Oct 2) is dedicated to sessions from various resource speakers and teams will be connecting with NASA scientists through RocketChat for Q & A session. The second day (Oct 3) is the contest proper and project pitching.
One of the special features of this challenge is the opportunity to communicate with NASA mentors. The Space App Chat provides a place for the participants to connect with the Space Apps Global Organizing Team and NASA scientists.
The winning team gets to be a global nominee to represent the CDO-Iligan chapter and will receive seed money worth PHP15,000. The other teams will receive consolation seed funds of PHP5,000 each and may still participate in the NASA Space Apps Universal Competition.
Although the bootcamp is online, all participants will receive food vouchers, shirts, and other perks.
After the hackathon, project submissions will be judged by space agency experts, and winners are selected for the 10 Global Awards.
Inspiring collaborations
By using NASA's data to solve the challenges, Space Apps inspires collaboration, creativity, and critical thinking. Their mission is "to leverage this interest to encourage the growth and diversity of the next generation of scientists, technologists, designers, storytellers, and engineers."
The Mindanaon participants will form part of a global hackathon community that "embraces collaboration across borders, sectors, and cultures to bring about paradigm-shifting innovation."
Space Apps is a NASA-led initiative organized in collaboration with Booz Allen Hamilton, Mindgrub, SecondMuse, and the NASA Open Innovation Applied Sciences Program.
Space Apps also relies on a vast community of partners and volunteers, including space agency partners and local leads from around the world, who organize and host events in different communities.
The CDO-Iligan event is co-hosted by FAB LAB Mindanao of the Mindanao State University - Iligan Institute of Technology and American Corner Cagayan de Oro of Xavier University - Ateneo de Cagayan with the support of FAB LABs Philippines, ILIGANiCE, and the Department of Science and Technology. It is funded by the US Embassy in the Philippines through American Spaces Philippines along with other events implemented in Davao and Biñan.
The challenge is now on its 10th year, involving over 26,000 community members, 150 experts in various fields, 250 local leads, and 30 ambassadors across the globe.∎
For more information about the NASA Space Apps Challenge, visit facebook.com/FABLABMindanao, facebook.com/spaceappschallenge, and spaceappschallenge.org.