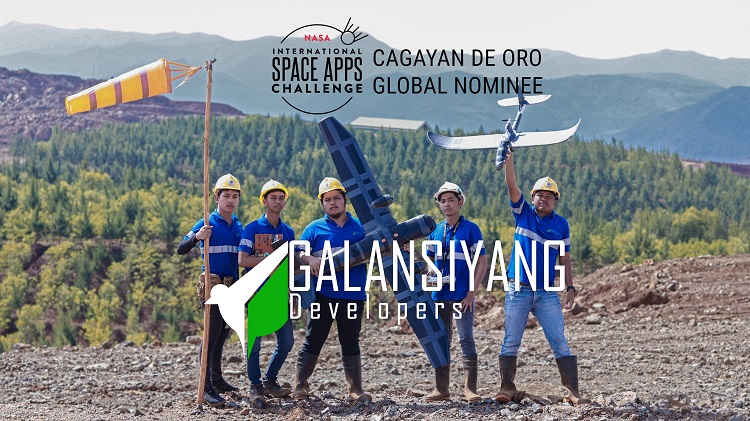 After the successful conduct of the Cagayan de Oro - Iligan chapter of this year's National Aeronautics and Space Administration (NASA) International Space Apps Challenge, one out of the five teams emerged victoriously and was hailed as one of the Global Nominees.
"Lantawa" by Team Galansiyang is a web-based app that utilizes NASA's Geographic Information System (GIS) Earthdata and Light Detection and Ranging (LiDAR) Technology with RGB-scanning drones to monitor the status of rehabilitated land and to empower communities, industries, and policymakers against environmental injustices by automating forestry.
"Planting trees on deforested areas, especially on mined-out regions, has always been our initiative to mitigate the effects of climate change and bring back the natural state of deforested lands," the team introduced.
"However, problems emerge after this initiative. How can we monitor the growth of these trees without solely relying on manual human observation?" they asked.
In the Philippines, as much as in other countries with mining activities, the process of monitoring reforestation efforts can be massive in cost and time.
How the app works
Lantawa uses multirotor UAV drones for mapping and scanning post-mining sites. The images it will capture will then be integrated with the LiDAR and Earthdata (aerial and aerospace gathering of data).
All these collected data will then be uploaded to a web-based server then rendered on an Artificial Intelligence (AI) software to produce the needed information.
The result will show the geographical information, tree count, size, height and heath, tree species identification and classification, calculation of carbon sequestration, wildlife identification, and display the digital 3D forest.
The members of Team Galansiyang included Jay Arneil A. Gajudo, Joshua Michael Fernandez, Dreamer Jay Lamberte, Maynard Jay N. Costanilla, and Jiko Colita.
For more information about Lantawa, visit bit.ly/3a9FYO3
Hackathon and mentorship
By using NASA's data to solve the challenges, Space Apps inspires collaboration, creativity, and critical thinking. Their mission is "to leverage this interest to encourage the growth and diversity of the next generation of scientists, technologists, designers, storytellers, and engineers."
The two-day online bootcamp, held on October 2 and 3, also featured talks and mentoring sessions from various NASA scientists, innovators, and leaders in the industry, including Dr Jonathan Maglasang, Director of Cebu Technological University PhilSCA School of Aviation; Gerardo Doroja, Founding Dean of the College of Computer Studies and Director for Strategy and Quality Management of Xavier University - Ateneo de Cagayan; and Alfonso Alamban, Regional Director of the Department of Science and Technology (DOST-X).
Space Apps is a NASA-led initiative organized in collaboration with Booz Allen Hamilton, Mindgrub, SecondMuse, and the NASA Open Innovation Applied Sciences Program.
The challenge is now on its 10th year (celebrated as "Power of Ten"), involving over 26,000 community members, 150 experts in various fields, 250 local leads, and 30 ambassadors across the globe.
The CDO-Iligan event is co-hosted by FAB LAB Mindanao of the Mindanao State University - Iligan Institute of Technology and American Corner Cagayan de Oro of Xavier University - Ateneo de Cagayan with the support of FAB LABs Philippines, ILIGANiCE, and the Department of Science and Technology. It is funded by the US Embassy in the Philippines through American Spaces Philippines along with other events implemented in Davao and Biñan.∎
For more information about the NASA Space Apps Challenge, visit facebook.com/FABLABMindanao, facebook.com/spaceappschallenge, and spaceappschallenge.org.