On October 13, 2021, the Xavier Ateneo gave due recognition and appreciation of its teachers and formators with a Eucharistic Celebration at the University Church of the Immaculate Conception of the Blessed Virgin Mary. The Mass was presided by Fr IJ Chan-Gonzaga SJ, Rector of the Loyola House Jesuit community and Director of the Campus Ministries, with Fr Mars Tan, SJ, University President as the homilist, and attended onsite and online by the administrators, faculty, non-teaching personnel and students.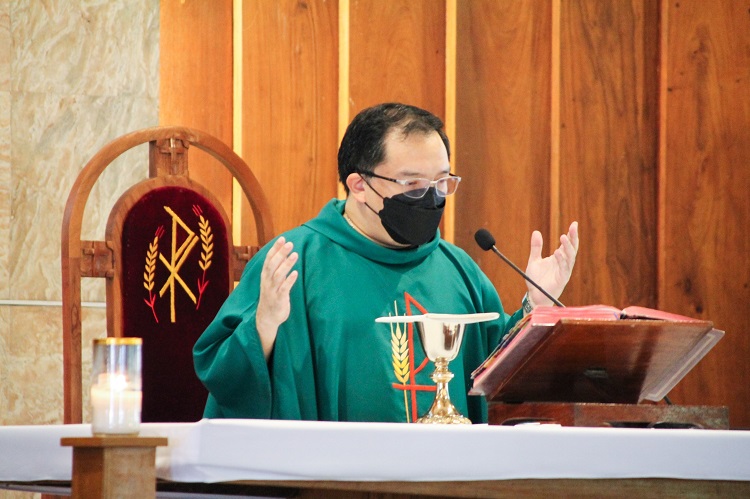 Fr IJ Chan-Gonzaga SJ presider for this year's Eucharistic Celebration of the annual Faculty and Formators' Appreciation Day.
As part of the Mission and Ministry Week and of the World Teachers' Day celebration, the Thanksgiving Mass is Xavier Ateneo's way of saying "thank you" to the teachers and formators of the University for their dedication as mentors and guide, determination and tenacity to give and at times, sacrifice for the student's welfare especially during the pandemic.
The Mission and Ministry Cluster together with the Office of Student Affairs and the Central Student Government has other online activities to honor and show appreciation to the teachers and formators of the University. The Basic Education units (SHS, JHS, and GS) have also their own Masses and virtual programs for their teachers and formators.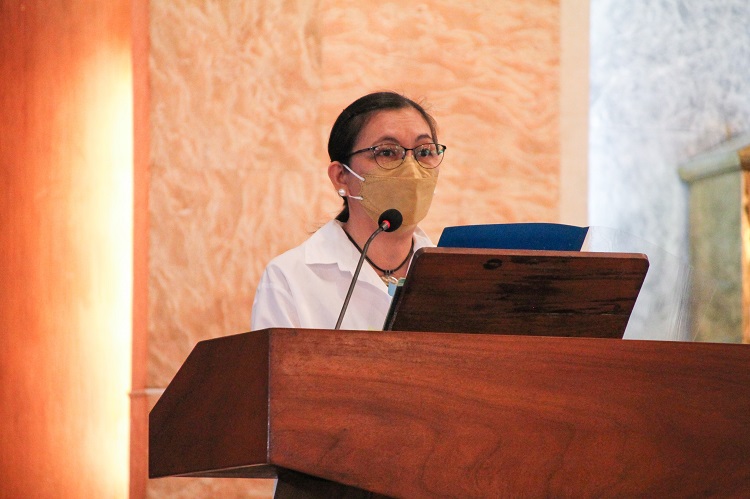 Dr Juliet Q Dalagan, VP for Higher Education, leads the Community for the Reading and Responsorial Psalm. "Lord you give back to everyone according to his works"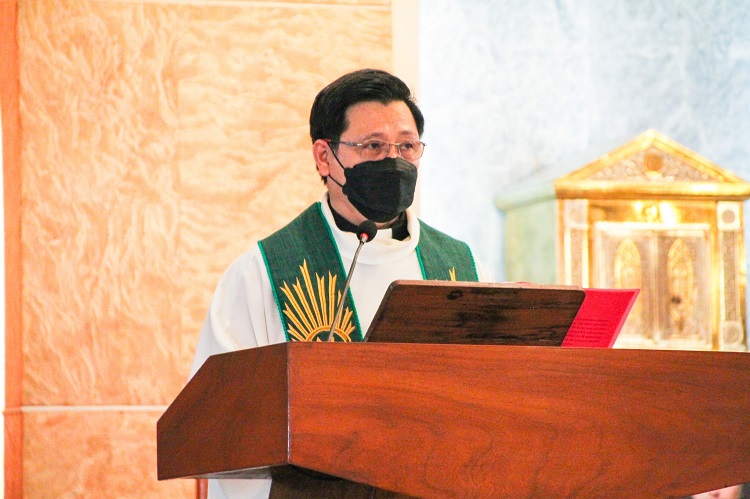 Fr Mars P Tan, SJ, enjoins everyone to pray for all teachers and formators in the country especially those most affected by the pandemic.
Homily (Matthew 4:23-25)
As we celebrate teachers' and formators' day with today's Holy Mass by honoring our teachers and formators, I invite all of you to pray for them including those teachers, educators, and formators in the whole country in disadvantaged situation.
Jesus Christ was a teacher. In fact, his students called him, Lord and Master. But Jesus was a teacher different from the others of his time. He did not stay in one place; he went around to look for students. He taught anywhere because in every place there is someone who needed to learn. Jesus used stories and experiences to explain difficult ideas and teachings to ordinary people. Jesus taught to set the person free from sin and ignorance and become the best he/she could be. The rabbi taught and eventually led one to be enslaved by the Law. Jesus taught primarily by examples while other teachers taught mostly in words. Jesus was a very effective teacher. Up to now, his teachings offer tremendous help to mankind and remain too many people the only way to our eternal salvation.
Jesus' teachings appeal to the mind as well as to the heart because they are simple, clear, and relevant to the concerns and interests of the people. He uses parables and examples to drive home his point. His preaching prick on the mind and the heart of the person so that he/she will change his/her ways and attitude for the better. Even his healing is not complete without a "pabaon" after each person gets healed, "Go and sin no more." Indeed, Jesus' number one priority in his life and ministry was education. Xavier Ateneo humbly takes this as its core mission also in its service to the students and the larger community.
Here in Xavier Ateneo, we make it clear that the brand of education we give is both for the mind and for the heart, and the character of every student. Xavier Ateneo believes that education is not only about sharpening and honing the intellectual capacities of the mind. It is also, for a large part, about the affairs of the heart. Above all, education is much more than these two. It is also to build the character, to form a person into what he/she can become given the potentials he/she possesses – a student of competence, conscience, and commitment. Education must be complete and integral as it should be relevant and liberating.
Given this as a requirement, we see the amount of challenge that is placed on the shoulders of our teachers and formators. It is a difficult task yet also a challenging one exacerbated by the present pandemic. We all know that education and formation have become more challenging to do and to measure its successes due to its present fully online mode.
The present online teaching and learning have posed a greater challenge to all of us on how to teach and educate more effectively. How do our students learn more from us amidst the preset setup of OTL? There is a popular saying that students learn from what they see, not from what they hear. Indeed, actions speak louder than words. Words are good to listen to but they do not bring about true conversion. In a school or any corporation, books, policy manuals, notes, lectures, exams, and modules may serve a purpose but they do not establish a community culture. One good example may influence a good soul. Many good examples may soon create a new culture. In Xavier Ateneo, how do we create a culture of learning, a culture of excellence, a culture of honesty, a culture of peace? A culture of love? Is it possible to do it online? Thus, a greater challenge to establish a positive dynamic community culture is posed to our education frontliners, the teachers/professors, and formators during this time of Covid crisis.
We recognized the extra-ordinary context, that is why today we salute our dear teachers and formators who continued to remain true to their commitment to educating the mind, heart, and character of our students. We are witnesses to many teachers in Ateneo and many other places especially in far-flung places who labor hard and selflessly for the education of their students. Teachers are faithful companions of students always willing to set the good examples: punctuality and use of quality time, preparedness in class, creativity and adaptability in using methodologies, endless desire for knowledge, objectivity and fairness in grades, humility to accept mistakes, love, and concern for their students especially those most in need of attention.
We should always have high regard for teachers. What we are now and what we can become in the future is because of our parents and teachers. We admire teachers and formators because they work very hard in class and at home, they do all kinds of work, yet get all kinds of criticisms and rantings from our discontented & sometimes immature students, and to top it all, they do not receive much monetary compensation compared to those who work abroad or in business and big corporations. This is not an issue confined to one school. This is a national problem.
One sentence from our Gospel today sums up the focus of Jesus' time on earth: "And he went everywhere, teaching, healing, and preaching." Since teaching is educating the minds and preaching is educating the heart, then two-thirds of Jesus' work was education – exactly the kind of work that we all do in Xavier Ateneo.
Jesus' mission was to educate us so that we will have a mind, a heart, and a character that enable us to receive the crown of a new individual formed in the image of God. We, as teachers/formators, fortunately, share that same mission of the Lord. We will pray that we will joyfully receive not only the noble mission but also the mind, the heart, and the person of the greatest Teacher and Formator —our Lord Jesus Christ.
Fr Mars P. Tan SJ