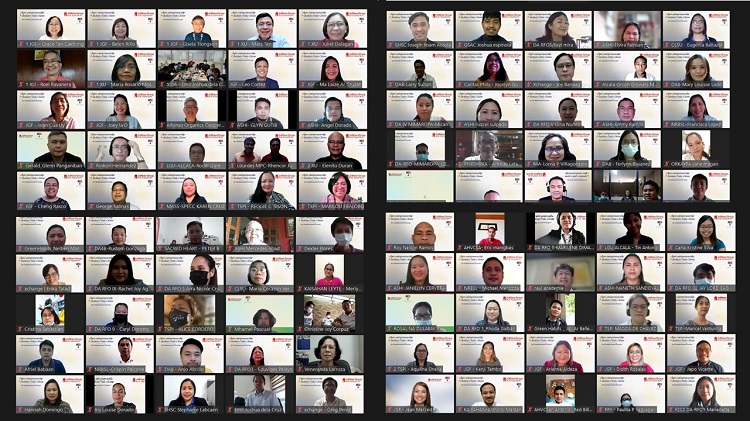 The Jollibee Group Foundation (JGF) and Xavier University-Ateneo de Cagayan (XU) held its 1st Virtual Commencement Exercises for the Agro-Entrepreneurship for Inclusive Value Chains: An Introduction Online Course on November 17, 2021.
Ninety-seven (97) participants successfully graduated from the 6-week online course from three batches (pioneer, batch 1 and batch 2). They came from various regional field offices of the Department of Agriculture, farmer cooperatives, micro-finance institutions and social enterprises.
The Presidents of the two organizations delivering the course, Fr Mars P Tan, S.J. (XU) and Ms Grace Tan Caktiong (JGF) congratulated the participants for successfully completing the course despite the many online learning and teaching difficulties.
Fr Mars P. Tan, S.J. called on the participants to commence their much greater work as facilitators by teaching the farmers the technical skills and most importantly giving the farmers the hope and confidence they need to be part of transforming agriculture and their lives.
Ms Grace Tan Caktiong, on the other hand, hoped that the participants would find a deeper sense of purpose in their work for smallholder farmers as they graduate from the course. She added that she would be happy to see in the future that the farmer groups being assisted by the graduates will achieve greater heights.
Department of Agriculture Secretary, Dr. William Dar gave the keynote speech of the ceremony. He said that the training is one with the goal and objectives of DA which seeks to attain the economies of scale that will lower production cost and increase farmers income.
Ms Aquilina Onesa of Tulay sa Pagunlad Inc., in her valedictory speech lauded the training as the best online training course she has attended. She added that the training materials were presented in an excellent and effective manner. The learning approach was well studied and designed for intended participants and to generate the intended outputs and outcomes even beyond the training program.
Another participant, Mr. Anthony Marzan of KAISAHAN NGO, shared that the AE online course provided a clearer direction and more practical way to guide the farmers. Further, it also gave them the confidence that smallholder farmers can really go into business and thrive.
Administrators of Xavier University, Dr. Juliet Dalagan, Vice President for Higher Education, Mr Roel Ravanera, Vice President for Social Development and Dr. Maria Rosario Mosqueda, Dean of the College of Agriculture also attended the event. They were joined by the trustees of JGF, Ms Belen Rillo, Vice President and Ms Gisela Tiongson, Executive Director.
Select graduates of this course will proceed to the Agro-Enterprise for Inclusive Value Chains: Intermediate Course in 2022 where they are expected to fully implement the Agro Enterprise Clustering Approach. Two more batches of the introductory course will be offered next year.