The 2-day vaccination program of Xavier University-Ateneo de Cagayan last November 18-19 has brought the total count of newly-vaccinated individuals to 847. The second day of the vaccination accommodated more as the team also accepted walk-ins in the late afternoon. LGU-donated Pfizer-BioNTech vaccines were administered to 490 individuals covering the following categories and their corresponding numbers: A1.0 (Frontliner)-2; A2.0 (Senior Citizens) -10; A3 (Adult with comorbidities) 15; A4.1 (Provate Workers)- 74; A5.0 (Indigent Population)-2; C1.0 (students 18 years old and above)- 189 and D1.0 (12-17 yers old students) – 198. The next dose of those who were vaccinated on the second day is scheduled on December 10, 2021, at the same venue.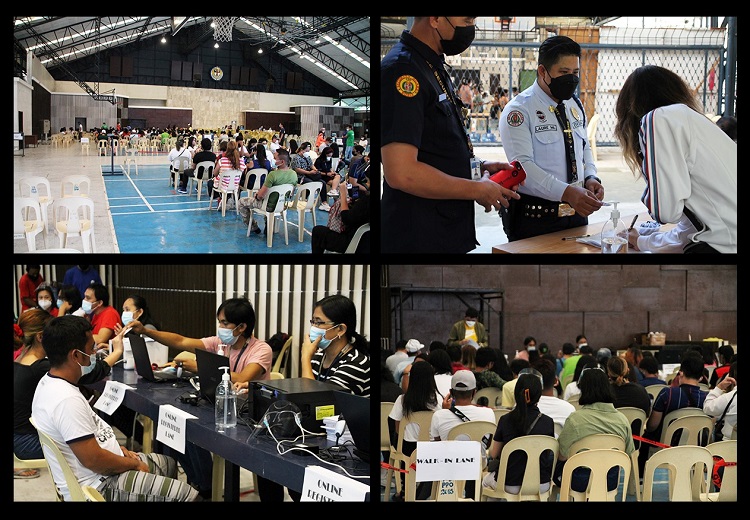 Following health and safety protocols, the 2-day vaccination drive was conducted at the spacious Covered Courts of the XU Main Campus.
The vaccination program was a collaboration with the Department of Health through the City Health Insurance Office (CHIO) and which was a welcome opportunity especially for the unvaccinated Xavier Ateneo community members and even their family members as the University gears up for the Limited Face-to-Face (LFF) plans for its Higher Education programs for the second semester of SY 2021-2022.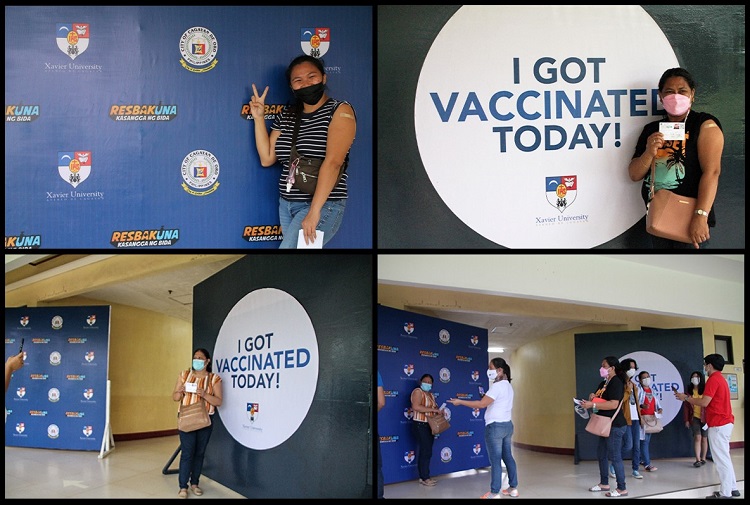 The recipients of the vaccination took time to pose at the photo standee provided for them.
The successful vaccination program was a product of the concerted efforts of the University Vaccination Administration Committee headed by Engr. Dexter Lo and Dr. Jojo Guitarte and supported by the XU's medical students, nurses, and volunteers from the different offices of the University. No untoward incident occurred during the two-day vaccination drive.
The team from the City Health Office also came in full force led by Dr. Grace Chiu and registered nurses who facilitated the actual vaccination: Hilmyrita Mencede, Mr Giovani Dael, Mr Ulysses Anthony Dayo II, Ms Karen Rosanne Calino, Ms Kiana Jane Aseniero, Ms Pinky Rose Escol, and Ms Anna Margarita Cue. From the CHIO's Data Management and Logistics Department were: Dr William Bernardo, Ms Marga Reyes, Ms Shiela Ratunil, Mr Ronald John Abaday, Mr John Ryan Reyes, Ms Carla Ciela May Sumangyay, Ms Honey Grace Yanez.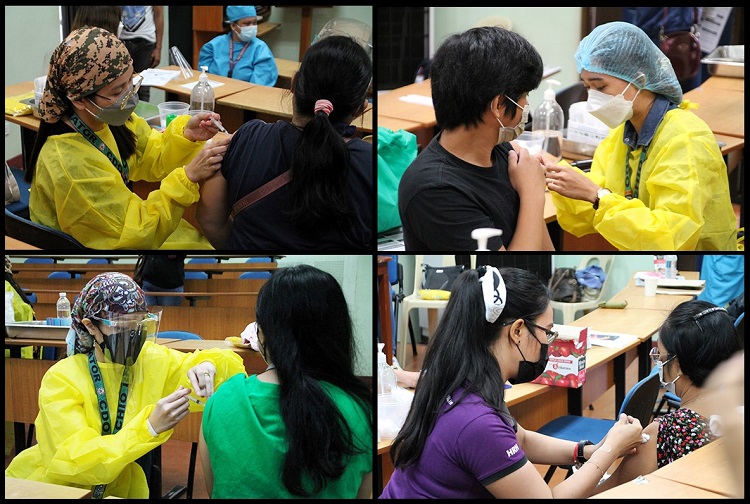 Registered nurses from the City Health office in action.
Many parents have expressed gratitude for this initiative including Mrs Divine Gundaya who accompanied her daughter Smile for the vaccination "I am very happy for the very organized vaccination program for the students. Thank you XU" she shared on social media.