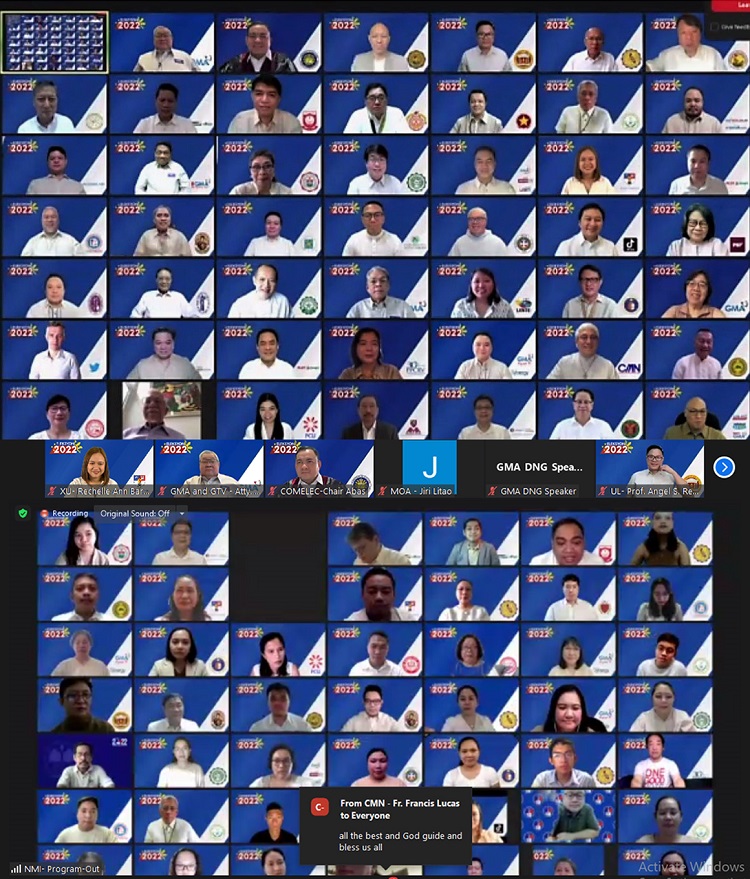 Committed towards providing a comprehensive multi-platform coverage of the 2022 national and local elections, Xavier University-Ateneo de Cagayan (XU) has inked partnership with GMA 7 formally announced during the Eleksyon 2022 Partnerships Launch, which was held virtually last November 26.
"The task in front of us, those who help voters make the right choice, is daunting. But our duty to help empower voters and uphold the truth is worth every effort. As individual institutions and organizations, we each carry a tremendous responsibility. But together, we can and we will do what it takes--promote honesty, integrity, and truth in the coming elections," stressed GMA Network Chairman and CEO Atty. Felipe L. Gozon during the virtual event.
Dubbed as, "Dapat Totoo," the network's campaign emphasizes the need to empower voters and challenge them to seek for the truth in every message they get from various media in this election period. This, coincidentally echoes the university's motto: Veritas liberabit vos (The truth will set you free).
XU joins other leading organizations in the fields of telecommunications, media, education, business, law, and public service.
Representing GMA in the Eleksyon 2022 Partnerships Launch were Gozon, GMA President and COO Gilberto R. Duavit, Jr., GMA News and Public Affairs Senior Vice President Marissa L. Flores, RGMA Network Incorporated President Miguel C. Enriquez, GMA New Media President and COO Dennis Augusto L. Caharian, Radio Operations Group First Vice President Glenn F. Allona, GMA Regional TV and Synergy First Vice President and Head Oliver Victor B. Amoroso, GMA News and Public Affairs Digital Media Senior Assistant Vice President and GMA News Online Editor-in-Chief Jaemark S. Tordecilla, GMA International First Vice President Joseph Jerome T. Francia, and GMA Kapuso Foundation Executive Vice President and COO Luz Analee E. Catibog.
The roster of external partners was led by Commission on Elections (COMELEC) Chairman Sheriff M. Abas.
Other regional school partners joining this alliance are: University of Northern Philippines, University of Luzon, Ateneo De Naga University, University of Nueva Caceres, University of San Carlos, Silliman, Central Philippine University, University of Saint La Salle Bacolod, Central Mindanao University, Holy Cross of Davao College, Notre Dame of Dadiangas University, and Western Mindanao State University.