The Partnerships in Environmental Management for the Seas of East Asia (PEMSEA) was created to foster and sustain healthy and resilient coasts and oceans, communities, and economies across the Seas of East Asia through integrated management solutions and partnerships. To proactively build effective networks and expand countries' capacities for integrated coastal and ocean management, the PEMSEA commits to developing new ICM sites in various localities through the Network of Learning Centers (PNLC) consisting of Higher Education Institutions and research centers.
On December 1, 2021, the PEMSEA Network of Learning Centers (PNLC) was formally inaugurated via Zoom. The inauguration was attended by the founding member-institutions across East Asia that include Burapha University (BUU), Thailand | Institute for Global Environmental Strategies (IGES), Japan | IPB University – Center for Coastal and Marine Resources Studies (IPB-CCMRS), Indonesia | Oriental University of Timor Leste (UNITAL), Timor-Leste | Royal University of Phnom Penh (RUPP), Cambodia | Universidade Nacional Timor Lorosa'e (UNTL), Timor-Leste | University of Da Nang (UD), Viet Nam | Cavite State University (CvSU), Philippines | De La Salle Lipa (DLSL), Philippines | University of the Philippines Visayas (UPV), Philippines | and Xavier University – Ateneo de Cagayan (XU), Philippines represented by Fr Mars P. Tan, SJ.
The signing of the PNLC Charter Preamble was executed, followed by each founding member's statement on their expectations and hopes for the PNLC in line with their institutions' ICM initiatives. The ICM Learning Centers are venues for knowledge sharing and transfer skills on ICM program development and implementation at the local level.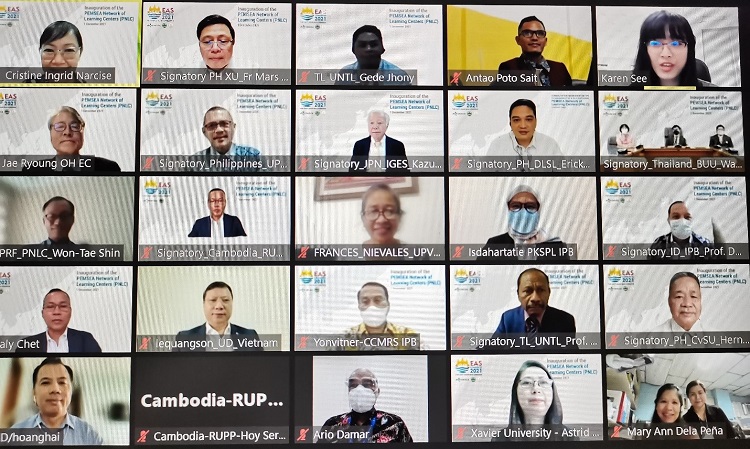 Founding Members of the PEMSEA Network of Learning Centers (PNLC).
In his message, Fr Mars thanked PEMSEA for its noble undertaking on the sustainable development of coasts and marine waters in the East Asian Region and for involving local academic institutions for capacity and network buildings. Fr Mars shared about the present work of McKeough Marine Center in replanting mangroves along Macajalar Bay and assured PNLC of Xavier Ateneo's commitment to PNLC goals and objectives. Dr. Astrid Sinco, MMC Director, was also present at the virtual inauguration.