University Presidents and representatives of the 9 universities in Mindanao virtually gathered for the Turn-over of Book Donation Online Ceremony by the Consulate General of the People's Republic of China in Davao on January 20, 2022 at 10:00 o'clock in the morning via Zoom. The 9 universities are:
Ateneo de Davao University
Ateneo de Zamboanga University
Lyceum of the Philippines - Davao
Mindanao State University-Iligan Institute of Technology
Mindanao State University-Marawi
Notre Dame of Dadiangas University
University of Southeastern Philippines
University of the Philippines Mindanao
Xavier University-Ateneo de Cagayan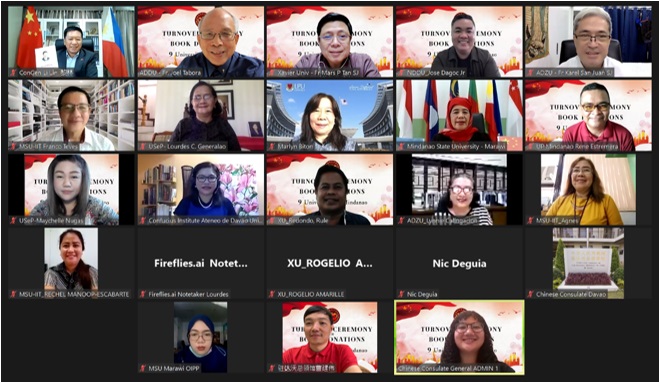 Among the participants present during the program were the Presidents of the three Ateneo schools in Mindanao: Fr. Joel E. Tabora, SJ of Ateneo de Davao University, Fr. Karel S. San Juan, SJ of Ateneo de Zamboanga University and Fr. Mars. P. Tan, SJ of Xavier University-Ateneo de Cagayan, the two Directors of Libraries from XU and ADZU: Mr. Rule P. Redondo and Ms. Lynnie M. Calingacion and the XU Communications Office team.
The program started with an introduction and brief rationale of the activity. It was followed by a formal hand-over of book donation and an opening message from the Consul General Li Lin. Moreover, messages from the university presidents and representatives were also highlighted during the event.
The book donation is an assortment of various subjects focusing on Chinese economy, philosophy, culture, science, history, sports, and others, which will hopefully enrich university students' knowledge and understanding about China. This gesture of goodwill is a good start to promote bilateral cultural and educational exchanges between China and Mindanao and establishes a partnership between the Consulate General and the Xavier University-Ateneo de Cagayan and the rest of the universities in Mindanao.