The Regional Research, Development & Innovation Committee 10 (RRDIC-10) awarded a special recognition to Xavier University-Ateneo de Cagayan during the first ever National Innovation Day held last April 21, at SM City Cagayan de Oro. Dubbed as "Filipinnovation Unlocked", the 2-day program, which was organized by the National Economic and Development Authority (NEDA-10) along with other partners like DOST Region 10 , DICT 10, PIA 10, brought together representatives from the different partner agencies that share a common goalof establishing a globally-competitive knowledge economy by promoting and accelerating technology adoption while stimulating innovation.
Representing Xavier Ateneo, Dean for Research, Dr Heide Rabanes, received the special award, in recognition of XU's unwavering commitment and commendable contributions in elevating Northern Mindanao's level of innovation and competitiveness along with the other partners and collaborators in the region.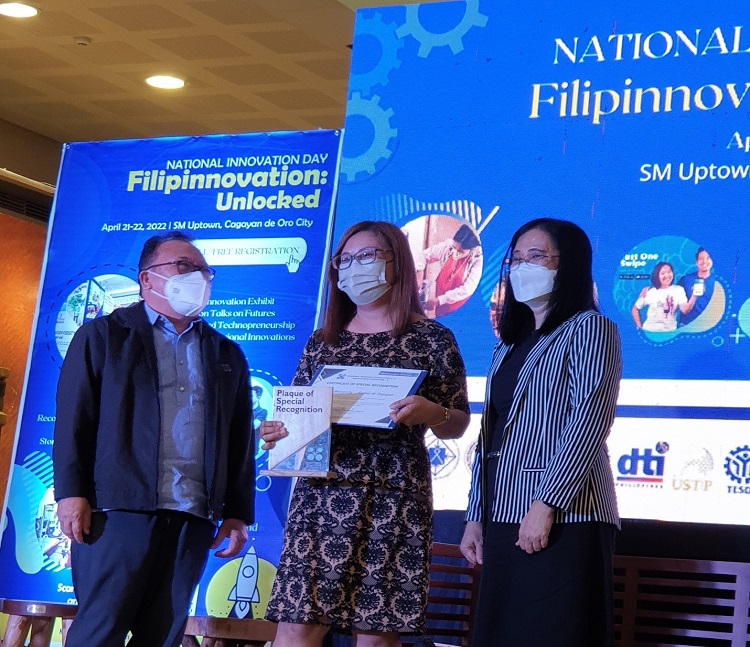 "As we embrace strategic foresight and futures thinking and as we continue to strengthen the entre and techno-preneurship mindset, we are further challenged to assess, evaluate our own university or organizational structures and research directions to check whether we are aligned and have collaborated as much to be able to go forward and further. " " Dr Rabanes emphasized in her closing remarks, on behalf of University President Fr Mars P Tan, SJ. Xavier University serves as the Co-chair of the RRDIC-10.
The program also had an exhibit that featured innovation initiatives in the region and talks on innovation recovery plans, stories of innovation and resilience and also demos from the Regional Food Innovation Centers and the Technology Business Innovation Centers.