By: Honey Mariz Velorio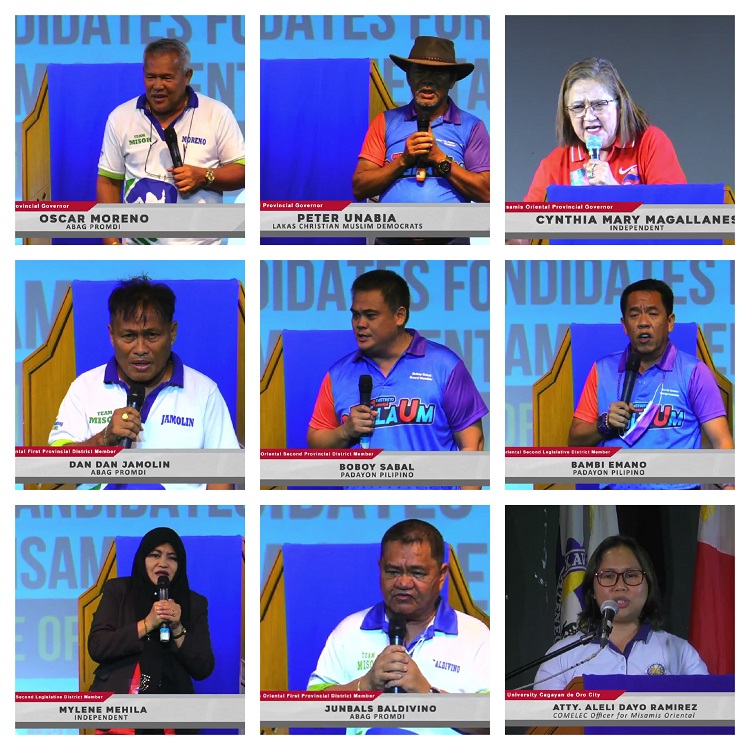 It's a wrap!

Pag-ila 2022 held its last live forum last April 23, 2022, at the Xavier University — Ateneo de Cagayan, Little Theater, to introduce the candidates contesting for Provincial Governor and Governor seats together with the Sangguniang Panlalawigan and the House of Representatives. The event was split into two parts: 1:00 PM – 3:35 PM for the Vice Governor position, and 3:45 PM – 5:30 PM, allocated for the candidates running for the Governor seat. For the Vice-Governor position, only Mr. Ayi Hernandez of the ABAG PROMDI was present. For the gubernatorial race, Mr. Peter Unabia of the Lakas Christian Muslim Democrats, Mr. Oscar Moreno of the ABAG PROMDI, and Ms. Cynthia Magallanes, an independent candidate, were present for the live forum.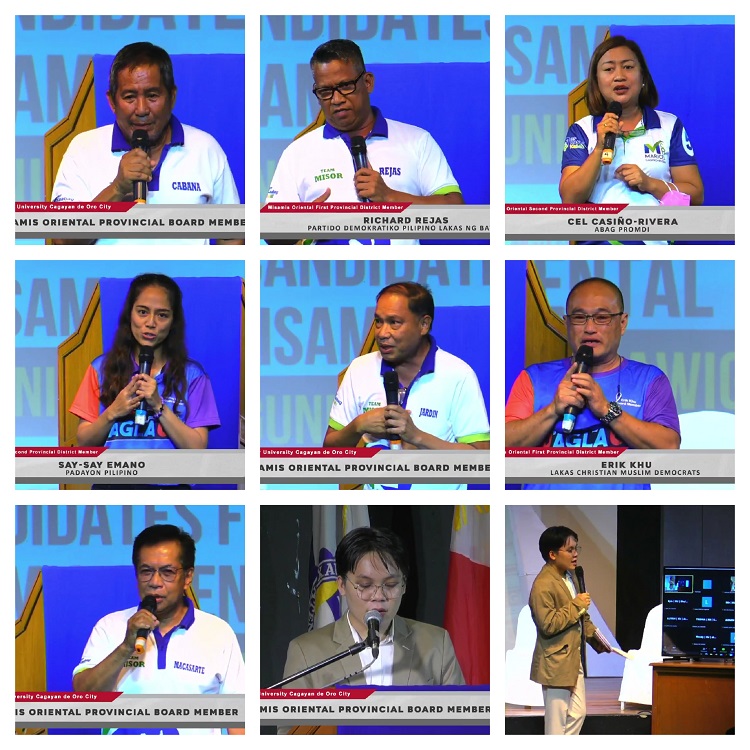 The following candidates attended and participated in the live discourse.
Sangguniang Panlalawigan District 1:
Mayet Abogado - ABAG PROMDI
Junbals Baldivino - ABAG PROMDI
Rey Buhisan - LAKAS CHRISTIAN MUSLIM DEMOCRATS
William Cabana - ABAG PROMDI
Dan Dan Jamolin - ABAG PROMDI
Erik Khu - LAKAS CHRISTIAN MUSLIM DEMOCRATS
Richard Rejas - PARTIDO DEMOKRATIKO PILIPINO LAKAS NG BAYAN
Sangguniang Panlalawigan District 2:
Dodong Benavidez - ABAG PROMDI
Maricel Casino-Rivera - ABAG PROMDI
Say-say Emano - PADAYON PILIPINO
Fermin Jarales - AKSYON DEMOKRATIKO
Jesus Jardin - ABAG PROMDI
Felixberto Macasarte - ABAG PROMDI
Boboy Dabal - PADAYON PILIPINO
Oliver Ubaub - ABAG PROMDI
Dexter Yasay - PADAYON PILIPINO
Mar Zayas - INDEPENDENT
House of Representatives District 2:
Bambi Emano - PADAYON PILIPINO
Mylene Mehila - INDEPENDENT
The last leg started with the statement from Fr. Ismael Jose III V. Chan-Gonzaga, SJ, JD., the Campus Ministry Director of Xavier University, and was followed by the opening speech of Atty. Aleli Dayo Ramirez, the COMELEC Officer for Misamis Oriental.

The Sangguniang Panlalawigan and House of Representatives were given five (5) minutes to deliver their opening speeches before the actual forum started and also for the candidates for Vice-Governor and Governor, to convey their plans and platforms for Misamis Oriental. Mr. Ardizon Arsua, from Strong Radio, was the moderator for the live discourse. The candidates were allowed two minutes to respond to each question prepared by the Research Team and one minute for rebuttal. And like the 3 previous Pag-ila 2022 forum, the candidates gave their individual closing speeches as well.

Ms. Merciel Mercado, a member of the Central Student Government Office of the Vice President, presented her reactions of the entire event. Together with the audience, the candidates, pledged to hold clean and fair elections led by Atty. Aleli Dayo Ramirez..

As the Pag-ila 2022 series came to an end, the organizers thanked everyone who extended their help to make the last live forum for Pag-ila 2022 forum a big success, including the candidates, partners, and guests. The organizers also recognized the contribution of the host, Mr. Jude Gamolo and and Ms. Shilina Golez, former Vice President of the Central Student Government (CSG), who delivered the closing message.

Pag-ila 2022 is hereby concluded!


#Pagila2022
#XavierAteneo
#Makeithappen
#XUElectoralParticipation2022